Wall Street's Reefer Madness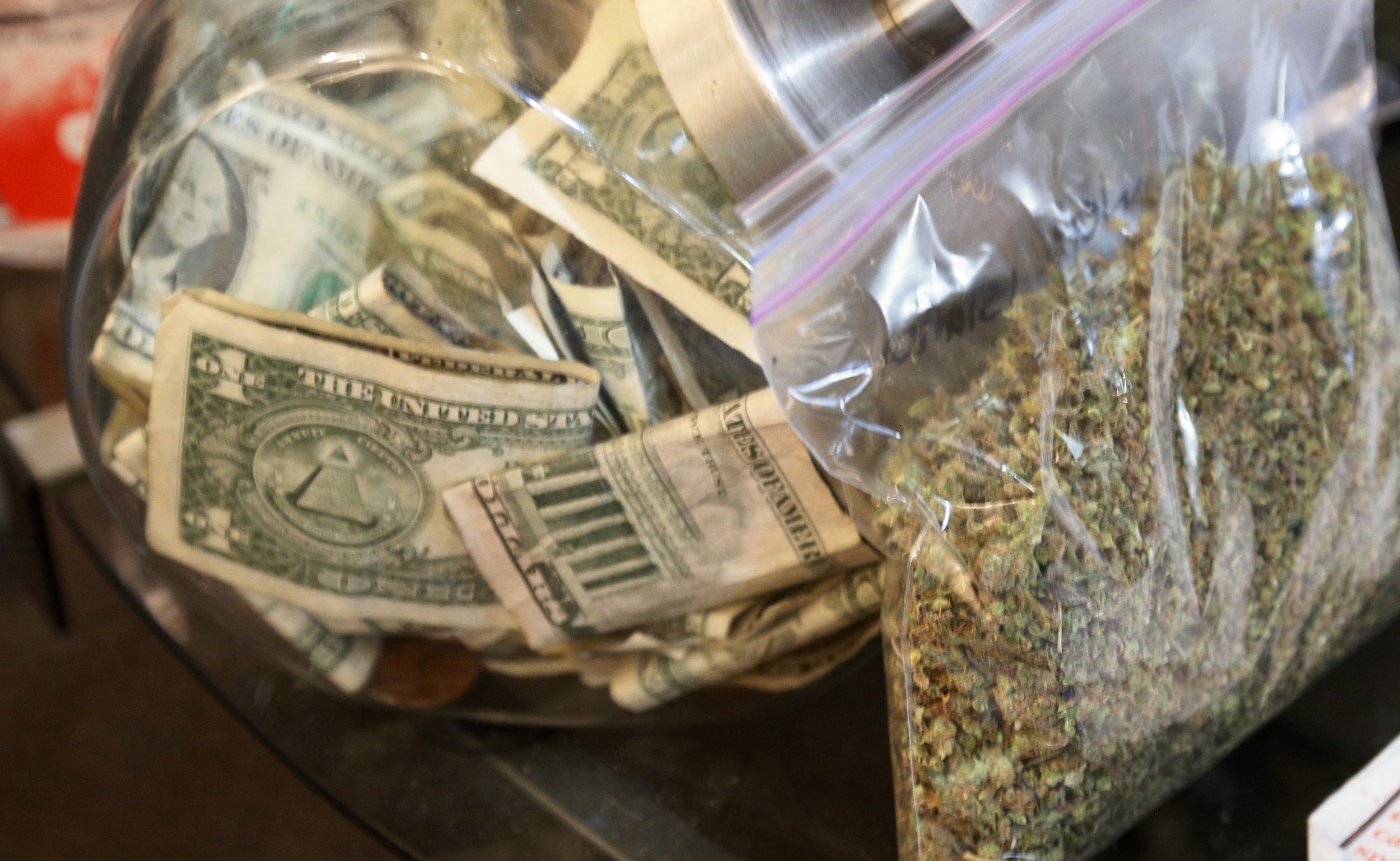 What did you expect when President Obama pronounces marijuana no "more dangerous than alcohol"?
Wall Street is calling it the "green rush," but as more than 20 states approve marijuana for medicinal purposes – with Colorado and Washington paving the way for giving recreational pot the green light – the majority of pure-play pot stocks (publicly traded companies focusing on marijuana or related products) are smoking for all the wrong reasons.
On the back of a 50 percent markup last year, marijuana stocks have booked a further 150 percent of gains so far in 2014. But buyers should beware, says Peter Leeds, Toronto-based CEO of Modern Strategies, a provider of financial analysis and financial publications, since most of these companies' balance sheets are what he crisply calls "train wrecks."
The problem? The industry has not yet found its feet and needs more time to mature. Sure, pot purveyors have been around since the dawn of man, but they're only just getting used to the prospect of blue-chip status.
While would-be marijuana moguls are staring the cannabis cash cow in the face, most haven't figured out quite how to turn a profit yet. Hence, pump-and-dump schemes galore and a fresh burst of turbulence so far this year.
The fact that pure-play marijuana stocks are a hot topic (alas, even National Geographic has a section on its website devoted to "marijuana gold rush videos") is lighting a fire under prices, Leeds said, "But most of these companies are bleeding cash. As a businessman and a stock investor, I am offended by the state of most of these companies' balance sheets."
One telltale sign the cannabis craze is not yet ready for prime time: none of the stocks in question trade on the New York Stock Exchange and a number of them don't file with the Securities and Exchange Commission. "In fact," Leeds says, "most of them trade over the counter where the standards are not as rigorous." (Stocks of top exchanges such as the NYSE and Nasdaq are much more closely regulated than those trading over the counter.)
Top Pot Stocks
Here is a mash-up of 10 pot stocks that are on fire – some of which may be worth an investment and others which you'd have to be smoking marijuana to buy.
GW Pharmaceuticals PLC (GWPH) One of the few marijuana stocks to score a place on the Nasdaq (and the London Stock Exchange), this biotech trades at around $50 a share. What makes it attractive is, contrary to most cannabis stocks, its assets outweigh its liabilities by more than two to one. And it has a market capitalization of more than $900 million – greater than most of its ilk.
The company's claim to cannabis fame? It's developing cannabinoid medications for multiple sclerosis and cancer. Its Sativex treatment is the first natural cannabis drug to gain full market approval in any country. Interestingly, GW is not based on America's West Coast, like so many other cannabis-centric enterprises – it's British!
Medbox Inc. (MDBX) This West Hollywood, Calif., company trades over the counter, but in recent weeks, its shares have leapt above $90 from $10 – and now hover around $40 – amid the crush of cannabis hype. Named for its flagship product, Medbox, it dispenses medications via a temperature-controlled, automated machine using biometrics (in this case, a person's fingerprints) to match patients with prescribed drugs – including medicinal marijuana.
With the largest market cap of any cannabis stock going (closing the gap to $1.2 billion at last check) the company boasts assets of around $7.4 million against liabilities of $1.3 million. One drawback: it does not file with the Securities and Exchange Commission.
GrowLife Inc. (PHOT) Though still mired in penny-stock territory, this Carson, Calif., company may be poised for big gains in 2014 and, according to Leeds, is "not as bad financially when compared to most other pure play-marijuana stocks." GrowLife, which makes all kinds of equipment for growing cannabis, has a market cap considered by many critics to be a tad inflated at $200 million. That said, its cash loss of $1.8 million over the last quarter against revenue of $1.3 million makes it a far safer bet than many other pot-based penny stocks. Indeed, its Phototron plant-growing system claims to accelerate pot (and, uh, other leafy green) harvests by as much as four times and – bonus! – the company actually files with the SEC.
Cannabis Science Inc. (CBIS) With volumes raising the roof at 11 million shares a day this month (from just over 2 million on average), this Colorado Springs, Colo., company is a real crowd-pleaser. Even so, the company is hemorrhaging cash as its shares spike as much as 500 percent in as little as a month. For those inclined to bet on a high-risk, high-octane penny stock, this is the one for you.
The company, which files with the SEC and has plenty of PhDs working on how to use THC for medicinal purposes, has lost $16 million in the last fiscal year on just $36,000 of revenue. Liabilities in the latest quarter were almost seven times as much as assets – and the ratio keeps getting worse. "I don't know how you do that," Leeds says. "They must be having a party."
Nuvilex Inc. (NVLX) Gaining more than 250 percent in value last year, this Baltimore, Md., biotech company can be commended for wringing a formidable upside out of a business model that critics say is just not viable. With rights to "cellulose-based live cell encapsulation technology" that seeks to protect healthy cells from disease, the company wants to develop cancer treatments using "chemical constituents of marijuana."
A noble cause, except Nuvilex posted a loss last quarter of $5.6 million on revenue of, um, zero. In its defense, the company quoted an industry journal on its website stating its cancer therapy "has $3 billion potential somewhere down the road. Zero revenue biotech stories find success all the time."
CannaVest Corp. (CANV) Why go to Vegas to gamble when you can take a bet on a Las Vegas-based company? With a heftier market cap than most – clocking in at around $1 billion – CannaVest makes a marijuana concentrate from hemp called Cannabidiol and seeks to grow a test crop of industrial hemp in 2014. While it files with the SEC and is a big player in the industry, its stock has been on a roller-coaster ride this past year, climbing to about $50 from $4.50 a share. The company now trades at around $35 a share, but it reported a loss of $28 million last quarter on sales of $163,000.
Terra Tech Corp. (TRTC) Right now, the Irvine, Calif., company peddles vegetables and herbs that it grows using hydroponics across the U.S., but has visions of offering marijuana and hemp as soon as those pesky federal roadblocks in the way of "green rush" purveyors get sorted. While this is an investor favorite for its potential to go sky high, this penny stock could also go up in smoke. It lost $5.8 million in the last fiscal year and its assets are roughly equal to its liabilities. In short, things could go either way.
Hemp Inc. (HEMP) Sometimes you build it and they come. And sometimes, you build it and they don't. Hemp, also based in Las Vegas, sells nutritional products using – surprise, surprise! – hemp as the key ingredient. These products claim to boost everything from wellness and nutrition to protein and sexual performance. But they aren't selling. And the company's liabilities of $690,000 are now nearly 40 times greater than its assets.
FusionPharm Inc. (FSPM) Sometimes a penny stock, sometimes a dollar stock, the Denver company veered from 25 cents a share to more than $3 in the past month but, according to some, its market cap of about $15 million is not justified. It offers a "plug-and-grow" hydroponics product called PharmPod, which claims to use as little as one-fifth of the water typically needed to grow plants (like cannabis). The company has assets of nearly $680,000 with liabilities of $180,000 – better than most in its sector.
Medical Marijuana Inc. (MJNA) The target of a massive pump and dump scheme that prompted the Financial Industry Regulatory Authority to warn investors in August to beware their own reefer madness, the San Diego, Calif., company offers anti-aging cannabinoid oil products in all 50 states and is a minority shareholder of spin-off company CannaVest (see above). It reported revenue of just over $600,000 last quarter, does not file with the SEC and may soon be battling a lawsuit that recently alleged potential fraud. On the bright side, it's in the market for "celebrity, medical doctor and industry endorsements." So if you're a celebrity, give them a buzz.