Reese's Has Launched a Thanksgiving Peanut Butter Cup Pie—Here's All You Need to Know
The team at Hershey's has brought together two iconic confectionaries to celebrate Thanksgiving: pies and Reese's Peanut Butter Cups.
One of the most popular types of candy on the market, Reese's Peanut Butter Cups have long been a sweet shop staple.
Now, the candy gods have answered our prayers by creating a large, peanut butter-filled "pie," just in time for Turkey Day.
That said, its recommended retail price is raising more than a few eyebrows online.
What is the Reese's Peanut Butter Cup Thanksgiving pie?
One thing to mention is, when it comes to this Thanksgiving pie, it is missing one vital ingredient: pastry.
Rather than putting a peanut butter cup inside a pie crust, the team at Hershey's have instead scaled up the beloved treat, making it the size of a pie.
This means the peanut butter cup can be sliced up and served with cream or even more chocolate for an indulgent, post-Thanksgiving dinner dessert.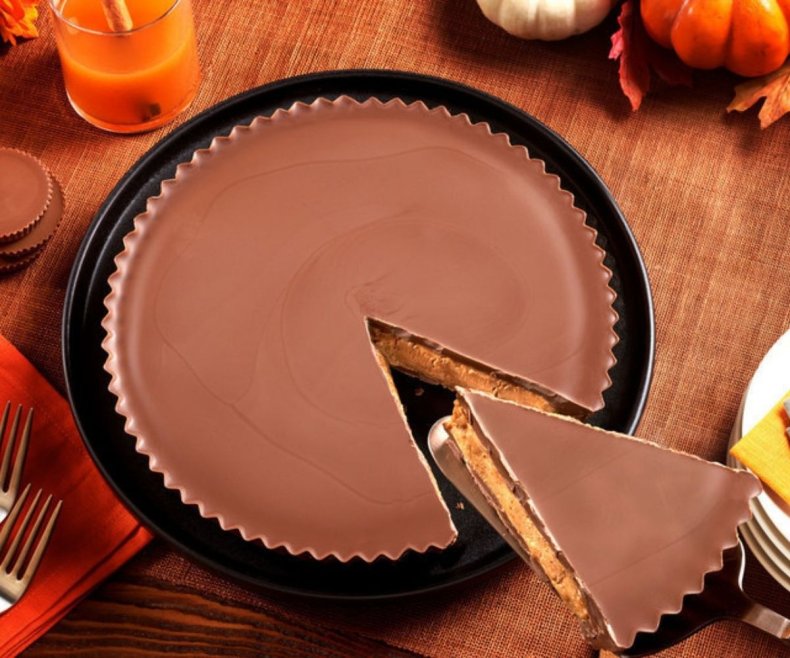 The peanut butter cup is nine inches in diameter, making it the size of a real pie, weighing in at more than three pounds.
Bo Jones, senior associate brand manager at Reese's, said of the treat: "When you bring together friends and family for Thanksgiving dinner, no table spread is complete without dessert.
"At Reese's, we wanted to create a dessert that everyone wants a piece of. You can thank us later."
How much is the Peanut Butter Cup pie?
When it comes to buying this tasty treat, it was made available on the Hershey's website while stocks last, for $44.99.
However, according to the Reese's Facebook account, that time has since passed, meaning the tasty treat is no longer available to purchase.
The team posted: "NOW SOLD OUT. Looks like Reese's fans were really thankful for the new Reese's pie this year as it is now sold out."
A representative from Hershey's confirmed this, telling Newsweek: "Since we are so close to Thanksgiving we won't have any more available online for this season."
Fans were unimpressed in the comments section of this post, though the majority were outraged at the price of the pie, rather than it having sold out.
One posted: "I'm sure this is amazing, but who the &$@! Is dropping $50 on a single pie????"
Another suggested: "$45, what is it made of! That's a crazy price. I made one myself and it was amazing for like $5."
Of course, other budding chefs may be excited by the idea of making their own, or even introducing a pastry crust to a peanut butter cup pie of their own creation.
This is not the first time the team at Reese's have mixed up the formula to their winning Peanut Butter Cup. Earlier this year, they released a peanut butter-only version, which has peanut butter coating the filling.
Another new version sees the introduction of potato chips, adding further salty flavors to the original peanut butter.