Referendum Would Cement Erdogan's Hold on Turkey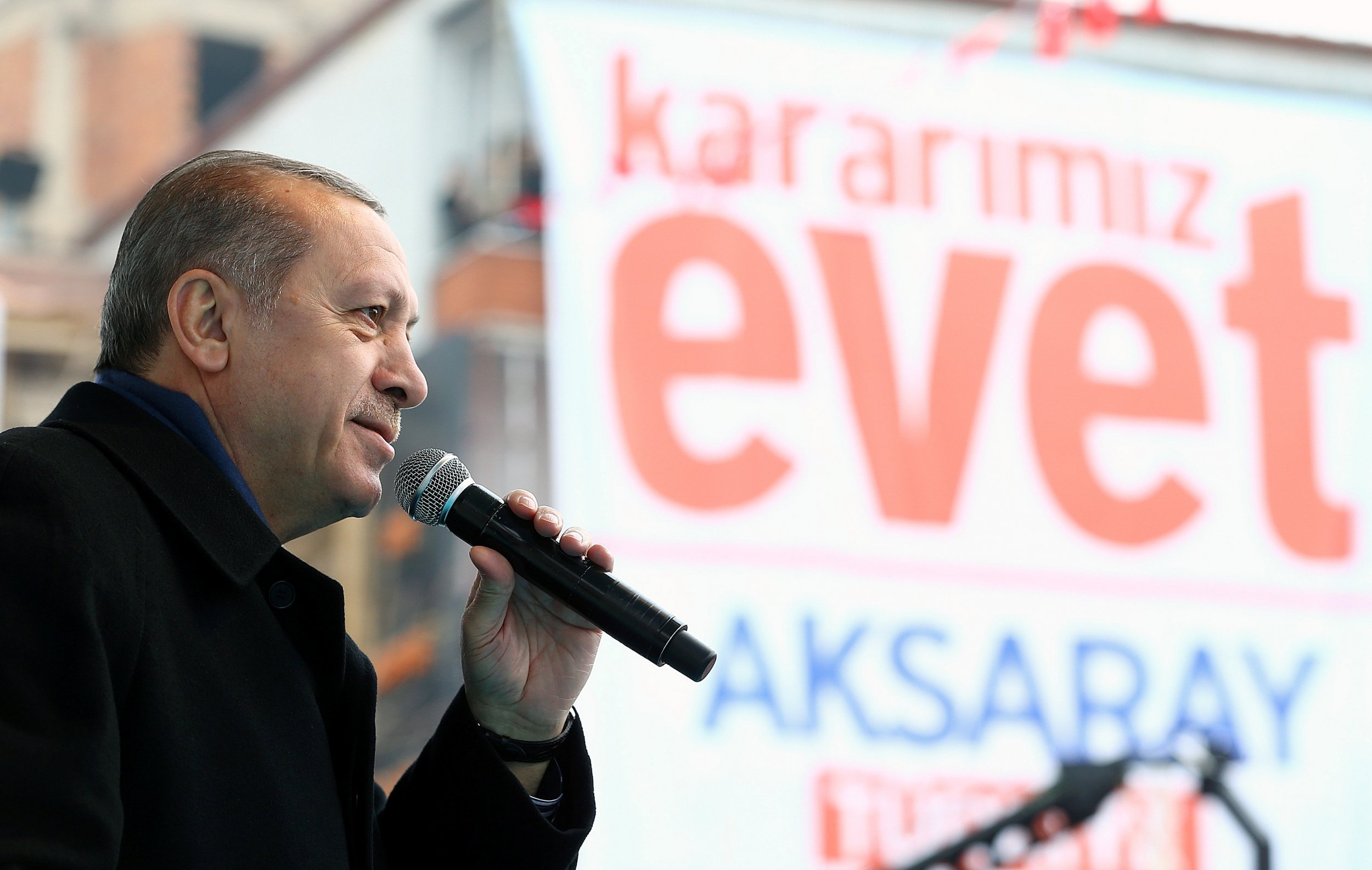 Turkey will hold a referendum on April 16 on replacing its parliamentary system with the stronger presidency long sought by incumbent Tayyip Erdogan, electoral authorities announced on Saturday.
The proposed constitutional reform would mark one of the biggest changes in the European Union candidate country's system of governance since the modern republic was founded on the ashes of the Ottoman empire almost a century ago.
It would enable the president to issue decrees, declare emergency rule, and appoint ministers and top state officials. It could also see Erdogan remain in power in the NATO member state until 2029.
Erdogan's supporters see the plans as a guarantee of stability at a time of turmoil, with Turkey's security threatened by the wars in neighboring Syria and Iraq, and by a spate of Islamic State (ISIS) and Kurdish militant attacks.
Opponents fear a lurch toward authoritarianism in a nation which has seen tens of thousands of people, from teachers and journalists to soldiers and police, detained since a failed coup attempt last July.
Seeking the support of nationalist voters, Erdogan has warned those who vote against the changes will strengthen Turkey's enemies, including the Kurdistan Workers Party (PKK) militant group, which has fought the state for more than three decades from camps in the Qandil mountains of northern Iraq.
"Who says no? The PKK says no. Who says No? Qandil says no. Who says no? Those who want to divide this country say no. Those who are against our flag say no," Erdogan told members of a pro-government think-tank in Istanbul, his speech frequently interrupted by chants of his name from the conference hall.
The executive presidency was needed, Erdogan said, to avoid the fragile parliamentary coalitions of the past. He said the 65 governments in the 93 years of the modern republic had each lasted an average of just 16 months.
The two main opposition parties—the secularist CHP and the pro-Kurdish HDP—say the change would strip away balances to Erdogan's already considerable influence over government.
Like almost all of his speeches, Erdogan's comments on Saturday were broadcast live on multiple television channels and, as campaigning gets under way, opposition politicians say they will be crowded out.
"This is definitely not going to be a fair referendum. We know that the pro-Erdogan media will have a broadcasting policy that completes ignores the opposition," CHP leader Kemal Kilicdaroglu told a roundtable with journalists in Ankara.
"It will be presented as if we are running against the state," he said, adding that 90 percent of Turkey's media outlets were under government influence.
Supporters of the nationalist MHP, the fourth party in parliament, are divided over the proposed changes. Its veteran leader Devlet Bahceli and many of its MPs support the plans, but prominent party member Meral Aksener, who mounted a failed leadership challenge last year, is against.
The electricity was cut in a hotel whose owners are seen as close to Erdogan where Aksener was addressing a rally on Saturday, the Cumhuriyet newspaper said, silencing the audio system and forcing her to continue using a megaphone.