Horatio Alger wrote rags-to-riches stories in the 1800s about poor boys who became wealthy through pluck, luck and good deeds. Sheldon Adelson did him one better, actually living a rags-to-riches story rooted in hard work, vision, courage—and good deeds. With Sheldon's passing, we have lost not only a remarkably successful business leader and an extraordinary philanthropist, but someone I was privileged to call a dear mentor and friend.
It is well known that Sheldon came from humble beginnings, as the child of immigrants living in Boston's Dorchester neighborhood. More than 80 years later, he still viewed the world through the eyes of a poor kid from Dorchester. As one of the richest men in America, he could afford the finest wines and any luxury foods he desired. But those who knew him knew that the best time to meet with Sheldon was on Friday over lunch in his office, because that was his favorite day, when his staff would bring him hot dogs and sliders for lunch and he was sure to be in a good mood. He never lost his enjoyment for those kinds of simple things.
More than that, Sheldon never lost touch with people. Most of those who achieve his level of success spend a lot of money on staff to serve as buffers between them and other people. Sheldon didn't do that. At Republican Jewish Coalition events, people would be lined up 20- or 30-deep to say hello and take pictures with him. He obliged them, even in the middle of eating his dinner. He gave out his cell phone number freely and enjoyed being with people, talking to them and listening to them.
Sheldon was a serial entrepreneur who created dozens of companies over the years. He was often called a visionary leader, which is true, but he had more than just vision. Hard work and courageous confidence (or outrageous confidence, to your detractors) are required to achieve great things. Sheldon had a vision of Las Vegas as more than just a gambling town. He knew that bringing in trade shows and business conventions and offering grand resorts with the finest amenities and big, beautiful rooms would make Las Vegas a top destination for millions of people. When he began building The Venetian, he was mocked and called a fool. But he never lost confidence in his vision of what Las Vegas could be, and today everyone is copying his integrated resort model.
The same was true in Asia, where Sheldon saw glittering potential in Macau, then a seedy, prostitution-ridden city. He turned it into Asia's own Las Vegas, on land reclaimed from the sea. People called him crazy, but once again he had the courage of his convictions and he was proven right. His confidence in his own vision and his willingness to take risks to bring that vision to fruition were the keys to his success.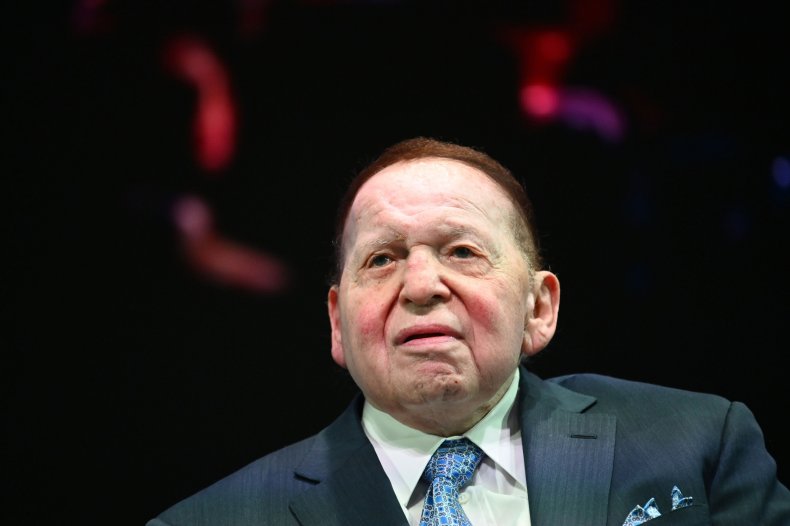 That success made it possible for him and his beloved wife, Dr. Miriam Adelson, to engage in substantial and meaningful philanthropy—in the Jewish community and beyond. The Adelsons have been the largest funders of Taglit-Birthright Israel and supported Yad Vashem, United Hatzalah and Friends of the Israel Defense Forces, among other organizations in Israel. They built a $65 million campus in Las Vegas for the Milton I. Schwartz Hebrew Academy and Adelson School, which serves students from preschool through high school. In addition, their Dr. Miriam and Sheldon G. Adelson Medical Research Foundation funds collaborative, cutting-edge medical research. Dr. Miriam Adelson has contributed enormously to drug addiction research and therapy, and the Adelsons built two major drug abuse treatment and research centers, in Las Vegas and in Israel.
The Adelsons have also extended tremendous kindness to friends and others in need. Sheldon showed the same compassion to his employees that he showed to everyone else. When COVID-19 hit, he refused to lay off his employees, and he continued to provide them with full pay and benefits throughout the pandemic.
Sheldon did what he thought was right, in business and in every other part of his life. If you wanted to argue with him, you had better know your stuff. Sheldon never got a college degree, but he was one of the smartest people I've ever known. He hated yes-men and respected people who were not intimidated by him or his wealth—people who would give him honest and sound counsel.
I have a very vivid memory of the first time I met Sheldon. I traveled to Las Vegas to tell him about the Republican Jewish Coalition (RJC) and try to get him involved in the organization. We had a wide-ranging conversation and, at one point, he asked me what I thought about something he'd said. I said I disagreed with him. You could have heard a pin drop in that room. Sheldon cocked his head and asked, "Why?" I answered him honestly, sure that I had lost all chance of getting him interested in the RJC, but he replied, "Yeah, I think you might be right." After that, Sheldon was very involved in the RJC and gave generously not only his money, but more importantly, his time and good counsel. Much of the RJC's innovation and impact over the last few years were made possible by his vision and leadership.
Sheldon was an American patriot, a dedicated defender of Israel and a living example of the American dream. His passing truly leaves an empty place where a vibrant, courageous and caring man once stood. He will be sorely missed.
Matt Brooks is the executive director of the Republican Jewish Coalition (www.RJCHQ.org), the national grassroots organization of Jewish Republicans.
The views expressed in this article are the writer's own.