Reform Jews Are Worse Than Holocaust Deniers, Says Former Chief Rabbi of Israel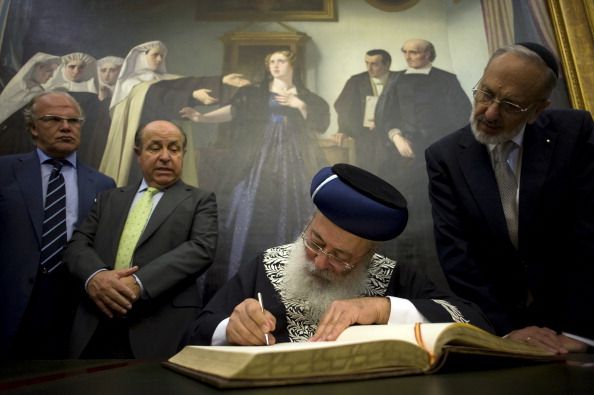 A former chief rabbi of Israel said Reform Jews are worse than Holocaust deniers during a lecture last week, the Haredi Hebrew news website Kikar HaShabbat first reported on Tuesday.
Shlomo Amar, who is currently the Sephardi chief rabbi of Jerusalem, was discussing a petition by the Reform and Conservative movements and Women of the Wall, a feminist prayer group, against the government's June decision to freeze an agreement that would allow for egalitarian prayer services at one of Judaism's holiest sites. The Israel Supreme Court held a hearing on Thursday at which it called on the state to revisit its decision to suspend the agreement and, if it would not be willing to do that, to explain whether it believes the court can force its hand.
In his rant, Amar said that Reform Jews commit every wrong against the Torah. "They even wed gentiles and Jews. They don't have Yom Kippur or Shabbat but they want to pray [at the Western Wall]. But no one should think that they want to pray, they want to desecrate the holy," he said. "They are trying to deceive and say that extremist Haredim invented [separate prayer at the Western Wall].
"It's like Holocaust deniers, it's the same thing," he continued. "They shout about Holocaust deniers in Iran, but they deny more than the Holocaust. In all of the Mishnah and Gemara [the two parts of the Talmud], there was a women's section and a men's section in the temple. Is this something someone can be satisfied with? Did we invent this?
"It's a destruction taking place in our day," he said, using the specific Hebrew word usually employed to describe the destruction of the Second Temple by the Romans in 70 C.E. The Western Wall is the only portion of the temple that remains standing. "They will regret it and cry tears of blood over these offenses they are committing."
It's not the first time Amar has expressed his distaste for Reform Judaism, the most liberal of the major denominations. Just last year he gave an interview in which he called adherents "evil" in comments that also came in the wake of the debate over egalitarian prayer space at the Western Wall.
"There aren't many Reform in Israel," Amar told the newspaper Israel Hayom in November 2016. "In recent years they have been importing it, this culture. What they are doing is incitement. It is not a matter of personal distress; it's politics…. I will not change what is written in the Torah."
His sentiments go even farther back. In 2012 he said, "It's preferable not to pray at all than to pray with [a Reform congregation]." In 2010, he blamed Reform Jews for assimilation and for imposing a liberal lifestyle that led to a "spiritual low point."
That year, he wrote in a letter to other rabbis and leaders, according to a translation published in Tablet:
Those who call themselves liberals and Reform, and their friends and supporters, they are responsible for this terrible crime, they support it openly and without shame.

And now they dig their claws into the people who live in Zion, and they try to dictate to us a lifestyle, that Israel should be like all other nations, God forbid, and they terrorize us in various ways, and they formed legions of warriors inside the land of Israel whose sole purpose is to rip the Torah out of Israel and defile the religious courts and everything that's holy, and they'll use whatever ways and means they can, by threatening and exerting influence on ministers and members of Knesset and by appealing to the courts. Things are getting worse and worse.
Reform Jews are also not the only group Amar has made disparaging remarks about, spurring a backlash of criticism. In the same Israel Hayom interview in November 2016, he called homosexuals a "cult of abomination.
"It is clear that it is abomination. The Torah punishes it with death. This is in the first line of serious sins. They say 'tendency,' 'perversion'—nonsense. There is lust, and a person can overcome it if he wants, as with any other kind of lust. This is one of the most forbidden types of lust. The most grave," he said. "There is no such thing as having understanding or tolerance for this," he added. "I call on them, in warm and friendly language, to leave their bad path."
Amar's comments usually spur a spate of criticism from the groups he attacks and other leaders and politicians. Last year, Oded Fried, formerly the head of the Israeli National LGBT Task Force, said Amar "should keep his dark opinions to himself rather than lend a hand to incitement against the LGBT community," while Israel Religious Action Center Director Rabbi Noa Sattath, said, "His comments, which are nothing more than baseless hatred peppered with ignorance, harm Israelis and Jews who pay his state salary."
After Amar's most recent attack on Reform Jews, Prime Minister Benjamin Netanyahu condemned his remarks. "All Jews are part of one family and the diversity of our people should always be respected," Netanyahu said. "I categorically reject any attempt to delegitimize any part of the Jewish people."
Amar reportedly stood by his comments in an interview Wednesday with Israel Radio, insisting that denying the clarity of Jewish law on gender separation was like denying the Earth is round.