Reformer Saudi Arabian Princess Found Under House Arrest After Missing for Months
A Saudi Arabian royal who disappeared in March is reportedly being kept under house arrest following her mysterious disappearance earlier this year.
According to German news broadcaster Deutsche Welle (DW), Princess Basmah bint Saud bin Abdulaziz al-Saud was abducted "on suspicion of trying to flee the country" and had been unreachable since. At the time, the 55-year-old mother of five was traveling to Switzerland for "urgent medical attention," and had been cleared for the trip, sources told the outlet.
Princess Basmah's U.S.-based attorney, Leonard Bennett, told DW that about two months after the incident, "She just fell off the radar; no one knew where she was. We actually feared the worst." When he was finally able to reach her, she was "sounding very much like a hostage," he said.
The Saudi royal is the youngest daughter of former King Saud—who ruled over the country from 1953 to 1964 and is believed to have fathered 115 children—and has emerged as a critic of the royal family and an advocate for constitutional reform over the last decade.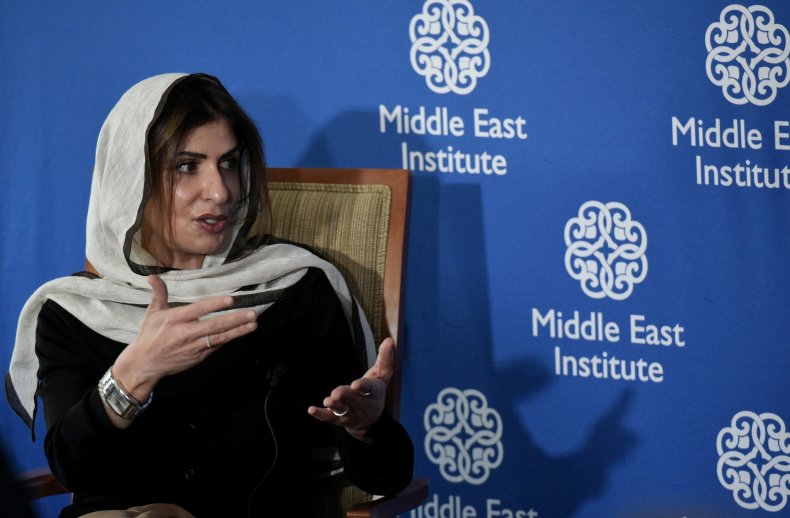 "We have ministers who are incapable of doing what has been ordered from above because there is no follow up, because there are no consequences. If you are poor man and you steal, your hand is cut off after three offences. But if you are a rich man, nobody will say anything to you," she told The Independent during an interview in 2012.
She continued: "We have 15,000 royals and around 13,000 don't enjoy the wealth of the 2,000. You have 2,000 who are multi-millionaires, who have all the power, all the wealth and no-one can even utter a word against it because they are afraid to lose what they have."
In the early '80s, the princess studied medicine, psychology and English literature at the Beirut Arab University. She embarked on a career in journalism in 2006 and founded a media company in 2008, according to Insider. Her pieces, primarily on the welfare of Saudi Arabian citizens, appeared in publications The Independent, Vanity Fair and The Huffington Post.
Following a divorce in 2010, Princess Basmah moved to London, where she created The Lanterns, a global humanitarian network with the aim of connecting people and organizations striving for a more equal world. She also published a thesis on governance entitled The Fourth Way Law through the Global United Research and Analysis (GURA) center.
Speaking to DW, Madawi al-Rasheed, an expert on Saudi politics and the royal family at the London School of Economics, said he believes that her advocacy may have been what actually got the princess into trouble.
"They may have put her under house arrest or detention to prevent her from leaving and being outspoken," al-Rasheed told the German broadcaster. "But to think that there is somebody lower down doing this to please MbS [Crown Prince Mohammad bin Salman], I doubt that. They could do that with other people—but not a princess."