Refugee Agencies Scramble to Prepare For Influx of Afghans Arriving In U.S.
Across the U.S., refugee resettlement agencies are gearing up to accommodate the influx of Afghan refugees arriving in the country after the Taliban's swift takeover of their homeland.
State Department officials told agencies to be ready to receive up to tens of thousands of Afghan refugees who may come to the U.S. under a humanitarian parole program in the next few weeks, said Jenny Yang, senior vice president of advocacy and policy at World Relief. "So we're preparing for that," she told Newsweek.
National Security Advisor Jake Sullivan told reporters on Monday that more than 37,000 people have been evacuated from Afghanistan since August 14, including Afghan allies and Afghans at risk of persecution by the Taliban. But Yang explained that not many are arriving in the U.S. just yet since they're being processed in other countries.
That is expected to change in the coming weeks.
Mark Hetfield, the president and CEO of HIAS, a nonprofit that works to protect refugees, told Newsweek that the Afghan nationals with special immigrant visas (SIVs) will be the first to arrive.
Afghans who worked for the U.S. government during the 20-year war and their families qualify for the SIV program, but a backlog of visa applications meant many who qualified were left behind.
Hetfield noted that the Biden administration has also "declared a whole bunch of different categories of people" who would be eligible to come to the U.S. through the refugee program. But that process "tends to be very slow," he said.
Many Afghans fearing a return of the brutal rule the Taliban imposed in the 1990s are desperately trying to wade through the bureaucracy and secure a seat on a flight out before a looming August 31 deadline for pulling U.S. troops out of the country.
Reports indicate that even those approved for evacuation are facing huge crowds at Kabul's international airport and Taliban checkpoints along the way. "Given the situation in Afghanistan, we're all hoping they find a way to expedite it significantly," Hetfield said.
Plans are "in pretty good shape," he added, since the Biden administration had promised to lift refugee admissions to 125,000 for the next fiscal year, which begins in October. That's "a dramatic, exponential increase over what we've been doing recently, and so we've already been working with the State Department to prepare for that capacity."
He added: "We know we're gonna have to gear up."
Refugee agencies face increasing challenges
Meanwhile, many SIV recipients who have arrived in the U.S. are in the process of being resettled.
Mark Hagar, a director with Refugee Services of Texas, told Newsweek that the agency will resettle over 300 Afghans across the state in the coming weeks.
He explained how employees and volunteers have had to scramble to prepare for some arrivals.
Normally, he would get one or two weeks' notice that families are arriving in the cities where they will be resettled, but that hasn't been the case lately. "We're getting probably sometimes 24 or 48 hours," he said. "But we're able to do it because we have the staff, the volunteers, partners... they all work together to make it happen."
Eskinder Negash, the president and CEO of the U.S. Committee for Refugees and Immigrants (USCRI), said a system is in place to ensure arriving Afghan refugees are resettled "as quickly as possible."
"We've been pushing the administration to expedite the process of bringing them here," he told Newsweek. "And once they get here, we have a system ready to support them."
That system involves picking up arrivals at the airport, arranging housing, food, enrolling children in schools and helping them find employment, he said.
Hetfield says there's a "long" list of essential items that are provided for resettled people, funded by government grants and private donations—but the list doesn't include laptops and smartphones.
He urged companies like Apple, Samsung and Microsoft to consider donating devices, adding: "That is a terrific need that people are going to have when they arrive here.'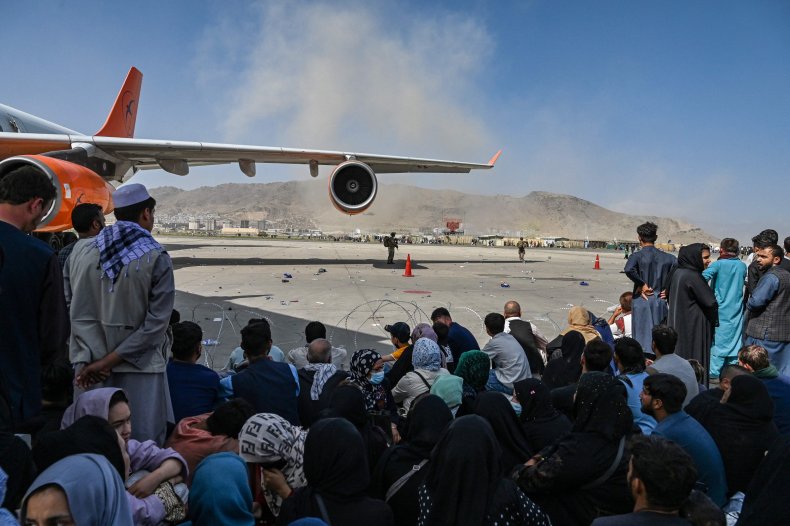 But with a housing crisis and the U.S. battling a surge in coronavirus cases fueled by the Delta variant, agencies are facing an increasing number of challenges when it comes to resettling arriving refugees.
"The sites where the where we tend to send [SIV recipients] because that's where they have their ties, those are all places with very tight housing markets," Hetfield said. "So we're very concerned about that."
Hagar agreed, adding: "In the U.S., prices are up, available units are down."
Some Afghan families will have to be placed in temporary housing, with donors like AirBnb stepping in to "fill some of those gaps," Hetfield said.
An Airbnb spokesperson told Newsweek that the company's nonprofit arm, airbnb.org, has provided emergency funding and support to the International Rescue Committee (IRC), HIAS and Church World Service to provide temporary stays for up to 1,000 arriving Afghan refugees.
Last weekend alone, Airbnb.org worked with partners to place 165 refugees in safe housing shortly after they arrived in the U.S., the spokesperson said.
Meanwhile, Airbnb's CEO Brian Chesky announced on Twitter that the company will temporarily house 20,000 Afghan refugees around the world for free from Tuesday.
"The displacement and resettlement of Afghan refugees in the U.S. and elsewhere is one of the biggest humanitarian crises of our time. We feel a responsibility to step up," Chesky wrote. "I hope this inspires other business leaders to do the same. There's no time to waste."
No at-risk Afghans left behind
For Negash, a big concern is making sure no at-risk Afghans are left behind. "We are very, very concerned," he said. "We believe that the U.S. has a moral obligation to process and bring them as soon as possible."
Hetfield agrees that the processing of people overseas raises concerns.
He said: "How are they going to actually help the people who are eligible for these new categories? How do they leave Afghanistan with the borders controlled by the Taliban, going into other countries where there's no processing capacity?
"I think the biggest worry is on the other side of the ocean. On this side of the ocean, we have our challenges but I'm confident we'll meet them."
But for now, Hagar said the focus must be on "making sure that we are prepared to give these guys the dignity that they deserve when they get here."
A State Department spokesperson told Newsweek: "We are working expeditiously to resettle as many eligible refugees as possible this fiscal year, and are urgently assisting eligible Afghans under the Afghan Special Immigrant Visa program (SIV), Priority 1 (P-1) and Priority 2 (P-2) referrals to the U.S. Refugee Admissions Program, and at-risk Afghans.
"This effort is of utmost importance to the U.S. government and we are devoting significant resources to support these programs and will continue to surge resources toward these efforts to the fullest extent possible."
The spokesperson also noted that Biden's commitment to resettling up to 125,000 refugees in the 2022 fiscal year.
"We are allocating new funding to support this increased resettlement. We will continue to review, assess, and apply the full range of tools and initiatives available to strengthen the domestic and overseas infrastructure of the U.S. Refugee Admissions Program, including expanded hiring for critical roles."
Update 8/24, 7.45 a.m.: This article was updated with a comment from the State Department.