Europeans Fear Refugees Will Bring Terrorism, Take Jobs: Study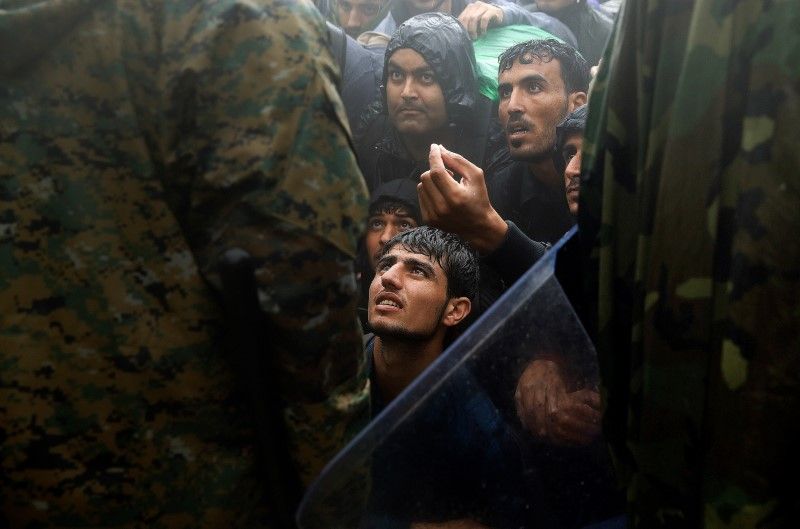 Europe's ongoing refugee crisis and the threat of terrorism are "very much related" in the minds of many on the continent, according to a new study from the Pew Research Center.
The organization, which is based in Washington, D.C., interviewed more than 11,000 people in May and June across 10 European countries—Hungary, Poland, the Netherlands, Germany, Italy, Sweden, Greece, the U.K., France and Spain—many of which were at the epicenter of the refugee crisis when it was at its height last year. (Greece and Italy continue to be the first point of entry into Europe for many refugees and migrants fleeing violence and persecution in the Middle East and Africa.)
In eight of the nations that Pew surveyed, more than 50 percent of respondents said they believed the resettlement of refugees in their countries would increase the likelihood of terrorism. That sentiment was strongest in Hungary, where 76 percent of people said they believed terrorism would increase with an influx of refugees. Last year, the country built a 100-mile razor-wire border fence to discourage refugees from entering the country, which was along the migrant route to Northern Europe.
More than 80 percent of people surveyed in Hungary said they believed "refugees are a burden on our country because they take our jobs and social benefits," a sentiment shared by 46 percent of people in the U.K. and 72 percent in Greece. The lowest percentage, 32 percent, was in Germany, which received the highest number of asylum seekers in 2015 but at the beginning of this year was rocked when groups of North African men committed a wave of sexual assaults against women in Cologne.
The survey was carried out before the June 24 Brexit referendum, which saw the U.K. vote to leave the European Union, and the June 28 attack on Istanbul's Atatürk airport that killed at least 44 people.
More than a million refugees and migrants entered Europe via the Mediterranean Sea in 2015, and more than 158,000 have arrived so far this year. The majority of them are from Syria, Afghanistan and Iraq, according to data from the United Nations refugee agency (UNHCR).
The study also finds there are widespread negative views of Muslims across Europe, particularly in the south and east. More than 60 percent of those surveyed in Hungary, Italy, Poland and Greece said they had an unfavorable view of Muslims. Negative views of Muslims have increased in the U.K., Spain and Italy in the past year; and older persons, those with less education and people who identify as political conservatives across the countries surveyed are more likely to have negative views of Muslims.
However, the percentage of the people who said they believed most or many Muslims in their countries support militant organizations like the Islamic State group (ISIS) is less than half in all 10 nations surveyed.
Roma migrants are also viewed unfavorably—in many cases, worse than Muslims; on average, 48 percent of respondents have a negative view of Roma. Since 2015, negative views of Roma have increased in Spain, the U.K. and Germany.
Fear of terrorism is far more widespread among supporters of two of Europe's far-right political parties than other political groups. In the U.K., 87 percent of U.K. Independence Party supporters said they believed refugees will increase the likelihood of terrorism, compared with 39 percent of Labour Party supporters and 60 percent of Conservative voters. In France, 85 percent of National Front supporters believed terrorism will increase, compared with 58 percent of republicans and 31 percent of socialists.
The study also looked at European attitudes toward cultural differences, concluding that "relatively few Europeans believe diversity has a positive impact on their countries," and that they are divided on what national identity means. Nearly all—97 percent—of respondents across all 10 countries said being able to speak the national language is very or somewhat important to a sense of national identity.
Based on four criteria about what defines national identity—speaking the national language; sharing customs and traditions; being born in the survey country; and being a Christian—Greece is the most exclusionary country on the list, while Sweden is the most welcoming, according to the study.
In the U.K., Sweden and Spain, around one-third of respondents said more cultural diversity—an increasing number of people of many different races, ethnic groups and nationalities—is favorable, but in "no nation does a majority say increasing diversity is a positive for their country."
The European attitudes toward cultural diversity discovered by Pew are "very different" to that of Americans, according to the study. In March, Pew polled Americans and found that 58 percent said having more people of different ethnic and cultural backgrounds is a good thing and makes the U.S. a better place to live. Just 7 percent of Americans said diversity makes life worse; Spain, meanwhile, is closest to the U.S. among the European countries, with 22 percent echoing that statement.