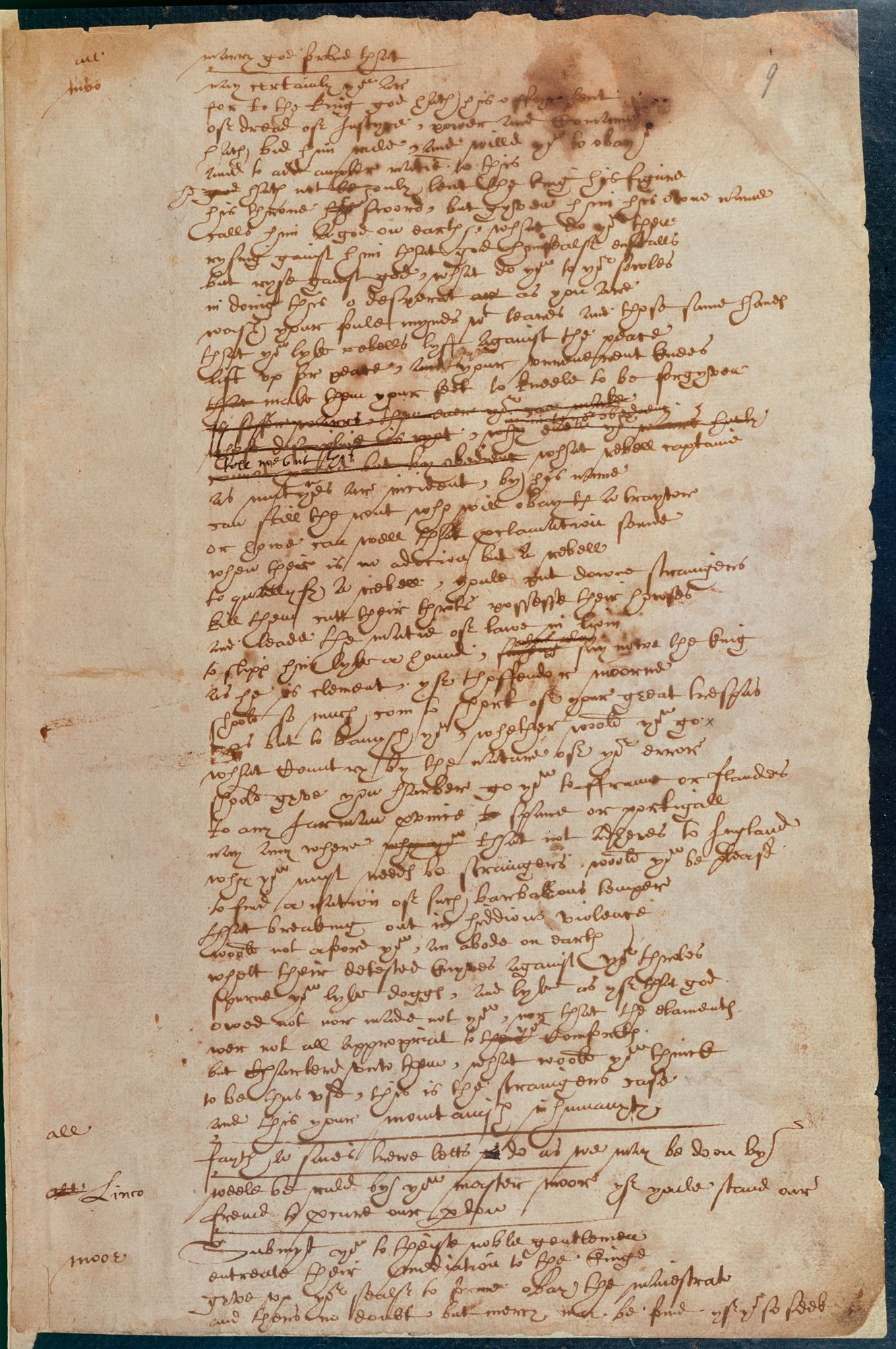 Before the Syrian conflict forced streams of people into Britain and the rest of Europe via Turkey and Greece, there were modern London's original oppressed refugees: French Protestants, or Huguenots. Now, as European leaders meet to discuss a response to those fleeing the current conflict, the British Library is publishing a plea for mercy towards immigrants written around the year 1600 by one William Shakespeare.
The words, spoken by the character of Sir Thomas More, a famous advisor to Henry VIII, form part of Shakespeare's only surviving handwritten script, The Book of Sir Thomas More. The play is one of 300 manuscripts, books, maps, paintings, illustrations, pamphlets, ballads, playbills and photos relating to Shakespeare available online for the first time on the British Library's Discovering Literature website.
Some 15,000 Hugenots and other continental religious refugees had arrived in Britain during the 1590s, with a series of anti-immigration riots leading Elizabeth I to condemn "sundry great disorders...by unlawful great assemblies of multitudes."
In a scene where More challenges anti-French rioters in London, he says:
You'll put down strangers
Kill them, cut their throats, possess their houses,
And lead the majesty of law in lyam [tied up with a leash]
To slip him like a hound.
Alas, alas! Say now the King
As he is clement if th'offender mourn,
Should so much come too short of your great trespass
As but to banish you: whither would you go?
What country, by the nature of your error,
Should give you harbour?
Go you to France or Flanders,
To any German province, Spain or Portugal,
Nay, anywhere that not adheres to England:
Why, you must needs be strangers. (Scene 6, 134–45)
The play was originally written by Anthony Munday, best known for his 1597 play about Robin Hood, The Downfall of Robert, Earl of Huntington. But Shakespeare was later brought in to add a short scene and rework other sections, along with other writers.
The critic Jonathan Bate summarized the scene: "More asks the on-stage crowd, and by extension the theater audience, to imagine what it would be like to be an asylum-seeker undergoing forced repatriation."
With Metropolitan police statistics showing a 70 percent rise in Islamophobic violence in London in the year to July 2015, it might be time for modern Londoners to imagine the same thing.