Refugee Orchestra Project Brings Exiled Musicians to Brooklyn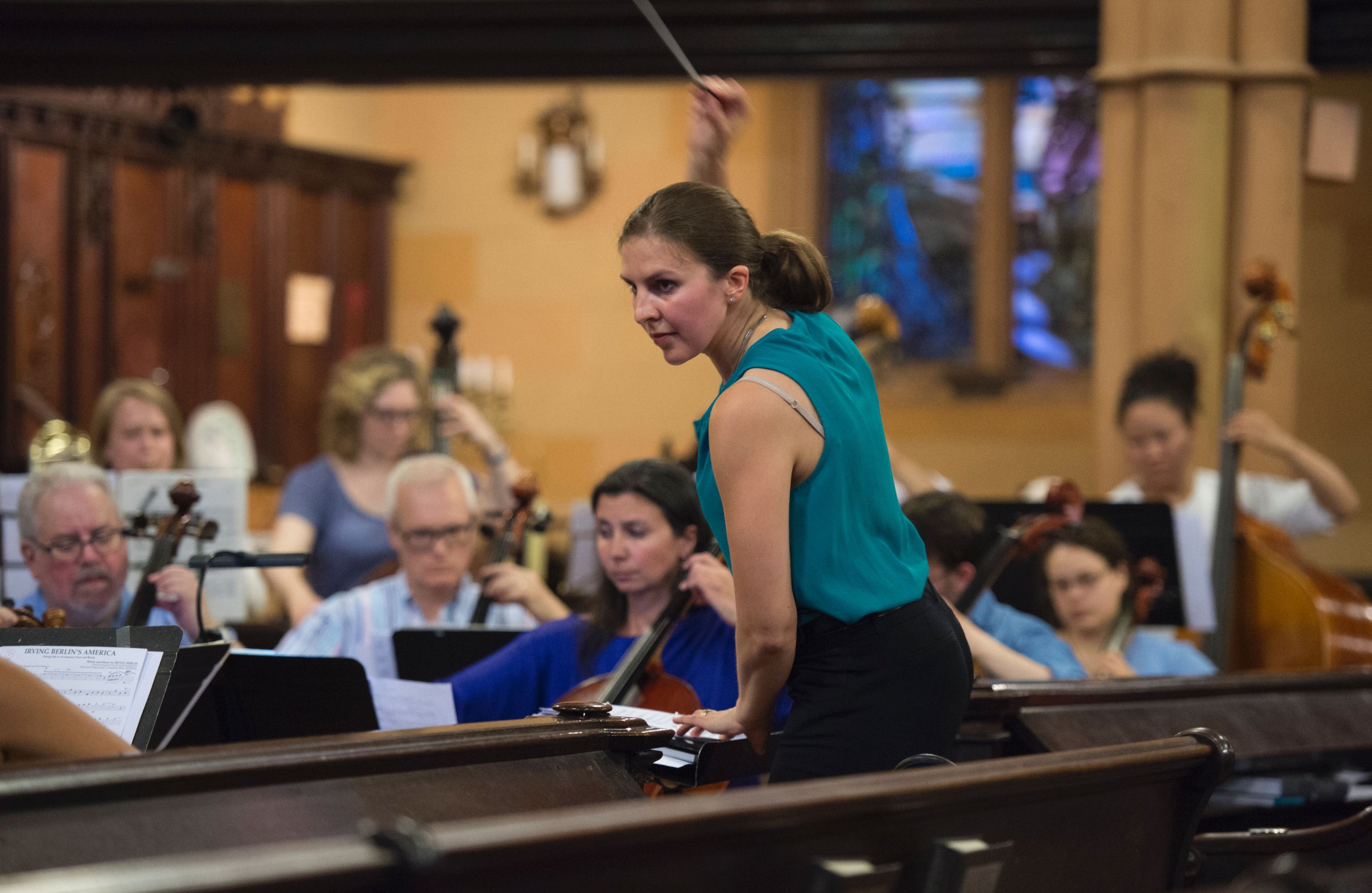 When she was growing up in St. Petersburg, Russia in the early 1990s, Lidiya Yankovskaya would see large demonstrations while on her way to her thrice-weekly chorus rehearsals.
"I remember passing by a major square in the middle of the city where fascists would fly large swastika flags and hand out pamphlets that said 'Kill all the Jews' on them," she tells Newsweek. "Russia, in general, at the time was in economic and political turmoil, so there was a lot of hardship overall. When that happens, people tend to blame any larger minorities that exist."
Yankovskaya's family is Jewish and, like many others, they left Russia as refugees, eventually settling near Albany, the capital of New York, in 1995. On Monday, as World Refugee Day was celebrated, Yankovskaya was in Brooklyn conducting the Refugee Orchestra Project, an organization she founded last year to demonstrate the kind of contributions—be it economic, artistic or cultural—that many refugees have made and continue to make to the U.S.
"I hope to demonstrate just how many refugees are around us each day and what we bring to the world," she says.
According to a new report from the United Nations refugee agency (UNHCR) published on Monday, there are now 65.3 million people who have been forcibly displaced, which adds up to one out of every 113 residents of Earth. The United States resettles around 70,000 refugees every year, although fear-mongering rhetoric against refugees and immigrants continues to take center stage in the current U.S. presidential campaign.
Days after the mass shooting at a gay nightclub in Orlando that killed 49 people, presumptive Republican presidential candidate Donald Trump said Muslims in the U.S. should be profiled in order to prevent further attacks. Trump has previously referred to Syrian refugees in the U.S. as a "trojan horse."
Since the Syrian civil war broke out in March 2011, the U.S. has taken in 6,551 refugees from that country (including more than 4,600 this fiscal year). Between 1959 and 2014, the U.S. resettled 459,884 refugees from Russia and the former Soviet states, including Yankovskaya and her family.
The concert at the First Unitarian Congregational Society in Brooklyn Heights on Monday was the project's second-ever show, following its inaugural concert in Boston last month. Around 60 people were in the church pews while more than 81,000 people watched the livestream, says Yankovskaya. As well as showcasing the talents of musicians who fled their countries and the threat of persecution, the orchestra allows performers to highlight the works of refugee composers, including Irving Berlin—a Jewish refugee from Russia who wrote and composed "God Bless America"—and Sergey Rachmaninoff, who fled during the Russian Revolution of 1917.
Featured works by non-refugee composers keep to the theme of fleeing the homeland and loss; Monday's concert included a duet from The Consul, an opera by Gian Carlo Menotti, in which the characters try to obtain visas in order to leave an unidentified totalitarian European country. Yankovskaya says it's "emotionally powerful to perform these works."
Among the orchestra's performers, which mainly consist of refugees and the children and grandchildren of refugees, was Lubana Al Quantar, a Syrian refugee who is considered the country's first opera singer. Al Quantar, a soprano, performed traditional Syrian music on Monday, as well as "Sola, perduta, abbandonata" ("Alone, lost and abandoned"), a song from Giacomo Puccini's opera Manon Lescaut.
"Lubana was very fortunate to escape at the beginning of the Syrian war," says Yankovskaya. "She had said to me that if she hadn't left, if she had tried to leave even a little later, if she hadn't had the opportunity to leave right then, she wouldn't be alive today or she'd be in a refugee camp, along with countless others."
Yankovskaya decided to start the Refugee Orchestra Project after she returned from a trip to Europe during the height of the continent's refugee crisis last year, when the world watched as refugees and migrants walked hundreds of miles and took to the sea for dangerous journeys. When she got back to the U.S., Yankovskaya says she was "very surprised that despite the fact that we are separated by an ocean and that we have very stringent immigration rules, many people here were not nearly as accepting or as welcoming" as many in Europe.
"There was an enormous amount of backlash at even the potential of having Syrian refugees come into our country," she says.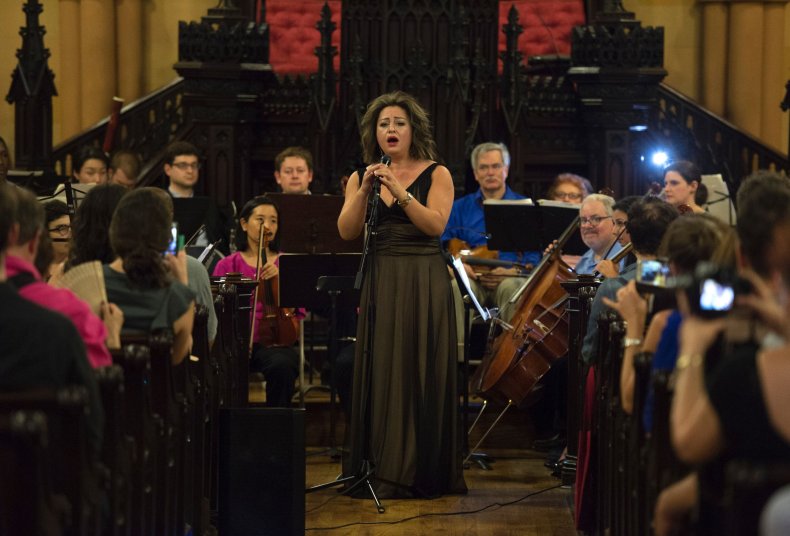 Proceeds from the concert went to the International Rescue Committee (IRC) and HIAS, formerly known as the Hebrew Immigrant Aid Society, a major resettlement agency in the U.S. that helped Yankovskaya and her family when they arrived two decades ago. While the Refugee Orchestra Project was only meant to perform two concerts in Boston and New York, Yankovskaya says she's now getting calls to take it to other cities.
Merrill Zack, director of community engagement programs at HIAS, believes events like the concert bring the public face-to-face with a crisis that can, at times, seem overwhelming and out-of-reach.
"When faced with such a staggering crisis of such epic proportions, it's hard to connect to it and to really understand who refugees are," says Zack. "When you go to a concert like the one [on Monday], you can look at some of those folks and say, 'Oh, refugees are people like me.' These are people's lives that are at stake."