On Refugees, Being Better Than Trump Isn't Good Enough | Opinion
On World Refugee Day, as the war in Ukraine rages, the number of forcibly displaced people globally has topped 100 million for the first time in recorded history. And while the United States has made some progress in reclaiming its historic reputation as a beacon of hope for those fleeing persecution, we have a long way to go.
Two years ago today, that reputation was in tatters. The U.S. ended fiscal year 2020 welcoming just 11,814 refugees. Our refugee resettlement program was greatly damaged by the intentional policies of the Trump administration, then almost entirely shuttered by COVID.
I know many of us felt hope when then-presidential candidate Joe Biden marked World Refugee Day 2020 by promising, if elected, to set an annual refugee ceiling of 125,000.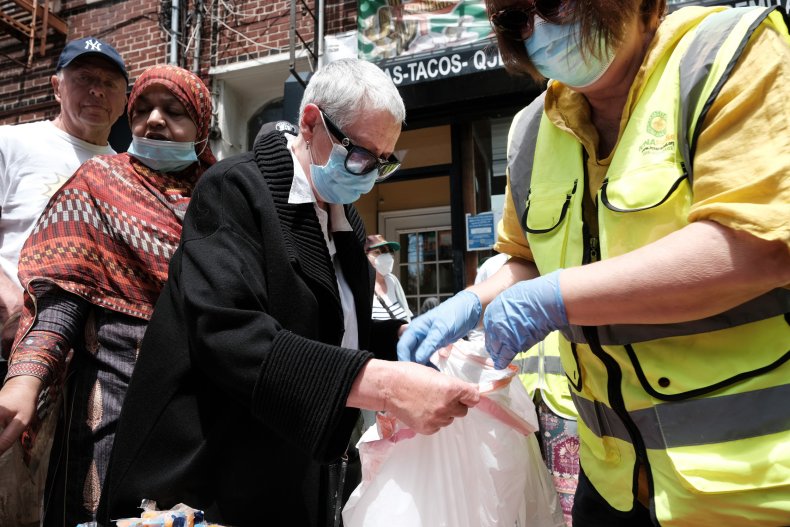 But two years later, the global situation for refugees has only deteriorated — and eight months into the federal fiscal year, the U.S. refugee resettlement program is on track to resettle fewer than 19,000 individuals this year, far from that 125,000 ceiling.
We must do better; we have to lead. And we still can. We are living through a historic refugee crisis, and we can make meaningful improvements.
That starts by acknowledging the work our refugee resettlement agencies and organizations are doing and learning from their hard-won successes. Most notably, the U.S. resettled more than 70,000 Afghans over the past 10 months — even though these Afghans aren't included in formal refugee counts for technical reasons.
This was a remarkable resettlement effort. Resettlement agencies, despite experiencing office closures and staffing shortages under the previous administration, secured housing during a national housing shortage, enrolled kids in school and connected adults to jobs, allowing them to quickly become economically self-sufficient.
So, while the evacuation was far from smooth — and left many behind, for whom we continue to advocate — the resettlement effort was still a significant achievement.
We're at risk, though, of leaving this mission unfinished. Because most Afghans were not formally admitted as refugees, but rather as parolees, they are unable to apply for permanent legal status. The lack of congressional action on the bipartisan Afghan Adjustment Act — which would allow evacuated Afghans to apply for permanent status — adds additional stress to Afghans whose lawful presence and work authorization documents currently bear an expiration date, who live with the fear of potentially being returned to the Taliban, and who lack the ability to petition for family members left behind.
Both our resettlement success and the long-term uncertainty are now being repeated with Ukrainians who, like the Afghans, are certainly refugees in fact but, in most cases, are being brought to the U.S. as parolees.
Of course, we hope and pray that the war will end quickly, and these individuals will be able to return to a free, safe Ukraine. Yet many — especially those who came to the U.S. to reunite with family already here — will likely want to rebuild their lives in the U.S. long term, which parole does not allow.
The reliance on parole, which leapfrogs bureaucratic hurdles but leaves people without the permanent status rightly offered to resettled refugees by U.S. law, demonstrates a larger problem.
The U.S. refugee admissions program, originally designed to be a quick, nimble tool of protection for the displaced, has become a program so encumbered by bureaucratic inefficiencies and delays that its original purpose is now effectively stymied. The effort to identify, screen and process refugees overseas — allowing the U.S. to welcome both those who have fled emerging crises and those who have been warehoused in refugee camps for years or even decades — has been far too slow.
Rather than relying upon parole as a workaround to these delays, the Biden administration and Congress must work together to rebuild and improve a robust, nimble refugee resettlement process. Biden needs to increase the refugee ceiling with his next presidential determination, but that's not enough; we also need a concerted effort to actually reach that ceiling.
That means ramping up U.S. governmental capacity for overseas processing, which was nearly halted by the confluence of Trump administration policies, COVID and resources being diverted to focus on other priorities. It also means reimagining woefully inefficient processes. The recent move to rely on video conferences for some interviews, rather than requiring in-person interviews requiring extensive travel, is a good first step. That Ukrainians are now being vetted for parole within days, rather than the years often required through traditional refugee processes, demonstrates that it is possible to both maintain high standards and move more quickly when there is the political will — which our elected leaders need to find.
That's because welcoming refugees is not just a matter of fulfilling a campaign promise; it's a question of fulfilling our national potential as a country built and strengthened by the contributions of people from all around the world. It is about keeping our commitment — codified in a law passed unanimously by the U.S. Senate that established the U.S. refugee admissions program — to stand with the persecuted and not return them to danger.
The president has only made partial progress toward restoring the United States as a place of refuge for the persecuted. The great work of refugee resettlement agencies, nonprofits, churches and individuals has allowed many to rebuild their lives in safety. But we have much more to do.
Myal Greene is the president and CEO of World Relief, a global Christian humanitarian organization that is one of nine national agencies that partners with the U.S. State Department to resettle refugees.
The views expressed in this article are the writer's own.