Refugees Embrace the 'Very Canadian' Sport of Curling: Photos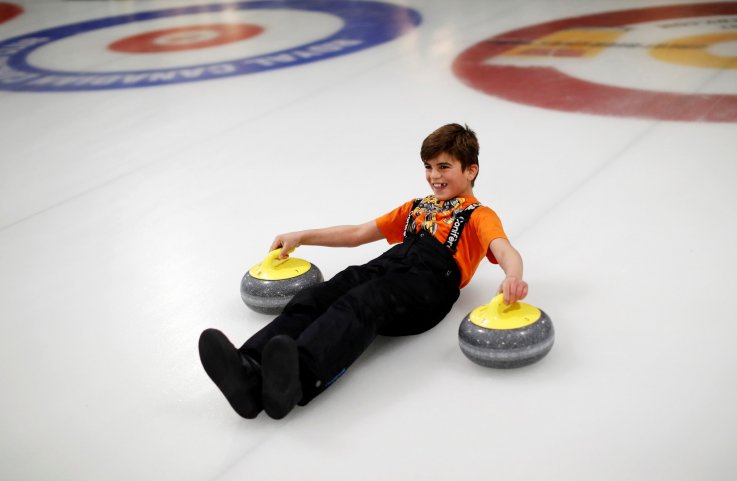 Though he's not yet a Canadian citizen, Arun Daniel is already playing like one. The 11-year-old refugee from Sri Lanka arrived in Canada just two weeks before taking a crash course in one of the country's favorite winter sports.
He'd seen curling on television before, but hadn't thought of it as a real sport. "It looked like not that fun. I was like, 'Why is it taking such a long time?' It felt like hockey is better," he told Reuters. "But when I came and really did it, I felt like, 'Oh, I shouldn't say that'."
Arun is one of 45 resettled refugees from Afghanistan, Syria, Kurdistan and other nations who spent Wednesday throwing stones, sweeping, wiping out on the rink and laughing at the Royal Canadian Curling Club in Toronto. Organized by the Together Project, a nonprofit that aims to provide social support to government-sponsored refugees, the day-long event paired the newcomers with volunteer teachers. It was the latest in a series of cultural outings arranged by the group that have included maple syrup tastings and visits to the Royal Ontario Museum.
Government-sponsored refugees are more likely to face unemployment and other integration challenges than those who are privately sponsored, according a a report by Canada's immigration department. Though settlement agencies help these newcomers with practical concerns, the Together Project helps to fill a need to prevent marginalization and social isolation and help with the cultural adjustment.
"Curling is a fantastic, very Canadian winter sport, and we thought that they might be interested in learning about winter sports in Canada since we have quite a long winter here," the project's co-founder, Anna Hill, told Reuters.