Defiant Washington Governor Extends Welcome to Syrian Refugees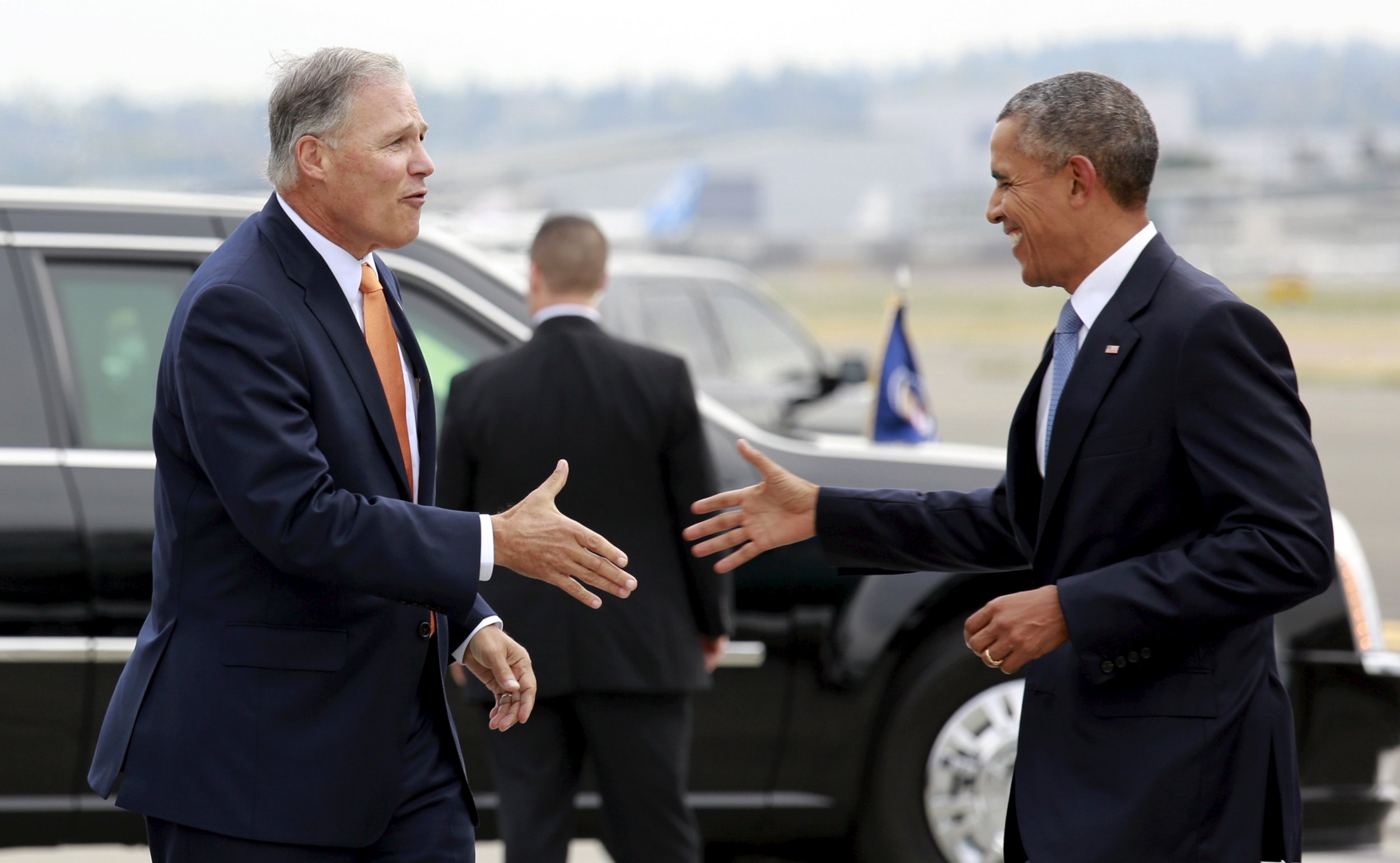 In the six days since armed gunmen killed 129 people in a series of coordinated attacks on Paris, some 27 United States governors have said they would reject Syrian refugees, while 13 others have offered more vague replies on the refugees' fates. Just 10 state leaders have maintained their support, and one—Washington's Jay Inslee—is even calling on his peers to stop being so shortsighted.
"The people of Washington state stand with the people of Paris and Beirut," Inslee said during a call with refugee resettlement activists and reporters on Tuesday. "This is a time, like many times in our history, where we are called upon to decide who we are as a country."
States that include Wisconsin, Texas and Maine have made public statements rejecting refugees, while Mississippi Governor Phil Bryant pledged to "do everything humanly possible to stop any plans from the Obama administration to put refugees in Mississippi."
About a half-dozen of those governors rejecting refugees have connected the decision to the attacks in Paris. "We now know that not only has ISIS claimed credit for this attack but at least one of the attackers was a Syrian refugee," Maine Governor Paul LePage said in a statement. That's not entirely true—the attacker was not proved to be a refugee, and while a Syrian passport was found near the body of one of the suicide bombers targeting a stadium in France, questions remain as to its authenticity.
Since the attacks, gubernatorial positions on Syrian refugees have fallen mainly along party lines: With the exception of one governor (Maggie Hassan of New Hampshire), all those vowing to reject such refugees are Republican. The 10 governors who have said they will continue to welcome Syrian refugees —including those from the entire West Coast and pockets of New England—are Democrats.
Not that it matters either way. "[Governors] do not decide whether refugees ultimately enter the United States," Inslee said Tuesday. "These are decisions made by the federal government, U.S. State Department, Homeland Security and the FBI."
That refrain has been echoed by other officials. "The federal courts and Supreme Court...have been very clear that immigration policy is set by the federal governor," John Sandweg, former acting director of U.S. Immigration and Customs Enforcement, told the press Tuesday. "In terms of the ability to make a decision on whether to admit refugees, the states have very little to no say at all. To be more strong, no say at all."
Former State Department lawyer Harold Koh told NBC News the same: "The chance that the governors' position will be legally sustained will be extremely low."
Speaking on Tuesday, Inslee called out one politician in particular over the refugee question: New Jersey Governor—and Republican presidential hopeful—Chris Christie. The governor said during an interview on Hugh Hewitt's radio show that Syrian refugees would not be allowed into his state, adding that not even "3-year-old orphans" would be permitted entry. Christie cited a lack of confidence in the federal government's ability to vet incoming refugees.
"I see a little bit of refrain of what happened in the Ebola situation, frankly, where one of these governors was putting his constituents in jail, and now he says he won't accept a refugee of a 5-year-old orphan," Inslee said, referring to the Ebola epidemic that struck West Africa in 2014 and led a nurse to be quarantined in New Jersey despite testing negative for the disease. "Now that's just not consistent with basic American values, and it's not consistent with who we are as a people."
Regardless of individual governors, the federal government has long controlled refugee programs in the United States, a policy reiterated in 1941 and 2012 by Supreme Court decisions, and with the Refugee Act of 1980. That act put power in federal hands, though it does note that states can make recommendations. Furthermore, once a refugee is admitted to the U.S., nothing can stop him or her from moving across state lines.
"We have always acted as a beacon and a refuge for those who have been displaced by atrocities across decades and centuries," Inslee said. "We are called upon to stand upon those rock-solid values of being a refuge."
Inslee characterized Syrian refugees as "those who reject" the Islamic State militant group (ISIS), a nudge at politicians who have implied that ISIS members might enter the U.S. as refugees to carry out a plot on American soil. "[Frankly], some of my colleagues have responded more to the real and understandable fear of our constituents," he said. "All of us, rather than responding to [those fears]...need to stand up and do we what we need to do when we are afraid, which is to stand up taller, take a deep breath, stick our chins out and realize who we are as a country."
Those constituent fears have crystallized as Americans come to associate attacks like the ones in Paris with refugees in general, Syrians in particular and Muslims at large. "Texas cannot participate in any program that will result in Syrian refugees—any one of whom could be connected to terrorism—being resettled in Texas," Governor Greg Abbott said this week.
But the numbers tell a different story: Refugees are extremely unlikely candidates for terror. Of the 745,000 refugees to enter the U.S. since September 11, 2001, only two have been charged with terrorist acts, according to a report by The Economist. By contrast, more than a dozen attacks have been carried out by "homegrown extremists," a study by research center New America found.
Some politicians and leaders—including Jeb Bush—have gone so far as to suggest that if the U.S. is to accept refugees, they should prioritize Christians. "Obama facing enormous opposition in accepting refugees. Maybe make special exception for proven Christians," Rupert Murdoch tweeted.
Speaking at the G-20 summit in Turkey this week, the president rejected that sentiment. "When I hear folks say that 'well, maybe we should just admit the Christians but not the Muslims,' when I hear political leaders suggesting that there would be a religious test for which person who's fleeing from a war-torn country is admitted, when some of those folks themselves come from families who benefited from protection when they were fleeing political persecution, that's shameful," Obama said. "That's not American. That's not who we are. We don't have religious tests to our compassion."