Refugee Admissions Under Trump Nearly Evenly Split Among Muslims, Christians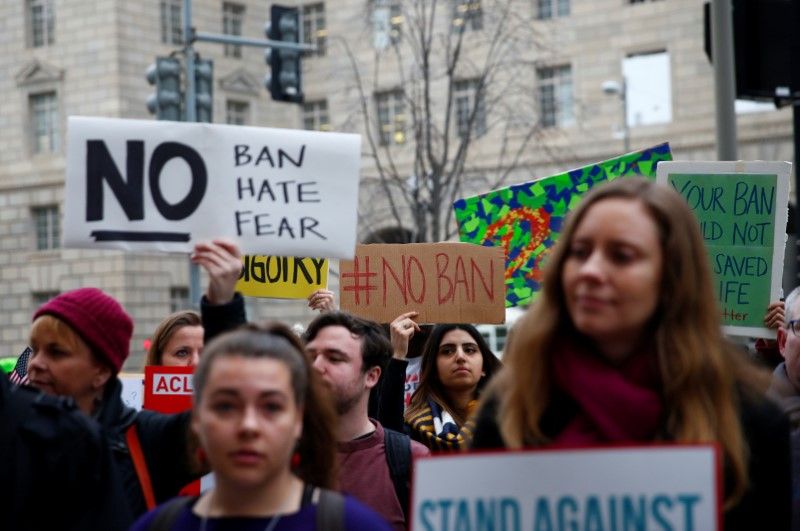 Just more than 7,500 refugees entered the United States during Donald Trump's first seven weeks as president, with almost the same number of Christians as Muslims, according to a study released this week. Of the 7,594 refugees who resettled in the U.S. between January 21 and March 10, 3,410 (45 percent) were Muslims, with 3,292 (43 percent) of them Christians, a Pew Research Data analysis of U.S. State Department Data has found.
The analysis came the same week as federal judges in Hawaii blocked the second version of Trump's travel ban. Judge Derrick Watson in Honolulu said: "Any reasonable, objective observer would conclude… that the stated secular purpose of the Executive Order is, at the very least, 'secondary to a religious objective' of temporarily suspending the entry of Muslims."
The executive order would halt the arrival of immigrants from six Muslim-majority countries—Iran, Syria, Libya, Somalia, Sudan and Yemen. Together, 2,466 refugees from those countries have been resettled in the U.S. since Trump entered the White House.
The executive order also sought to temporarily suspend the United States refugee resettlement program and to reduce the total number of refugees admitted by the U.S. to 50,000 from the previously stated allowance of 110,000.
The original executive order signed at the end of January, which was also struck down by the courts, included a provision which gave priority to refugee claims from people belonging to a minority religion in their country, which would have allowed the White House to prioritize Christians from the Middle East over Muslims.
Trump has previously made clear his desire to give preferential treatment to Christian refugees.
"If you were a Muslim you could come in, but if you were a Christian, it was almost impossible and the reason that was so unfair—everybody was persecuted, in all fairness—but they were chopping off the heads of everybody but more so the Christians," he told the Christian Broadcasting Network in January. "And I thought it was very, very unfair. So we are going to help them."
Last year, the U.S. admitted a record number of Muslim refugees, with the total of 38,901 representing 46 percent of the total. The same year there were 37,521 Christian refugees.