While the World Watches Trump's Wall, Europe is Colluding in Rape and Torture of Refugees | Opinion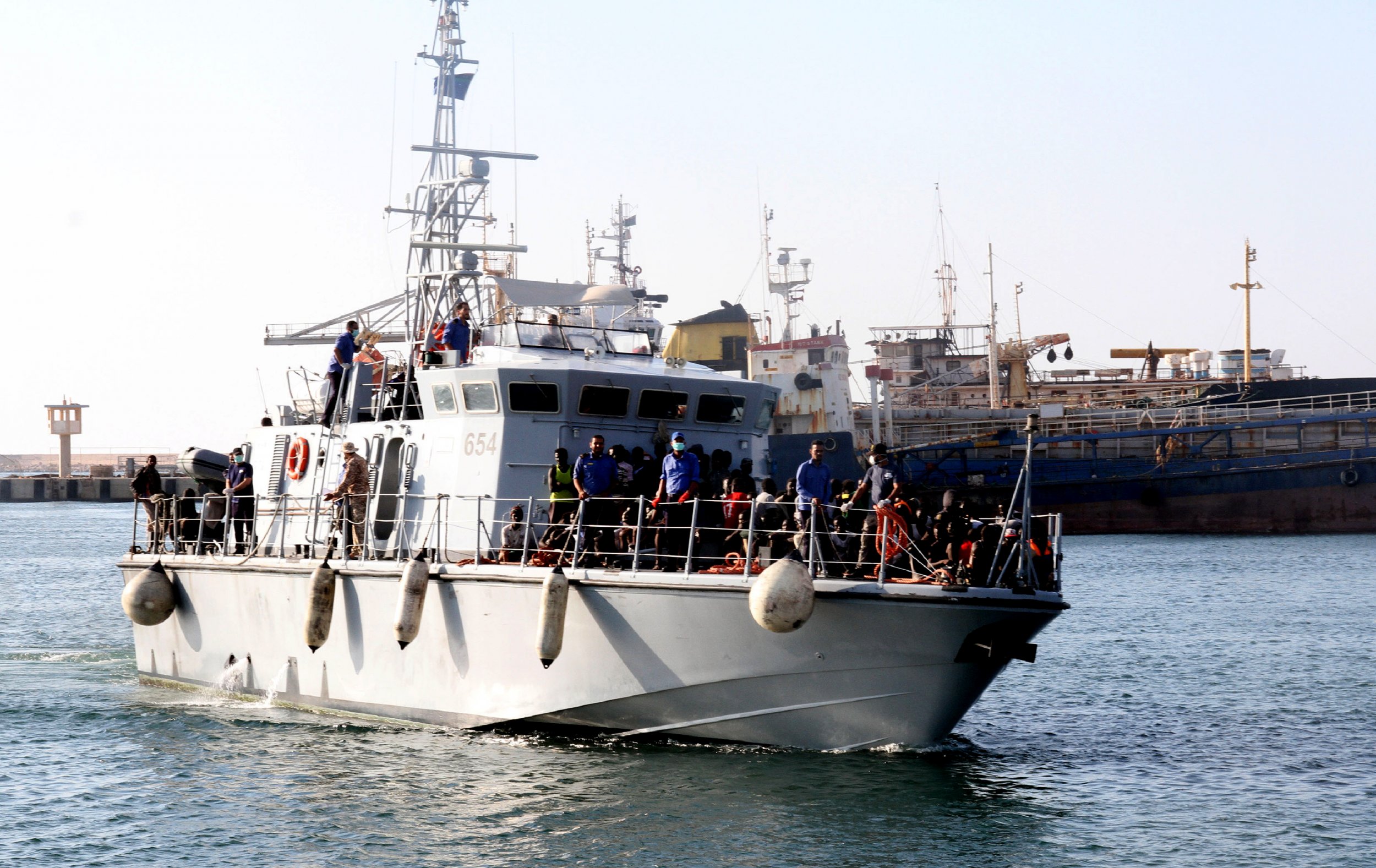 Farah, a young man from Somalia, his wife and newborn daughter had been at sea for 12 hours when the Libyan coastguard intercepted their dinghy. The couple had fled Libya after enduring several months of torture in a hangar where Farah was beaten and his wife raped in an attempt by Libyan gangs to extract ransom money from their relatives.
When he realized he was being sent back to Libya, the 24-year-old felt sick to his stomach. "I knew it was better to die than to go back, but they threatened us with guns."
Farah, his wife and baby spent the next seven months in two detention centres in Tripoli. "There was no food or support for my baby. She died when she was eight months old. Her name was Sagal."
This is just one of several heartbreaking stories of violence and unimaginable cruelty I heard last month in Medenine, a small town in southern Tunisia, which has received a low but steady number of refugees and migrants escaping a hellish life across the border.
This weekend fresh accounts emerged of people being tortured in Tripoli's Triq al Sikka detention centre. According to reports, over 20 refugees and migrants, including children, were brought to an underground cell and then tortured at turns, one-by one, for days, in punishment for protesting against their arbitrary detention in squalid conditions and the lack of solutions. In response to the protest, over a hundred other detainees were transferred to other detention centres, including Ain Zara – which is where Sagal died.
These stories of abuse correspond with what I heard in Tunisia. Another Somali man, Abdi, described extortion and beatings at the hands of detention centre guards. Like Farah, Abdi was also captured at sea by the Libyan coastguard and returned to Libya where he was moved from one detention centre to another.
"Sometimes the guards drink and smoke, and then beat people. The guards also ask people to pay money to release them, but if you don't pay, they beat you. You would see the guards, both militia and police, coming in and beating people who had not paid."
Catastrophic impact of Europe's migration policies
Most of the people currently held in Libya's detention centres were intercepted at sea by the Libyan coastguard, which has enjoyed all kind of support from European governments in exchange for preventing refugees and migrants from reaching European shores.
Through the donation of ships, the setting up of a Libyan search and rescue zone, and the construction of coordination centres , among other measures, European taxpayers' money has been used to enhance the Libyan capacity to block people attempting to flee Libya and hold them in unlawful detention. And this was done with no conditions attached, even if such cooperation results in gross human rights violations like torture.
If EU states want to stop being complicit in the beatings, rape and exploitation of women, men and children, they must demand the closure of all detention centres in Libya and the release of the about 5,000 people currently detained there.
European governments that have acted for years in a frenzy, pushing through policies designed to stop arrivals in Europe whatever the human cost, should come to their senses, at least now that crossings are very low. Beyond action to address the human rights crisis in the country affecting Libyans and foreign nationals alike, the response needs to include a swift and predictable mechanism for the disembarkation in Europe of asylum-seekers and migrant rescued in the Mediterranean, as well as a fair system to share responsibility among EU countries for their assistance.
Such measures would go some way to preventing the disastrous scenes that have been repeated over the past year – of rescue ships being left at sea for weeks with no EU country willing to open its ports to receive them. Such incidents not only add up to the suffering of people who have just fled horrific treatment, but also discourage merchant ships from rescuing people in distress and ensuring their disembarkation in a place of safety, which cannot be in Libya.
Emmanuel, a 28-year-old refugee who fled conflict in Cameroon, described being adrift at sea in a dinghy which was in sight of another one that was floundering in the water, and his utter disbelief when a ship refused to rescue either boat.
"From the big ship they were making calls, but said: 'Sorry, we can't take you, it's not my fault, orders are that Libyans will come to take you'. Meanwhile, I could see people dying on the other boat, pieces of boat were floating and bodies too. [By the time] a small Libyan ship came to get us...all the people on the other dinghy had died."
With reports that refugees from countries such as Eritrea are returning, despite the obvious risks to their lives back home, Europe cannot afford to ignore the catastrophic consequences of its irresponsible policies to stem migration across the Med.
As departures from Libya fall, now is the time to push for change: for an end to immigration detention centres in Libya, for a fair disembarkation and relocation mechanism in Europe, and for safe and legal avenues for people to find safety without resorting to sea crossings.
This would result in many more children and adults being released from their ordeal and allowed to leave the horrific centres where they are currently being arbitrarily detained in Libya. European governments, that have closed the central Mediterranean route and so trapped thousands of people in Libya, have no time to lose.
There are dozens of other Sagals, of other fathers and mothers, we could help to save.
Matteo de Bellis is a researcher on asylum and migration at Amnesty International. He specializes on the central Mediterranean route, with his most recent research focusing on the consequences of European cooperation with Libya.
The views expressed in this article are the author's own.​​​​​