Regina King, in a Breonna Taylor T-Shirt, Urges People to Vote During Emmys Win: 'Vote Up the Ballot, Please'
Regina King was full of joy when she was named the winner of the Emmy Award for Outstanding Lead Actress in a Limited Series for her virtuous role of Detective Angela Abar on HBO's hit series Watchmen. And just as her character fought against the evils that terrorized the Black community in Tulsa, Oklahoma where the series took place, King used her Emmys win as a moment to stand up for the many Black Americans that have been victimized by injustice all over the country today.
Although the 49-year-old planned to wear a glamorous blue Schiaparelli Couture by Daniel Roseberry ball gown had the awards taken place at the Staples Center in Los Angeles like previous years, King accepted the award from the comfort of her living room where she was decked out in hot pink suit and a t-shirt emblazoned with Breonna Taylor's face. The shirt also displayed the phrase, "Say Her Name," which has been used as a reminder of the 26-year-old's tragic demise.
Taylor, a Black American medical worker, was fatally shot after police barged into her Louisville, Kentucky home with a no-knock warrant in March. Justice for her death has been among the many demands of protesters who have flooded the streets across the U.S. to call attention to the deaths of unarmed Black people at the hands of white police officers.
It's not the first time King has worn the statement-shirt, created in partnership with lifestyle brand Phenomenal and the Breonna Taylor Foundation. King shared a photo of herself rocking the shirt on Instagram in August, urging justice for Taylor.
"It's been 150 days since Breonna Taylor was murdered in her sleep by Jonathan Mattingly, Brett Hankison, and Myles Cosgrove—and her killers have not been charged. Too often Black women who die from police violence are forgotten. Let's stay loud, keep demanding justice for Breonna and her family, and SAY HER NAME," King wrote at the time.
King, who was up against contenders including Kerry Washington, Octavia Spencer, Shira Haas and Cate Blanchett, also used her acceptance speech to encourage viewers to vote on election day on November 3.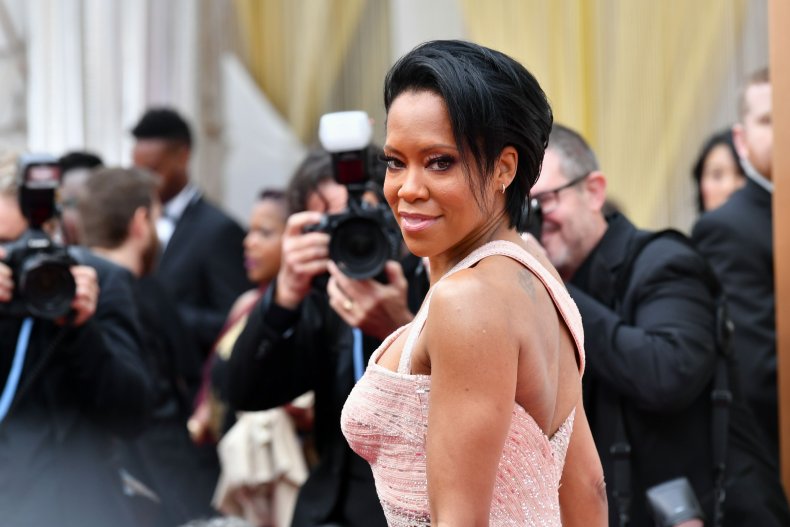 "Gotta vote. I would be remiss not to mention that being a part of a show as prescient as Watchman. Have a voting plan. Go to ballotpedia.com. Vote up the ballot, please. Go to Ballotpedia and find out who you're voting [for] in your municipal elections. It is very important. Be a good human," King said.
She wrapped her speech paying her respects to the late Supreme Court Justice Ruth Bader Ginsburg, who died on Friday. "Rest in power RBG. Thank you," King said.
King wasn't the only winner to use her big moment to advocate for Taylor. Uzo Aduba, who won the Emmy for Outstanding Supporting Actress in a Limited Series or Movie for her role in Mrs. America, also sported a t-shirt baring Taylor's name.