Regina King Says The Academy's Becoming More 'Reflective' After First Oscar Win
Regina King's Academy Award win for Best Supporting Actress on Sunday holds significance to her for many reasons. While her win for If Beale Street Could Talk led to her first-ever Oscar statuette, the actress also saw her win as an opportunity for growth within the industry.
Moments after delivering her acceptance speech before A-List attendees in Los Angeles' Dolby Theatre, she spoke to reporters backstage about the weight her win holds in helping other women in her field.
"It means so much for me personally because, you guys aren't able to witness this, but the love and support and lifting up that I've received on my journey as an actor in just this last five months, how many people have been rooting for me—it has not just been black people. Although, the black family has always lifted me," she began, "It's a reminder of when Hattie McDaniel won. She didn't win just because black people voted for her. She won because she gave an amazing performance, especially then."
"The Academy was not as reflective as it is now. We're still trying to get more reflective. We're still trying to get there...I feel like I've had so many women that have paved the way—are paving the way—and I feel like I walk in their light. I'm also creating my own light and there are young women that will walk in the light that I'm continuing to shine and expand from those women before me," she concluded.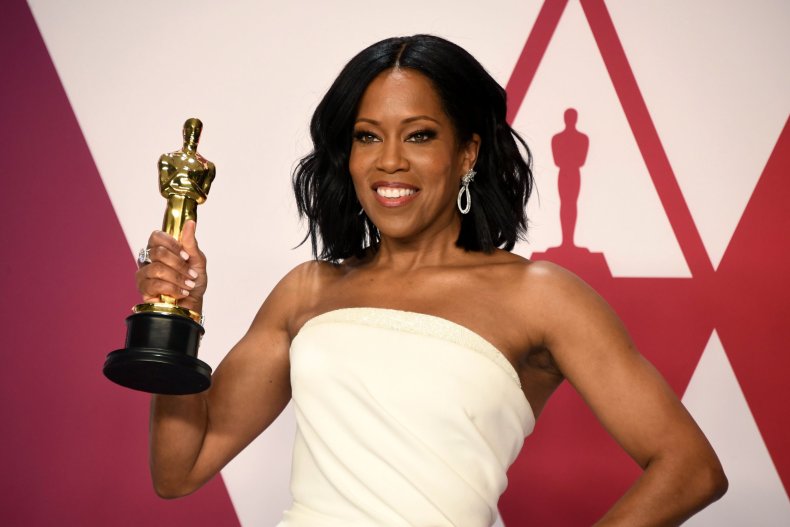 Directed by Barry Jenkins, If Beale Street Could Talk is based off James Baldwin's 1974 novel of the same name. Like the book, the film follows Fonny (Stephan James) and Tish (Kiki Layne)—a couple who has been together since their teen years—as they're aiming to build a life together. However, their plans are disrupted when Fonny is wrongfully arrested for sexually assaulting a woman.
King, 48, plays Sharon Rivers—the mother to Layne's Tish. She grew emotional during her Oscars acceptance speech as she thanked her mother through tears. She cited her mother as the person who has allowed her to become "an example of what it looks like when support and love is poured into someone."
"Mom, I love you so much," she said. "Thank you for teaching me that God has always been leaning in my direction."