Regina Perkins, Mother of Anthony Thompson Jr.'s Girlfriend, Regrets Calling Police Who Shot 17-Year-Old
Regina Perkins, the mother of Anthony Thompson Jr.'s girlfriend, says she regrets calling the police who shot her daughter's 17-year-old boyfriend.
"I am so sorry, and I never meant for anything to happen to him," Perkins told the Knoxville News Sentinel. "We are mourning, my daughter is grieving the loss of her first love, and we also want answers and justice in this case."
She continued, "This could have been prevented. That child should not be dead, and my condolences sincerely go out to Anthony's family. There are many rumors, but this is the truth about what happened before [Knoxville police] got there."
Perkins said she called the police about a physical fight involving her daughter and Thompson Jr., who was later shot to death in a confrontation with officers in the bathroom of Austin-East Magnet High School in east Knoxville last week.
On April 12, Alexus Page, Perkins' daughter, called her from the assistant principal's office saying she was upset and wanted to leave early. Perkins allowed her to sign out and go home, but when Page returned to their house, Perkins said she noticed she had marks on her face and was missing some hair.
After being questioned by Perkins, Page admitted that she and Thompson got into an argument that turned physical.
The couple had been dating for nine months. Perkins revealed it had been a tumultuous relationship, saying that Thompson "had some struggles" that Page had "wanted to help him deal with."
"They both have gone through a lot of things, and as a parent I felt it was necessary to protect her after I saw things were heading in the wrong direction the last few months," she said.
Perkins said she tried to call Thompson's mother but failed to reach her, at which point she decided she needed to call the police. She said that Thompson was aware she had called the police and that she gave a report to an officer, who arrived at her house in the afternoon.
"When officer [Jonathan] Clabough left my house at about 2:36 p.m., he said he would be going to Austin East to make an arrest," Perkins said, "but he was given no impression that Anthony had a gun on him, so I don't know what happened after he left my house."
Shortly after, Perkins said, she saw a helicopter above the school and learned the high school was put on lockdown.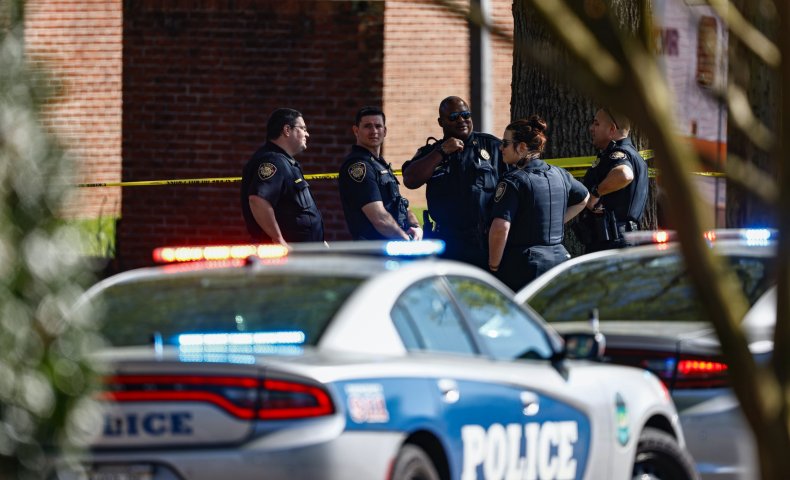 Police have shared few details about what happened when police entered the bathroom to confront Thompson. The local prosecutor has denied requests to release video footage of the shooting, despite many calls to do so from the mayor, advocates and the officers involved.
During the shooting, a school resource officer was wounded in the leg by a gunshot. The Tennessee Bureau of Investigation (TBI) said the bullet did not come from Thompson's gun, suggesting that the officer was possibly hit by police gunfire.
"Preliminary examinations indicate the bullet that struck the [Knoxville Police Department] officer was not fired from the student's handgun," the TBI announced roughly 48 hours after the shooting.
The statement said that there was a report of a student with a gun in the bathroom and that when the student's gun was fired as officers entered the restroom, "this was followed by law enforcement firing twice."
The TBI, the Knoxville Police Department and the Knox County district attorney general's office have declined to release the footage until the investigation is complete. However, three of the four officers involved in the fatal shooting have said they want the video to be shown to the public.
In a statement released this past Friday, the law firm representing Lieutenant Stanley Cash and officers Clabough and Brian Baldwin said, "In the days following this tragic incident, there has been significant confusion over what occurred."
The statement went on, "In an effort to accurately inform the public, all three officers fully support the release of all unedited body camera footage related to this incident. As Mayor [Indya] Kincannon has publicly expressed, she, along with these officers, agree that the public interest is best served by the immediate release of these videos."
Kincannon and Knoxville Police Chief Eve Thomas have also both pushed for the relevant body camera videos to be released.
During a Thursday press conference, Knox County District Attorney General Charme Allen said, "I understand the community, the press, the citizens want to see the body camera footage in this case. I want to give you that." But she added that she would continue to withhold release of the video at this time.
Allen said if she decides not to charge the officer, the footage would be released to his family and then to the media, but if she does charge the officer, the footage won't be seen until his trial.
In the wake of the shootings, administrators have closed Austin-East Magnet High School, and students will have to learn virtually on Monday before returning to in-person classes on Tuesday.
Newsweek reached out to Allen's office for further comment but did not hear back before publication.