Hidden Dangers of the Online Breast Milk Market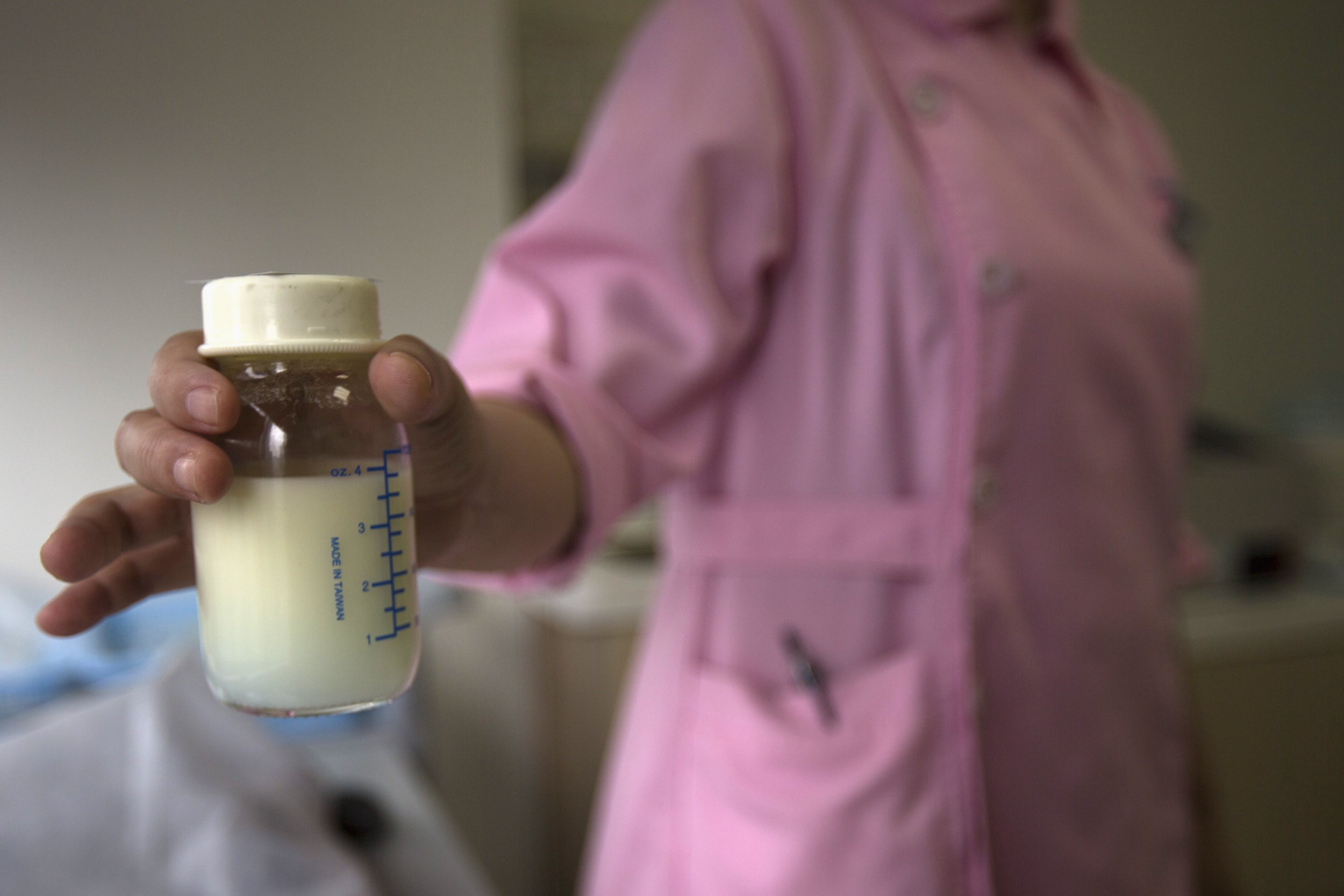 Healthcare experts are warning of the dangers of consuming human breast milk bought online - including the risk of contracting sexually transmitted diseases - and are calling for the sale of the product to be regulated by the government.
Human breast milk is available through regulated milk banks on the NHS, but access is strictly limited, with sick or premature babies given priority access. The unregulated online human milk market has been growing in the UK according to an editorial published today in the British Medical Journal, with U.S.-based sites such as the OnlyTheBreast website - which bills itself as "a community for Moms to buy, sell and donate natural breast milk" - recently setting up a British version.
The health benefits of human breast milk for infants is well documented, with research released this month showing that breastfed babies are not only healthier in general, but also more likely to be intelligent and successful in later life.
The nutritional benefits though are not only being sought by mothers who can't produce their own milk for their infants - there is also a growing market for the milk to be used as a fitness supplement. The Guardian reports that OnlyTheBreast lists a specific category for "men wanting milk" - some of whom say they are seeking milk for fitness, and others who are looking to fulfil a fetish.
Healthcare experts are warning that consuming human milk bought online could pose serious risks to both infants and adults due to the lack of knowledge about the donor's health, the storage, packaging and shipping of the milk, and not knowing if it has been tampered with.
"In regulated milk banks the donor is educated and tested," says Dr Sarah Steele from Barts London School of Medicine.
"They're educated on proper collection mechanisms, sanitisation, the proper sterilisation of the pump they're using, how to sanitise themselves. How the milk is then treated, it's pasteurised, screened for diseases. In milk banks there are really strong protocols."
Dr Steele warns that buying milk online comes with its dangers. "On the other hand, online it's often leftover milk where a mother is expressing more than their baby is taking. Or it's women who have continued expressing beyond their infant feeding needs who actually sell this. It may be collected in suboptimal conditions, and there may not be sanitisation of the standard you see with a hospital pump."
Individuals selling online may not be getting tested regularly enough for viruses - including STIs - that could be transmitted through bodily fluids, she adds.
In an editorial in the British Medical Journal today, Dr Steele and colleagues call for the regulation of the human breast milk market: "Legal regulation to ensure the safe collection, processing, shipping, and quality of human milk is needed, as are mechanisms to obtain redress against those who knowingly contaminate or dilute milk for profit."
Working with a team of colleagues Dr Steele has been researching the prevalence and dangers of the unregulated milk market, but one major issue is the lack of information on just how many people are consuming milk bought online, due to a lack of available data from the online marketplace.
Using data from past studies however, they found that in one study only nine of 101 samples bought online were free from detectable bacterial growth, which could be down to lack of pasteurisation and poor shipping and storage conditions. Other studies showed some samples had been contaminated with illicit drugs, and had been diluted with cows milk and water.
Public Health England expert Professor Nick Phin said in a statement: "Breast milk is able to transmit viruses, including some hepatitis viruses, but only if the donor of the breast milk is a carrier of the virus. This is why donors providing breast milk for babies in hospital are screened for viruses prior to their milk being used. Furthermore, mothers with some viruses, including HIV, are advised not to breastfeed their baby. The transmission risk varies depending on the virus. It is therefore important that any breast milk product can be traced back to the source and that donors of the breast milk are adequately screened."
The website OnlyTheBreast released a statement on their website: "Only The Breast is fully in support of babies receiving healthy breast milk from local mums that have been screened appropriately. We have recommendations to sellers on how to properly ship and store milk, of which the study followed none of these recommendations. There are also recommendations to buyers for things like home pasteurization, how it should be shipped to them so they are aware it should arrive to them cold. Studies have shown that breast is best and personally I am in support of mothers working together to help babies."