This Is What the Radio Might Have Sounded Like if the Nazis Won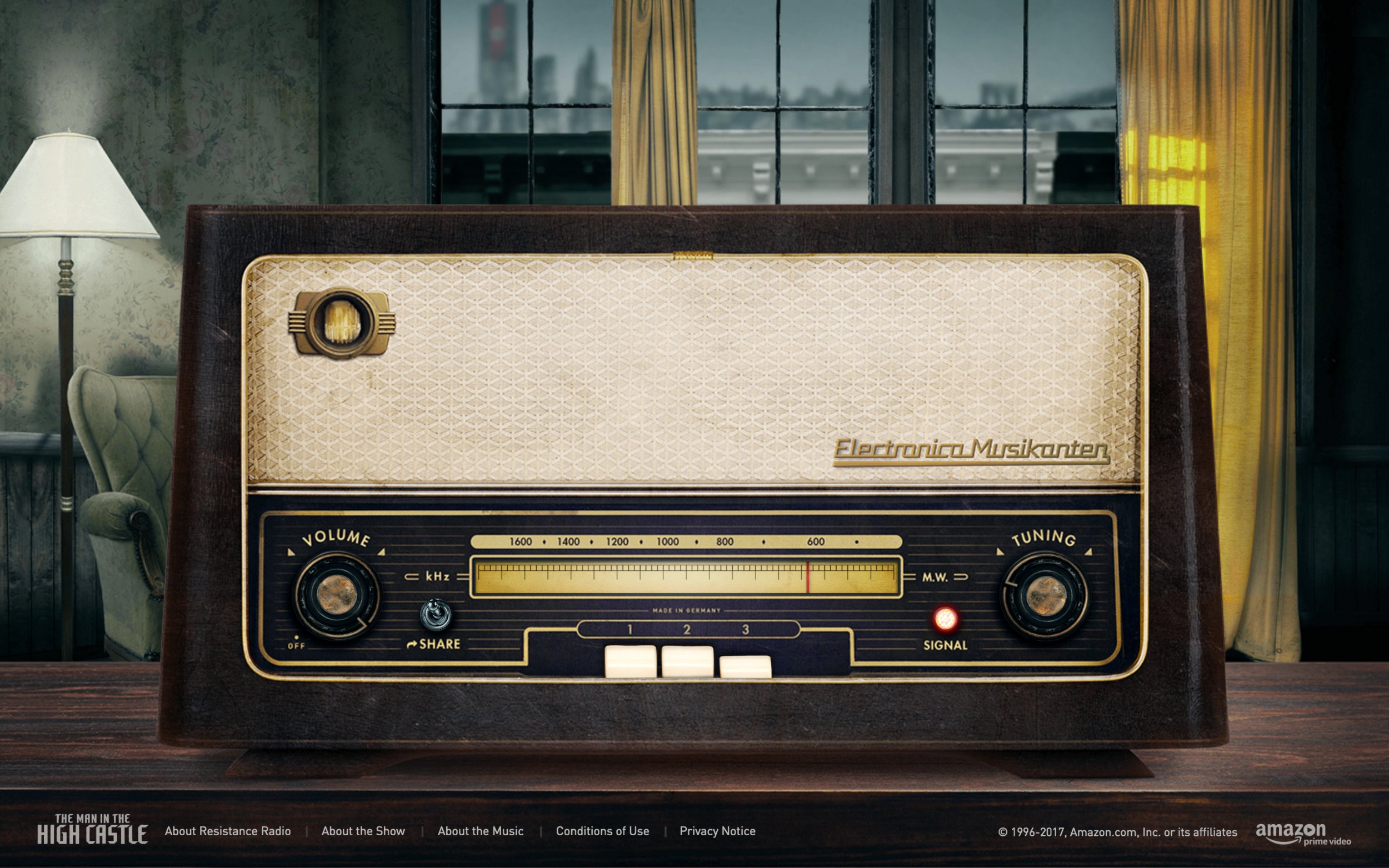 Elvis Presley might not have become the megastar he did had the United States and the Allies not prevailed in World War II, when the future King of Rock 'n' Roll was just 10 years old. If the Nazis and the Japanese had taken over the East and West coasts of the U.S., respectively—as they do in Philip K. Dick's famous alternate-history novel The Man in the High Castle and the more recent Amazon series of the same name—every detail of American culture would have been distorted.
"The Beatles or Dylan or any of these iconic musicians of the late '50s and early '60s just wouldn't have happened under Nazi totalitarianism, because all forms of art and freedom of expression were controlled and censored," Daniel Percival, an executive producer and sometimes-director for the series, tells Newsweek.
Related: Watching "Man in the High Castle" as Trump Takes Power
That doesn't mean creative forces would have disappeared entirely, but they most likely would have been pushed into the Neutral Zone—an area also known as the "Rocky Mountain States" that served as a buffer between the "Greater Nazi Reich" to the east and the "Japanese Pacific States" to the west. Even there, they'd have been driven underground, where "people would still risk their lives to try to retain some knowledge and history," he says. "All the artists, thinkers, gays, blacks, Jews would have gone there to escape," he adds, "to a cultural melting pot in the middle of America," where they had "no money, no means, but all this brilliance."
That's the premise of "Resistance Radio," a project that imagines what illegal broadcasts, both music and commentary, from the Neutral Zone in the world of The Man in the High Castle would have sounded like.
"That's unlike any music I've ever heard," one of the show's protagonists, Juliana, says when a resistance fighter fiddles with a radio dial in a scene in the second season. To that he replies, "It's pirate radio, from the Neutral Zone. A little reminder of what we're fighting for."
"Resistance Radio" takes this, one of the many details of the complex production, and explores it in depth. There are already some striking musical moments in the show, not least the haunting rendition of "Edelweiss" that accompanies images of the atomic bomb falling on Washington, D.C., and the U.S. falling to the Axis powers in the title sequence. In one episode, viewers hear a Japanese rendition of Skeeter Davis's "The End of the World," playing at a San Francisco club where white hostesses entertain important Japanese men. A third version of that song, covered by Sharon Van Etten, is one of 18 tracks listeners can hear when they tune in to the dreamt-up radio station, and which will be released on an album on April 7.
"It's so melancholic and painful. It was written at a time when, echoing the Cuban Missile Crisis, there was a point where people did all think they might die. Well, why couldn't that song still have been written but inspired by different things?" Percival says. Surely, the vast majority of characters in the show, and all the unnamed people around them, live in fear. The phrase Percival comes back to multiple times is that with the show, and with this radio project, they are trying to "do violence to the American dream."
An ongoing investigation as to what music would have played in an alternate 1962, along with questions about every detail and prop—like where the borders would be drawn on a world map displayed in the background of a shot—came up throughout the making of the first two seasons. But the idea for the project that became "Resistance Radio" emerged at a marketing meeting. The project was executed by a team at the marketing agency Campfire at SapientRazorfish, which worked with Amazon Studios. The songs were reimagined, rearranged and recorded by Sam Cohen and Brian Burton, also known as Danger Mouse, working with artists including Beck, Norah Jones, the Shins and Angel Olson. It can be viewed simply as a publicity stunt, but the material is nevertheless compelling.
"Because of the context of the show, we chose songs that were a little more somber and darker in general, and made them even darker," producer Brian Burton tells Newsweek. They used actual songs written around the war that they thought might still have existed, albeit in different iterations, in the fictional world of the series. "When it came time to picking songs and tempos," Burton says he and Cohen "[stayed] away from some of the early, early rock 'n' roll. Maybe it wouldn't have existed, or it might not have had that feel." Cohen adds that their version of "Get Happy," a Judy Garland show tune that he covers, for example, conveys a "much more ironic sentiment" than the original.
They worked quickly and recorded in Cohen's small Brooklyn studio using instruments and equipment that would transport the sound realistically back half a century, including vintage guitars and amps, a 1960s drumset, an upright bass, ribbon microphones, a clavioline and an echoplex. The small studio didn't have many isolation rooms, so most parts were recorded live in the room with an engineer. They laid down all the backing tracks and reached out mostly to artists they'd each worked with in the past, who they felt could have been big vocalists in that era. The whole thing was done in three and half weeks.
"In a way working for speed lent a lot of authenticity to what would have been the recording process of that era," Cohen says, alluding to the rushed, improvised manner of operation an illegal radio outfit would have been forced to adopt.
One of the fictional DJ characters created for the project, Jake Rumiel, the host of a show called "Firing Squad," confirms that notion when he thanks an anonymous donor for the secret attic he's broadcasting from. At one point, listeners hear the sound of glass smashing, followed by silence and then Rumiel catching his breath. "Thought that was..." he says, his thought trailing off. "From here on out, as long as nobody breaks through the door to kill me, it's laughs all the way," he finally says, then plays "All Alone Am I," covered by Maybird.
The "Resistance Radio" project, like several of the previous marketing campaigns for The Man in the High Castle, caused some controversy. After it launched, some supporters of Donald Trump mistakenly assumed the station was a real-life present-day anti-administration effort.
"I thought that was really funny," Cohen says. "I think that people are going off on headlines. Like I don't know if people really listened to it and heard the DJs talk about Nazis and were like, 'Hey, you can't talk about Trump like that!'" he adds. "That would be pretty damning. I think it's more likely, though, that they saw the word resist and thought, Oh, this is some hippy-dippy bullshit; I know I'm right, and they're wrong. There's a lot of that going around too. It's a hard time to find middle ground right now."
But that reaction doesn't mean Trump's election didn't influence the music of "Resistance Radio." Though the project was already being discussed and developed before November 8, the songs were all recorded immediately after Trump was named the 45th president of the United States. Real-life American politics were very much on Burton and Cohen's minds.
"We all had sort of a bummed out, dark outlook and brought that into the studio with us for sure," Cohen says. "I think that worked perfectly for what needed to happen in terms of the theme of the record. Those things sort of conspired to paint that picture."
People will read into the show and the project what they want to see, Percival says. The DJs and artists that would have come together and risked their lives to broadcast in an America ruled by Nazis and the Japanese were fighting for "greater tolerance, freedom to love who you want, freedom to worship how you want, freedom to express yourself how you want," Percival says. They would have been fighting for gay rights, women's rights and migrants' rights, and against racism and xenophobia, he adds. "All of these things were as pertinent in 1962 in America as they are today as they would be under a Nazi totalitarian state."