Grave of Top Nazi Leader and Auschwitz Architect Reinhard Heydrich Mysteriously Prized Open
Police are investigating who opened the Berlin grave of the notorious SS officer Reinhard Heydrich, a key architect of the Holocaust.
An aide to Adolf Hitler, Heydrich chaired the Wannsee Conference in January 1942 where plans for the "Final Solution" were outlined.
His grave at the Invalids' Cemetery in the center of the German capital, like those of other prominent Nazis, was unmarked, to deter any would-be Nazi sympathizers from using it as a pilgrimage site, according to Deutsche Welle.
Last Thursday, an employee of the cemetery found his grave had been prized open.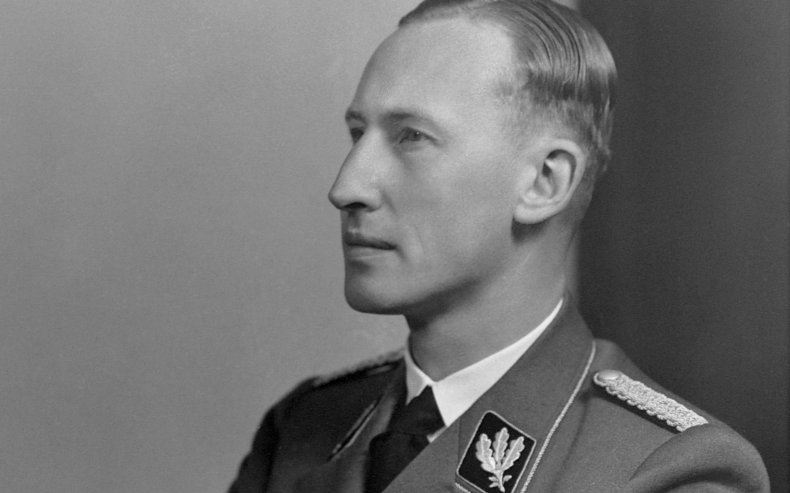 A police source told the daily newspaper Tagesspiegel, that "nothing was removed" from the grave, DW reported, although it is believed that whoever violated the grave would have had inside knowledge of its location.
Historian Laurenz Demps writes in his book on the Invalids' Cemetery that the presence of Heydrich's remains is a "particular burden" for the cemetery, Tagesspiegel reports.
Newsweek has contacted Berlin police, who have opened an investigation over grave defilement, for further comment.
Hitler dubbed Heydrich "the Man with the Iron Heart," according to Warhistoryonline and he was the subject of a biopic of the same name which tells the story of his assassination by Czech partisans in 1942 in what was known as "Operation Anthropoid."
Heydrich played a key role as co-ordinator of Kristallnacht, or "the night of broken glass," the attack on Jews in Nazi-led Germany in November 1938 which marked the start of the Holocaust.
Deutsche Welle referred to other epithets Heydrich went by, including "the Butcher," "the Hangman" and "Himmler's Evil Genius."
Some believed he harbored leadership ambitions for Nazi Germany, an idea developed by the writer Robert Harris in his speculative history novel Fatherland, which tells the story of what might have happened had Germany won the war.
A motive for opening Heydrich's grave remains unclear, but a similar incident took place at Berlin's Nikolai Cemetery in 2000, when a group said they had opened what they thought was the grave of Nazi stormtrooper Horst Wessel, and taken his remains, the BBC reported.
Police later said that the grave actually contained Wessel's father's remains and no bones had been removed.
Cemeteries are frequently focal points for Nazi sympathizers. Earlier this month, Nazi swastikas were spray-painted onto more than 100 graves in the eastern town of Westhoffen, near Strasbourg.
After the incident, French President Emmanuel Macron said France would fight anti-Semitism "until our dead can sleep in peace."
He tweeted: "Jews are and make France. Those who attack them, even in their graves, are not worthy of the idea we have of France."