Carlos Slim's Son-in-Law to Design New Airport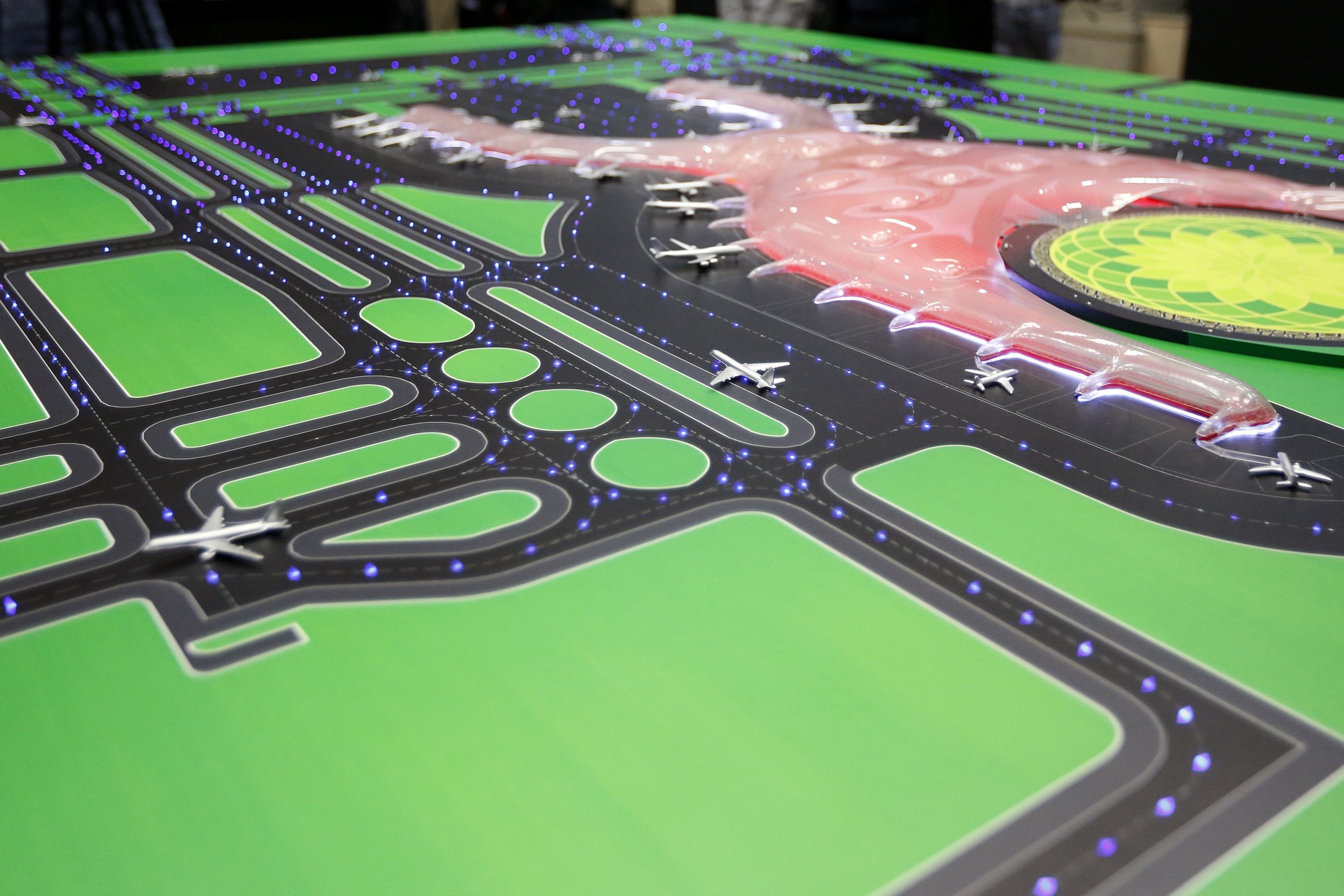 Fernando Romero, son-in-law of Mexican billionaire Carlos Slim, won a bid to design a new, $9.2 billion airport in the capital, expected to become the largest air hub in Latin America, Mexican authorities revealed Wednesday.
The 41-year-old partnered with British architect Norman Foster to design the futuristic, X-shaped design. It is expected to quadruple passenger capacity, to 120 million passengers a year. The airport will have sloping walls and will be built next to the current airport, which will be transformed into a space for sports and cultural space.
Romero, who is married to Soumaya Slim, one of the tycoon's daughters, has designed several structures belonging to his father-in-law, including the Soumaya Museum, which houses part of Slim's extensive art collection and the mixed-use development Plaza Carso in the leafy Polanco neighborhood in Mexico City.
"It cannot be understood a different way: The triumph of Fernando Romero is the triumph of Carlos Slim. The most important de facto power in the country would be keeping this administrations' most important infrastructure work," wrote Carlos Loret de Mola, a reporter for Mexican television giant Televisa, on a newspaper column Wednesday.
Grupo Carso, one of Slim's construction companies, has joined a consortium that for a year has been preparing to bid for contracts related to the new airport, Luis Zarate, president of the Mexican Association for the Construction Industry, confirmed. The companies have signed a memorandum of understanding to participate in the contest, said Zarate, adding that he does not see a conflict of interest with Slim's participation.
President Enrique Pena Nieto announced his administration's airport plan during his second state of the union address, on Tuesday. "The new airport will be the biggest infrastructure project in recent years in our country, and even one of the biggest in the world. Turning this project into a reality is an act of responsibility with Mexico," said Pena Nieto, whose approval ratings have slipped in recent months.
According to a poll conducted by Pew Research Center, Pena Nieto's influence is considered bad by 47 percent of respondents, up from 38 percent in 2013. Sixty percent disapprove of the president's handling of the economy, up from 46 percent last year.
The other finalist for the airport project was Enrique Norten, one of Mexico's most renowned architects. Norten has received the Legacy Award by the Smithsonian Institution, the Leonardo da Vinci World Award of Arts by the World Cultural Council and a Project Merit Award by the AIA-NY for The New York Public Library, among other accolades. He was named "Cultural Ambassador" by the Mexican Ministry of Tourism, as well.
Romero, for his part, has some 60 projects listed on the Fernando Romero Enterprise website, the majority of them "Ongoing". Among his international projects is a teahouse in China and a house in Portugal.
Architects who bid for the project had to take several particulars about Mexico City into consideration, including frequent earthquakes and sinking soil as the city was built on a lake bed.
A previous plan to build a second airport in Mexico City, announced in 2002 during former President Vicente Fox's administration, fell through. Their cornfields threatened, peasants in the rundown community of San Salvador Atenco, where the 11,000-acre airport was to be constructed, fought off police officers with machetes, threw gasoline bombs at government offices and took several local officials hostage for four days.
Fox canceled the project.
Slim's triumphant week is about to get better. Former U.S. Secretary of State Hillary Clinton, Facebook Inc. Chief Executive Officer Mark Zuckerberg and soccer star Ronaldinho are expected to speak at the annual event to honor Slim's charity scholarship recipients on Friday.