Reliving Zion Williamson's Top Moments As He Makes His NBA Debut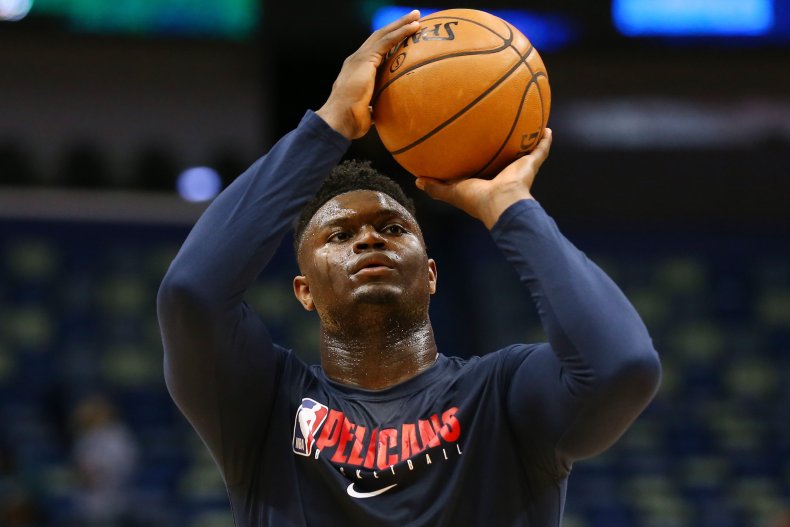 On Wednesday, Zion Williamson will make his long-awaited NBA debut for the New Orleans Pelicans, after being delayed by injury.
Williamson was the overall number one pick in the 2019 NBA draft, but he suffered a torn meniscus in the preseason and has been sidelined since.
While attending Duke, Williamson was one of the biggest names in all of sports, and in preparation of his NBA debut, some of his best basketball moments are below.
28 points in Duke Debut
Prior to joining the Duke Blue Devils, Williamson was one of the biggest names in high school basketball and was ranked in the top five players in the 2018 class.
With all the hype surrounding him, he did not disappoint and dropped 28 points in just 23 minutes of play in his debut against the Kentucky Wildcats. He had a number of highlight plays, including one where he blocked a Kentucky player and raced down the court to make an incredible pass to his former teammate R.J. Barrett.
Shoe incident
During arguably one of the biggest rivalries in college basketball, Duke vs. North Carolina, Williamson was expected to shine under the bright lights, but just 36 seconds into the game, Zion left the court after ripping through his own shoe.
Williamson was dribbling the ball and as he planted his foot, it came right out of his shoe. Williamson left the game with a leg injury, but the shoe incident became one of the most talked-about stories in sports during the time, and many felt that it showed the pure power and strength that he possessed as a player.
Shoots a perfect 13 of 13 from the field in return from injury
After ripping through his own shoe, Williamson missed five games, but in his return, he did not seem to miss a beat. Playing against Syracuse during the ACC Tournament, Williamson had one of his most impressive performances. He was perfect shooting the ball, hitting all 13 shots for 29 points. He also had 14 rebounds, 5 steals and 2 assists on the night.
Block against Virginia
During a February game against Virginia, Williamson showed off his athleticism and blocked a three-point attempt.
In videos of the block, Williamson can be seen running from the basket to the three-point line. The block sparked so much excitement for Williamson that the NCAA website published a story breaking it down, including a number of different angles and videos.
Insane in-game 360 dunk
While nearly every play Williamson made in college amazed fans across the country, his dunk against Clemson in January was truly remarkable. During the game, Williamson stole the ball from Clemson and proceeded to throw down a 360 dunk.
Following the dunk, Duke head coach Mike Krzyzewski was asked about the play and replied, "I'm happy to be coaching him."
While Williamson has yet to play an NBA game, not all of his memorable plays occurred in college. Prior to a few different preseason games, Williamson gave fans a preview of what was to come by performing different dunks during warmups.
On January 10, before the Pelicans' game against the New York Knicks, Williamson performed a through the legs dunk.
Once again on January 18, prior to the Pelicans' game against the Los Angeles Clippers, Williamson performed a reverse tomahawk dunk during warmups.
Williamson will make his NBA debut on Wednesday, January 22 in a game against the San Antonio Spurs.