More Than 800 Asylum Seekers Forced to 'Remain in Mexico' Have Faced Violence as Policy Reaches One-Year Anniversary
It has been one year since the Trump administration formally rolled out its Migrant Protection Protocols (MPP), or, as the widely condemned policy has come to be known, its "Remain in Mexico" rule.
Under the policy, tens of thousands of asylum seekers and migrants have been forced to wait in Mexican border towns while their immigration claims are processed in the U.S.
According to figures released this week by Human Rights First, Homeland Security officials have forced more than 57,000 asylum seekers and migrants to return to Mexico to await the outcomes of their claims.
And the organization says that 25,000 of them have been turned back to Nuevo Laredo and Matamoros, two cities in the notoriously dangerous state of Tamaulipas, a region with a Level 4 "Do Not Travel" advisory—the same threat level given to Syria, Afghanistan, Iran and Libya.
Despite the U.S.' own State Department warning that the region is not safe for travel due to high rates of crime, including kidnapping, violence, sexual assault and extortion, the Trump administration has sent thousands of migrants and asylum seekers to wait in the area, in some cases, for months.
The danger that asylum seekers and migrants are in is clear, Human Rights First says, with the agency having already tracked at least 816 public reports of instances of violence, including "murder, torture, rape, kidnapping and other violent attacks."
According to the organization's data, MPP returnees have reported at least 201 cases of kidnapping or attempted kidnapping of children forced to return to Mexico.
The situation, Dr. Marie DeLuca, an emergency physician and founding member of Doctors for Camp Closure, a group calling for an end to immigration detention, is so dire for children that asylum-seeking parents have started sending their children across the U.S.-Mexico border to claim asylum as unaccompanied minors.
"Some families have started to make the choice to let their children cross because unaccompanied minors will be let into the country, so it's formed this new type of family separation," DeLuca, who recently visited Matamoros to provide medical care to asylum seekers, told Newsweek. "Families will send their kids across because they're weighing the danger that their kids are in now versus the risk of being separated from their families."
While making her way to Matamoros, DeLuca said she "saw a few children on the bridge talking to Border Patrol agents alone. They were very young children less than seven years old."
The doctor said she had also treated parents who had felt forced to make "that very difficult choice. It's clear that it's incredibly traumatizing for them."
"It's just an incredibly difficult situation for these families," DeLuca added. "I think each family is trying to do what they can to protect their children and sometimes they end up making that choice that comes with a lot of risks and potential harm as well. That's a very upsetting thing to see happening."
Speaking to Newsweek on Thursday, Kennji Kizuka, a senior researcher with Human Rights First's refugee protection team who recently visited camps in Matamoros, said: "The Mexican government is doing very little from what I can tell," when it comes to ensuring the safety of migrants and asylum seekers at the camp. Meanwhile, he said, "there is no U.S. support."
Much of the pressure to assist asylum seekers and migrants, he said, has been placed on the shoulders of humanitarian groups.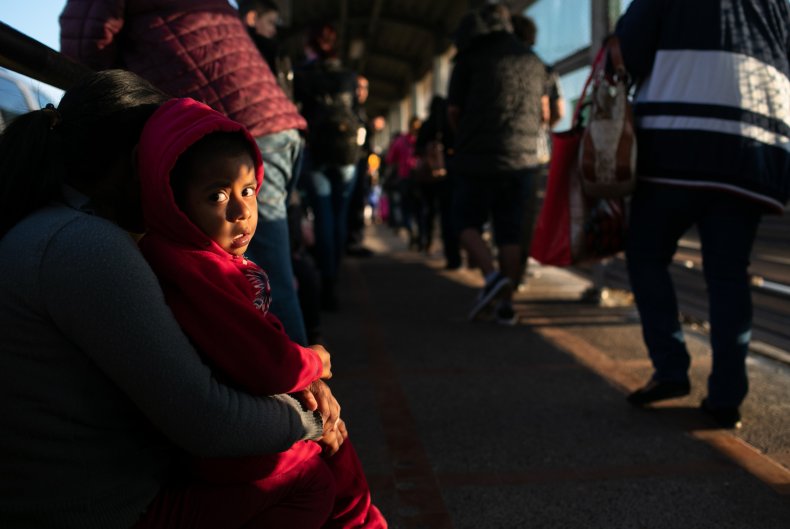 "For the most part, the tents and supplies all comes from volunteers in the U.S... even the water, that's also being supplied by the medical volunteers. They set up a water purification system to pump water from the river."
Human Rights First has been one of many groups to repeatedly warn that the Trump administration is endangering lives by forcing migrants and asylum seekers to stay in Mexico while their claims in the U.S. are processed.
"In Matamoros, where children under five make up one quarter of the 2,500 asylum seekers living in tents by the port of entry, children have suffered sometimes near-freezing temperatures, sexual and physical assaults, malnutrition, and a range of life-threatening conditions as explained by health workers. Multiple children in Matamoros have reported that they fear human traffickers are targeting the camp there," the organization warned in a press release shared with Newsweek.
Despite those warnings, however, the Trump administration has remained firm in its defense of the controversial policy.
In a statement sent to Newsweek, a U.S. Customs and Border Protection spokesperson said the agency "stands by the Migrant Protection Protocols."
Claiming that the protocols play "an important role in addressing the loopholes in our current asylum laws," the spokesperson said that with the MPP in place, asylum seekers will no longer be able to "disappear into the U.S." before a decision could be made on their claims.
"Every month, tens of thousands of individuals arrive at the U.S Southern Border, many of them attempting to enter illegally. Historically these individuals have been paroled into the U.S. to wait for their asylum hearings which could take years," they said. "One goal of MPP is to discourage the abuse of U.S. laws as well as non-meritorious or false asylum claims."
"MPP amenable aliens will not be permitted to disappear into the U.S. before a court issues a final decision on their claim for protection under U.S. law. Instead, they wait in Mexico," the CBP spokesperson said. "This allows the United States to more effectively administer its laws, including assisting legitimate asylum seekers and individuals fleeing persecution, while also ensuring that aliens with non-meritorious or even fraudulent claims no longer have an incentive for making the journey."