Remains of Man Attacked During Hurricane Ida Found Inside 500-Pound Alligator
Human remains were found inside a 504-pound alligator yesterday in southeast Louisiana and are presumed to belong to a 71-year-old man who went missing two weeks ago. The man was believed to be dead after he was attacked by the alligator displaced by floodwaters following Hurricane Ida.
After searching floodwaters in high water vehicles, authorities were unable to locate the man's body and started working to locate the alligator. The animal was found near the area where the man was attacked late last month.
St. Tammany Parish Deputies worked with Lousiana Wildlife and Fisheries agents and two Louisiana Department of Wildlife licensed nuisance hunters to set a trap to capture the 12-foot alligator.
Inside the alligator, authorities found the human remains. They are currently working with the Parish Coroner's Office to verify the remains belong to the man, identified as Timothy Satterlee.
Two weeks ago, Satterlee was standing in knee-high floodwaters in his front yard when the alligator approached him, according to his wife. The man's wife heard a commotion from inside her house and when she ran into the yard she saw the alligator attacking her husband.
"When she opened up the door, the alligator had him in the death roll," St. Tammany Parish Sheriff's Captain Vitter said on Tuesday, The New York Times reported.
She claimed the alligator ripped off the man's arm before she was able to get help. She reportedly helped free him from the attack and propped him on some steps while she used a small boat to find help. She said when she came back to her home her husband was nowhere to be found.
"This is a horrible tragedy and my sincere condolences and sympathy goes to the Satterlee family," Sheriff Randy Smith said in a Facebook post on Monday. "I know today's findings does not bring their loved one back, but hopefully, this can bring them some sort of closure. I am very proud of the hard, non-stop work of my deputies and the other agencies who assisted, and I hope their persistence in finding this alligator will help the family with coping with their loss. We will continue to keep them in our prayers."
Smith urged people in the area to be hyper-vigilant while walking through the floodwaters due to displaced wildlife from Hurricane Ida.
Louisiana and Florida have the largest alligator populations in the United States with more than one million wild alligators living in each state, according to Louisiana Wildlife and Fisheries (LDWF).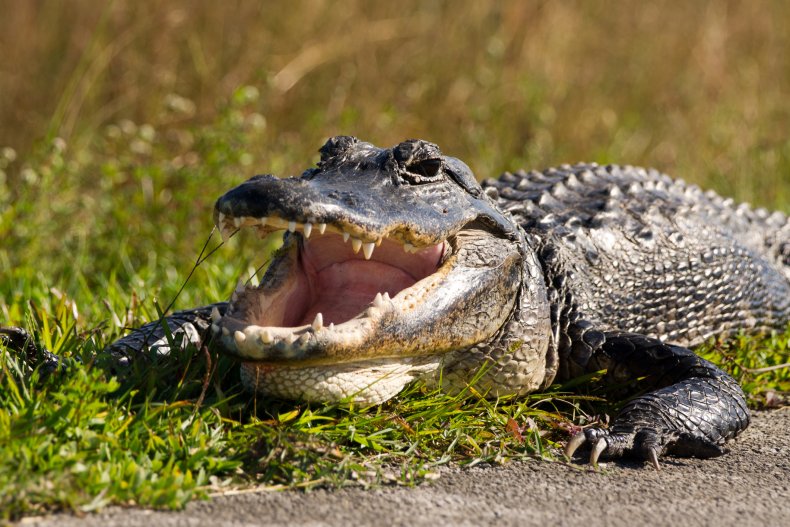 The LDWF utilizes nuisance alligator hunters to minimize the conflict between the wild alligators and humans. A nuisance alligator is categorized as any alligator measuring longer than four feet long. These hunters capture more than 1,000 nuisance alligators a year.
The LDWF recommends keeping distance from these animals at all costs. They recommend calling in local agents to deal with any alligator problems, as killing, harassing, or attempting to move alligators is extremely risky and illegal.