Remains of Paraguayan First Lady's Sister and Family Members Found in Surfside Collapse
In a recent search at the scene of the Surfside building collapse, the remains of Sophia López Moreira, Luis Pettengill, and her youngest child were found. Sophia López Moreira is the sister of Silvana López Moreira, the first lady of the Republic of Paraguay. Foreign Minister Euclides Acevedo confirmed the news Thursday evening, according to major Paraguayan newspaper ABC Color.
"Moved by the news, I want to share through you with the public that the bodies of Sophía López Moreira, Luis Pettengill, and the youngest of the children were found, and they are in search of the two girls and the nanny, but I am happy to inform the public of this and moving news," Foreign Minister Acevedo told ABC, as translated by Google Translate.
"I confirm it and the only thing we ask is the solidarity and prayer of the citizens because finally they are compatriots and in the face of a tragedy the Paraguayan people have to demonstrate their traditional solidarity," the national foreign minister continued.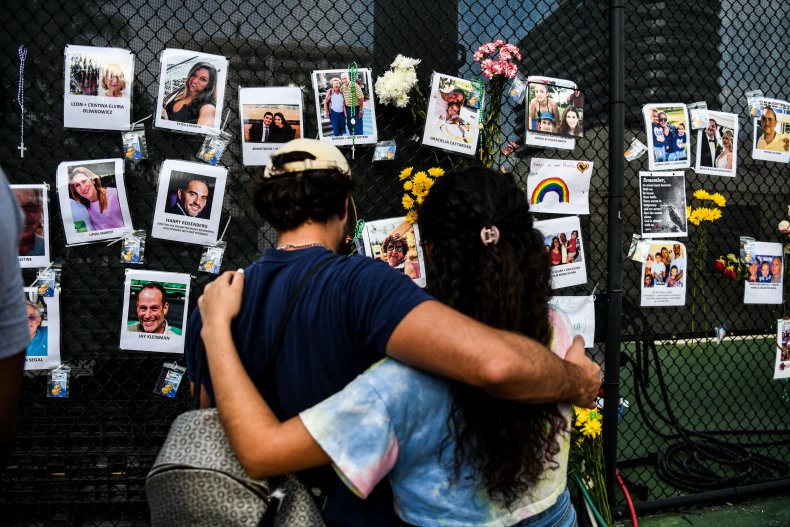 On June 24, 2021, part of the Champlain Towers South collapsed in Surfside, Florida. The building housed 12 residential floors and was completely leveled on July 4. The building had numerous problems over the past few years including weakened concrete and foundational issues, which were detailed within an extensive report in October of 2018.
Over the last few weeks, recovery teams have worked tirelessly to recover victims of the building collapse. So far, the death toll of the Surfside condo collapse has reached 64, while 74 people are still missing as of Thursday. Any people who are searching for family members who have not been found are urged to reach out immediately, The Miami Herald reported, by calling 305-614-1819. Those who lived at the Champlain Towers and is safe should complete a wellness check form, officials urged, in order to help the county keep track of the building's tenants.
NBA legend and former Miami Heat superstar Dwayne Wade visited a memorial fence nearby Champlain Towers South. The memorial is dedicated to the individuals who lost their lives during the building collapse. Other Miami Heat players who visited the memorial include Bam Adebayo, Udonis Haslem, and Tyler Hero. Heat coaches Erik Spoelstra, Chris Quinn, Octavio De La Grana, Chris Quinn and other team members went to the memorial site as well.
Newsweek reached out to The Miami-Dade Fire Rescue (MDFR) Media Relations Office for further comment.