Remains of Revolutionary War–Era Ship Found on Maine Beach After Nor'Easter
The wooden skeleton of a ship believed to be more than 160 years old is once again visible on a beach in York, Maine.
The remains of the ship, believed to date to the Revolutionary War era, became visible on Short Sands Beach after the recent nor'easter drastically altered the shoreline. The ship is listed by the state as the Short Sands Beach Wreck.
Since it was first rediscovered in the 1950s, the 51-foot vessel has reappeared a number of times following major storms. The Press Herald noted that the ship could be seen after Maine's Patriots' Day storm in 2007, and again in the wake of Storm Nemo in February 2013.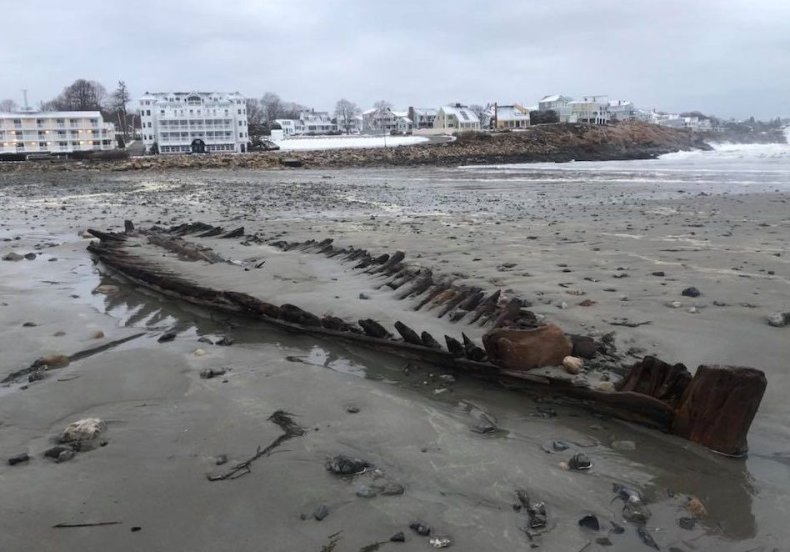 Pictures of the old ship were uploaded to Facebook by the York Maine Police Department. In a caption accompanying the photos, the force wrote, "Every once in a while after a storm the ocean moves enough sand for it to be seen. Thought you might like to see it."
Writing for SeaCoastOnline, local historian Sharon Cummins described how the "the old relic appears infrequently, adding to its mystique."
"Each time, roughly once every decade or two, new maritime history buffs are born," she added.
Cummins said that when the ship emerged in 1980, marine archaeologist Warren Riess estimated that it was a sloop—a sailing vessel with a single mast—of about Revolutionary War age. Such ships were often used in Maine for fishing and hauling other cargo.
Following its 2013 appearance, Leith Smith, a historical archaeologist with the Maine Preservation Commission, told the Press Herald that it made more sense to leave the wreckage where it was rather than attempt the "hugely expensive" process of attempting to move it.
"Trying to preserve timbers like that is a long process and quite expensive," Smith said. "It's often best just to leave them in the ground. When it's covered, it's fairly well preserved."
The state of Maine is estimated to hold as many as 1,595 coastal shipwrecks, including around 66 in York and its coast. Dozens of ships are still to be located in the area.
Several people were killed following the devastating nor'easter that battered the Atlantic coast of the U.S. Several states, including Maine, were told to prepare for flooding as strong winds battered the area.