Remains of U.S. Soldier Found in Niger After Widow Questioned What Was in Coffin at Funeral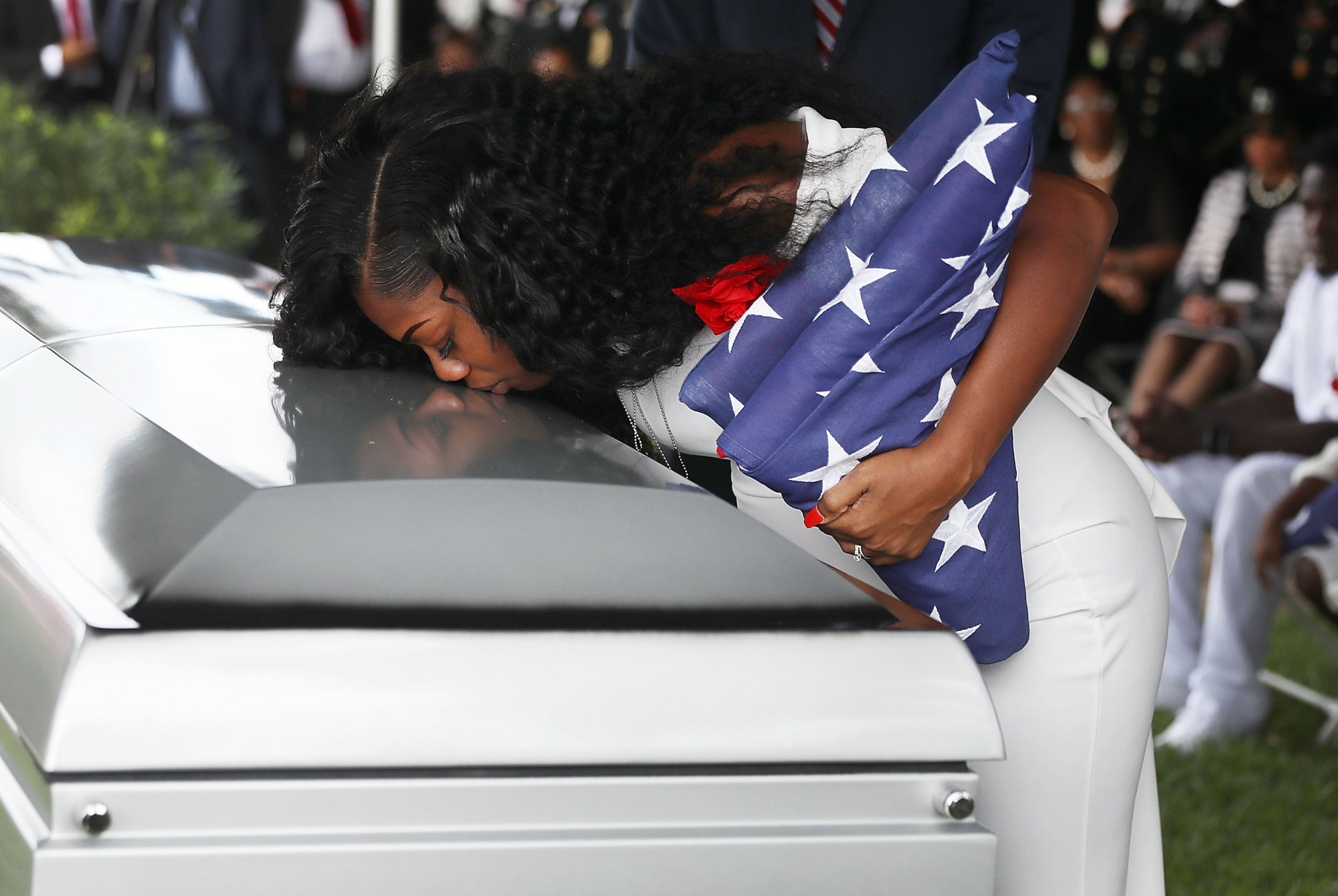 Updated | Additional remains of a U.S. soldier killed in a mysterious Niger ambush were reportedly found in the African nation earlier this month — even though his funeral had already been held, with his widow questioning whether he was even in the casket.
The military and an FBI team in Niger discovered more remains of Sgt. La David Johnson about a month after he and three other American soldiers were killed in the ambush, CNN reported Tuesday. The announcement adds another layer of confusion to the ambush, which is still under investigation and has led to continuing factual disputes.
Johnson's wife, Myeshia Johnson, had told ABC News in October the military barred her from seeing her husband's body, making her very suspicious of what was in the casket at his funeral in later that month. It was a closed casket funeral.
"They won't show me a finger, a hand. I know my husband's body from head to toe, and they won't let me see anything," she said. "I don't know what's in that box. It could be empty, for all I know."
"We can confirm that the Armed Forces Medical Examiner has positively identified these remains as those of Sgt. Johnson," Dana W. White, chief spokesperson for the Department of Defense, said in a statement Tuesday. "The department continues to conduct a detailed and thorough investigation into the deaths of Staff Sgt. Bryan C. Black, Staff Sgt. Jeremiah W. Johnson, Staff Sgt. Dustin M. Wright, and Sgt. La David T. Johnson. We extend our deepest condolences to all of the families of the fallen."
Johnson was part of a 12-man U.S. special forces team that was ambushed Oct. 4 by militants believed to be linked to the Islamic State. Five Nigerien soldiers were also killed in the shooting, which broke out as the soldiers left a meeting with local officials near Tongo Tongo.
The Trump administration waited nearly two weeks to acknowledge the attack, and details about it remain hazy while an investigation is ongoing. Initial media reports said Johnson's remains had been discovered by Nigerien troops 48 hours after the ambush. But later reports suggested children found Johnson's body, with his hands bound and a large gash on his head.
The soldiers were initially believed to have been attacked by roughly 50 militants, but that estimate rose to approximately 200 in recent days.
The U.S. military's inconsistent account of the ambush and the soldiers' service in Niger has raised drawn scrutiny from Congress and the public to America's evolving role in African missions. President Donald Trump raised even more controversy when Johnson's widow accused him of making an insensitive condolence call in which he said her fallen husband "knew what he signed up for." Trump denied this and accused the widow of lying.
Update: This article has been updated to include a statement from a spokesperson from the Department of Defense.