A Rembrandt self-portrait has been sold for a total of £14.5m ($18.8m) in a major Sotheby's auction in London.
The winning bid was £12.6 million ($16.3 million), with fees added on top.
The picture, one of only three self-portraits still in private hands, was painted in 1632 and was expected to fetch between £12 and 16 million ($15-20 million) and had been displayed in New York and Hong Kong ahead of sale.
The record bid for a Rembrandt was set in 2009 at 20.2 million pounds (then $33.2 million) for the "Portrait of a Man, Half-Length, With His Arms Akimbo", painted in 1658, fetched the 4th highest-price paid at auction for any old masters painting.
The record for an old master's artwork was set in 2017 for Leonardo da Vinci's Salvator Mundi, with a sale price of $450 million. It is also the most ever paid at an auction for any piece of art.
Before 2009, the Rembrandt sale record was £19.8 million pounds (then $29 million) in December 2000 for "Portrait of a Lady Aged 62."
The painting has attracted significant interest because so few of his portraits are available on the open market.
His first sketches were of himself at 22, the last one at 63 and recorded his appearance is 80 drawings, paintings and etchings.
Auctioneer Sotheby's says that this prolific artistry makes him one of the most recognizable faces.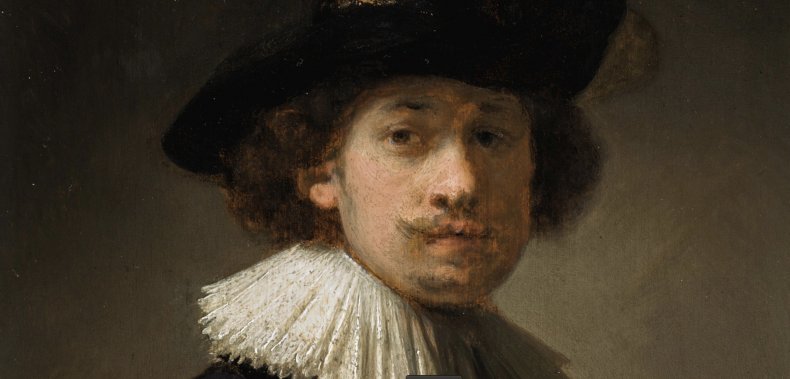 "Rembrandt's face is instantly recognizable to us at every stage of his adulthood – far more so than any other painter," George Gordon, Sotheby's co-chairman of Old Masters' paintings worldwide, has said.
"In each self-portrait he reveals as much of himself as he chooses to, but always in his unique fluency in the handling of paint. We know that this painting was created in a remarkably short period of time, because he laid in the background first, but when he signed it upon completion, the background was still wet, so the signature is impressed into it by his brush."
With this work, Rembrandt's style means its time of production can be closely identified.
"The painting can be dated to a narrow window towards the end of 1632, thanks to the fact that it is signed with a form of the artist's signature that he only very briefly employed, and also because dendrochronological analysis shows that it is painted on a panel cut from the same Baltic oak tree as another picture from that precise period," Sotheby's said.
"The exact reasons for its creation may remain to some extent unclear, but this exceptional early self-portrait by Rembrandt – the only such work that is likely to come to the market – is extremely revealing of how the artist saw himself at this key moment of departure in his career."
Other artworks in the sale include an early Picasso drawing, which sold for £325,000 ($420,000), a Joan Miró selling for £23.7m ($30.7m) and a Gerhard Richter which sold for £759,000 ($980,000).