Remember Janet Jackson's Super Bowl Performance? Infamous Wardrobe Malfunction Happened 15 Years Ago
Super Bowl LIII just kicked off, and while Maroon 5 is preparing to headline the halftime show, Twitter is celebrating the anniversary of one iconic, yet controversial, performance.
On February 1, 2004, singer Janet Jackson took the stage at Reliant Stadium as the New England Patriots faced off against the Carolina Panthers. Dressed in a black leather corset, Jackson performed hits like "All For You" and "Rhythm Nation" before Justin Timberlake joined her to perform his song "Rock Your Body."
"Bet I'll have you naked by the end of this song," was the last line Timberlake sang before ripping off a portion of Jackson's outfit. While that part of the performance was rehearsed, Jackson's breast being exposed was not.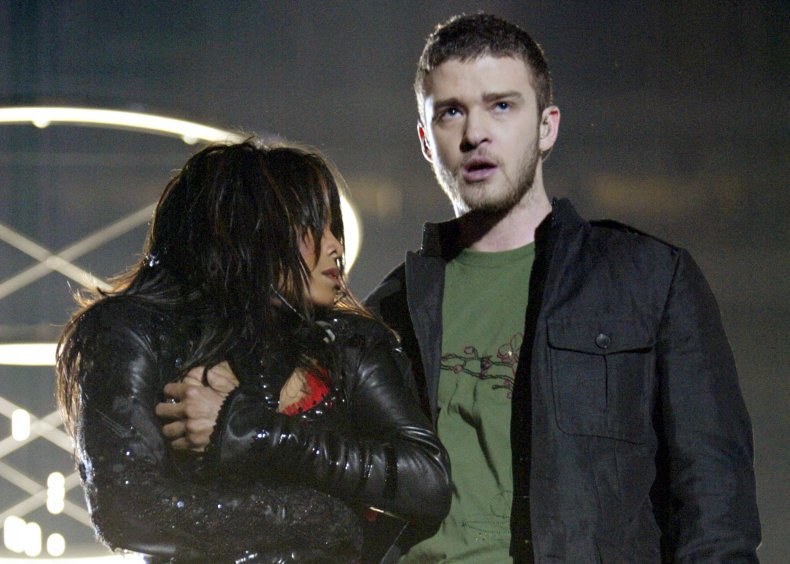 Following the performance, the Federal Communications Commission received over 500,000 complaints, CBS was fined $550,000 and the NFL was asked to refund the $10 million to the halftime show's sponsor.
Jackson issued this apology in response to the performance: "My decision to change the Super Bowl performance was actually made after the final rehearsal. MTV, CBS, the NFL had no knowledge of this whatsoever, and unfortunately, the whole thing went wrong in the end. I am really sorry if I offended anyone. That was truly not my intention."
Timberlake, on the other hand, addressed the controversy in an MTV interview at the time.
"If you consider it 50-50, then I probably got 10 percent of the blame," Timberlake said. "I think America is harsher on women. I think America is unfairly harsh on ethnic people."
Instead of watching the Super Bowl, some of Jackson's fans took to Twitter to commemorate the day as Janet Jackson Appreciation Day.
"Happy Janet Jackson Appreciation Day! I've loved Janet for as long as I can remember and I'm so happy we are taking a day to appreciate her greatnesses," one Twitter user wrote.
"Super Bowl Sunday? No no no, it's Janet Jackson Appreciation Day," another added.
The 51-year-old didn't allow the 2004 controversy to bring her down and continues to be a force to be reckoned with. Releasing her new single "Made For Now" in August 2018, Jackson is currently getting ready to travel to Tokyo for the Janet State of the World Tour.