Remembering 9/11 Service Dogs — New Hampshire Man Pays Tribute to Search and Rescue Canines in Viral Thread
As Americans across the country commemorated the 18th anniversary of the 9/11 terror attacks on Wednesday, a heartwarming Twitter thread honoring the search and rescue hero dogs at ground zero went viral.
Andrew Schatz, a hunting guide from New Hampshire, first started the thread around midnight last night. "Every year as we move away from the events of 9/11, I find the images of the towers falling don't impact the way they use to. I now try to focus on individual stories from that day to help remind me of the emotions I felt. This year I want to focus on the dogs of 9/11," he tweeted, alongside an image of Riley, a canine who was deployed to find cadavers in the aftermath of the terror attacks.
The thread continues on to commemorate numerous 9/11 service dogs, including some that died on the ground while rescuing human survivors. As of Wednesday afternoon, the post had garnered more than 150,000 likes and tens of thousands of retweets.
Schatz told Newsweek that he "wanted to draw attention" to the hero dogs because he believed it was "one of the less told stories of 9/11."
"I work with working dogs on bird hunts so I have a personal relationship with working dogs," he continued. "We're so desensitized to the towers falling, it's always replayed over and over again. And it's just nice to hear these individual stories."
"Any time you talk about tragedies and dogs, it kind of pulls at everyone's heartstrings, even in a politically divided climate like we have. It brings people together."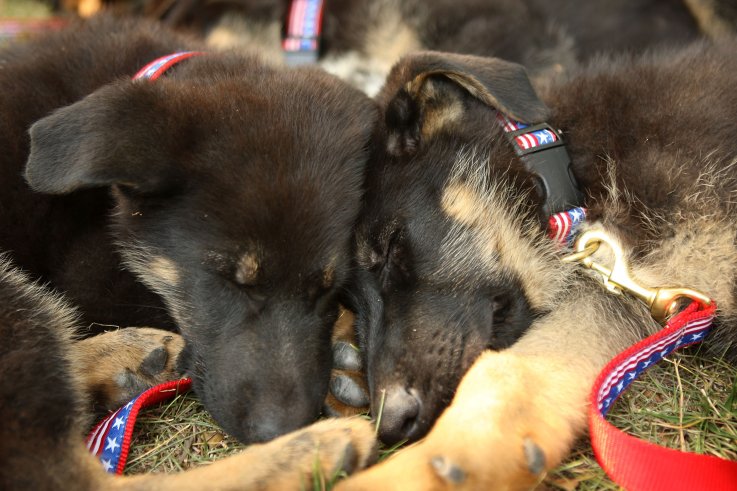 Schatz also wanted to inform the public about how "a lot of these search and rescue teams in the U.S. don't get funding." "Most are donation-based," he explained. "People don't realize that a lot of these handlers are doing it out of their pocket."
"They're driving to the scenes and feeding the dogs. All the gear, the time that it takes to train the dogs, and everything else — it's a massive expense and they don't get much help," he added.
Deep into the thread, Schatz shared various canine search and rescue organizations and encouraged Americans donate to their cause. "Many of your local Search and Rescue organizations aren't paid and need donations. GPS collars, food, gear, and gas are a few of their expenses," he wrote, alongside links to the New England K-9 Search and Rescue and the Indiana Search and Response Team.
See some of the K-9 heroes of 9/11 below:
Remembering 9/11 Service Dogs — New Hampshire Man Pays Tribute to Search and Rescue Canines in Viral Thread | U.S.