Remembering the Band of Brothers — and their Leader — on Memorial Day | Opinion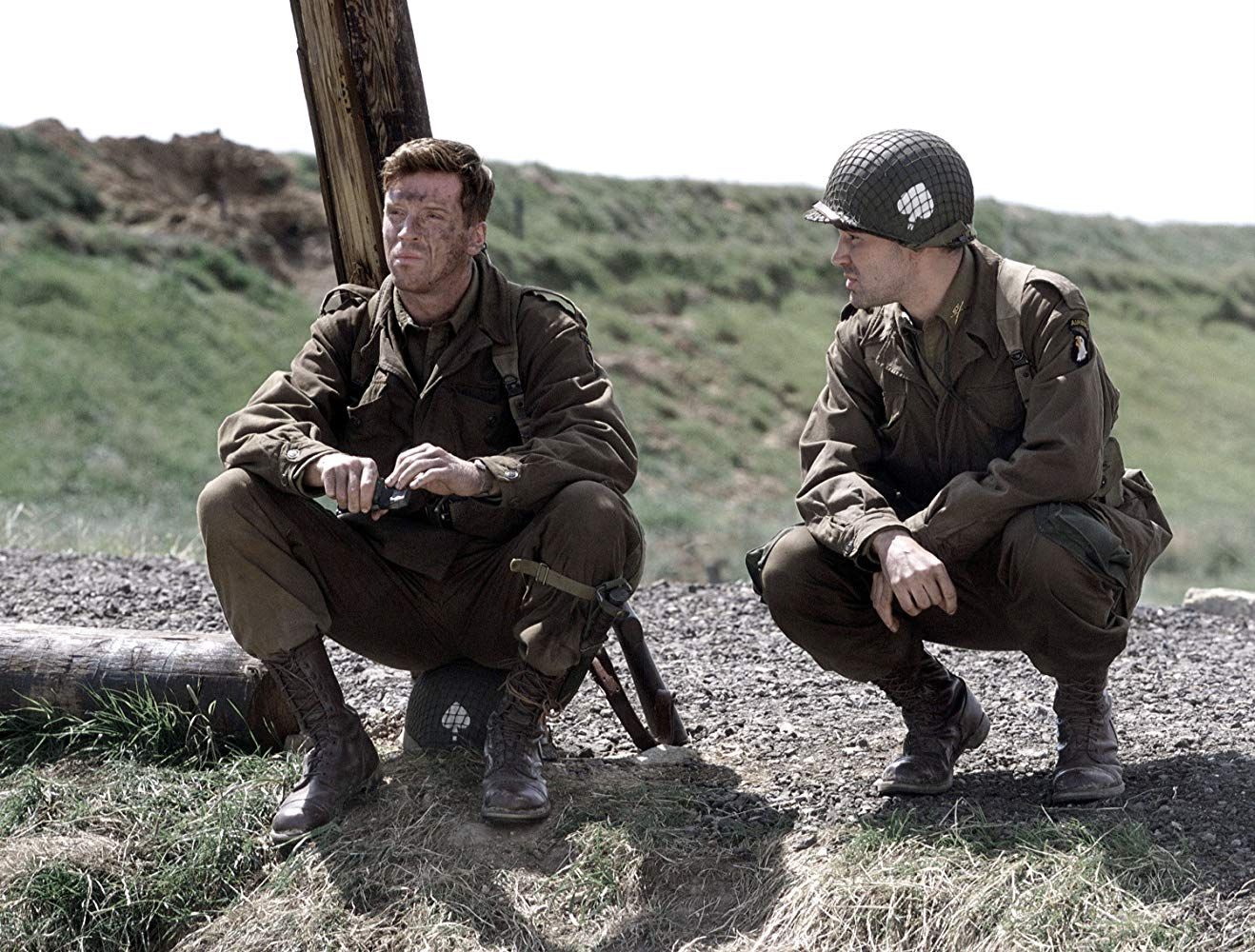 It marks the unofficial beginning of summer: Memorial Day. Americans celebrate the day in a variety of ways: We attend parades and host parties — grills deployed in force. We eat, fish, shop, swim, play sports, watch sports, talk and drink. Laugh and drink.
My favorite thing to do — in addition to much of the above — is watch war movies. Because in the end, Memorial Day is about honoring America's war dead.
Sometimes, I only watch only one: HBO's Band of Brothers. The 705 minute movie — and it is just that, a movie — was produced by Tom Hanks and Steven Spielberg in 2001. Not only did millions watch it when it first aired, but the series went on to sell a whopping $700 million in DVD sales. It was that good.
It's one of the best war movies ever made. And it's a story about one of the best groups of soldiers America's ever made. And certainly one of the great military officers of all time: Major Dick Winters.
His life is worth telling on Memorial Day. Though he didn't die in battle, a lot of his men did. Winters had to live with that. All soldiers who return home alive from battle have to live with that.
Winters was born on Jan. 21, 1918, in small-town Pennsylvania. He was a relatively unknown retired soldier living not far from where he was born when Band of Brothers was released. Soon, his was a household name. And so were the men he served with.
The movie, based on a Stephen Ambrose book of the same name, chronicled the men of E Company, 2nd Battalion, 506th Parachute Infantry Regiment, 101st Airborne Division. The unit was known as Easy Company — but there was nothing easy about their mission.
That brave band of warriors parachuted right into some of the fiercest combat situations of World War II. They started behind enemy lines near the beaches of France, fought their way through Operation Market Garden in the Netherlands, the Battle of the Bulge, and all the way to the Eagle's Nest — Hitler's plush retreat tucked away in the Alps above Berchtesgaden.
The tour of duty was so tough that — as one Easy Company soldier would later write about his fellow soldiers in the unit — "the Purple Heart was not a decoration but a badge of office."
Richard Davis Winters was born in Ephrata, Pennsylvania, and moved to Lancaster when he was young. He was raised on small-town values, one of which was service to his country. His family connection to the military went back to Timothy Winters, who served in the Revolutionary War and saw action at the Battle of Yorktown.
Winters graduated from Lancaster Boys High School in 1937 and attended nearby Franklin & Marshall College, where he was a member of a fraternity and played football and basketball. He was also busy working part-time jobs to help pay his tuition. Winters graduated in 1941 with the highest academic standing .
When the war broke out in Europe, Winters enlisted in the Army. He was selected to attend Officer Candidate School, earned his commission in the summer of 1942, then volunteered to join a newly formed paratrooper unit.
Why such hazardous duty? "I applied for the Airborne because it was a new thing that looked like a challenge," he told a reporter for American History Magazine in 2004.
Nearly 500 officers volunteered to join that elite group of warriors — only 148 made the cut. Winters recalled the stark conditions at Camp Toombs, Georgia, where he did some of his training.
"There were no windows in any of the buildings, and the only place with electricity was the latrine," he noted. "It was rough, but you were expecting to have it rough if you were going to be in the parachute troops."
What were military leaders looking for in their soldiers at Camp Toombs?
"We looked for the ones who looked like they could take it," Winters explained. "When the going got tough, could they stick with it? We also looked for the men who accepted discipline."
All of the training was about one thing: preparing Winters and the other men to be the kind of leaders whom soldiers would follow into battle. And soldiers followed Dick Winters.
"I'd go through hell with him, no question about it," said Clancy Hall, who served as a private under Winters' command. "We all had the same feeling about him, too, I'll tell you. Everything we had to do, he was there right with us. He wouldn't run, you know."
"As their leader, you lead the way," Winters told a reporter. "Not just the easy ones. You gotta take the tough ones, too."
Winters took the tough ones. And none was tougher than his first assignment on D-Day, according to Col. Cole Kingseed, a former West Point military historian and co-author of Beyond the Band of Brothers, Winters' autobiography.
"When he landed, he assembled his command, and it was a widespread drop. But Winters was able by D-Day morning to gather 12 men, and he was ordered to destroy a German artillery battery that was firing on Utah Beach, one of the two American beaches," Kingseed told the BBC days after Winters' death.
"It was a 50-man German battery and he had 12 men, and by fire and maneuver, by leading his men from the front, he was able to knock out each of those guns on Utah Beach." And what a difference that made, Kingseed explained. "By silencing those guns, the American Army suffered 192 dead on Utah Beach, in sharp contrast to Omaha Beach — where Americans suffered over 2,500 casualties."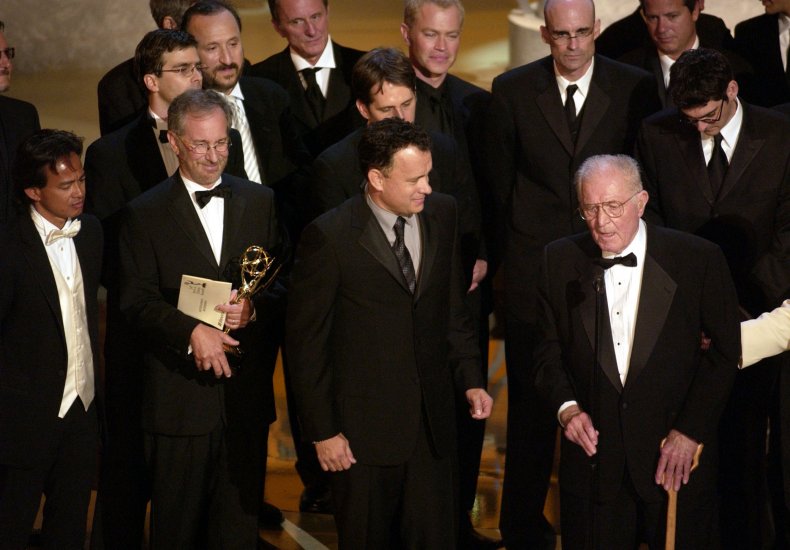 One of Winters' worst war experiences did not involve combat. While on patrol, his men discovered a slave labor camp that was a part of Dachau near Landsberg in April 1945. It was a ghastly scene.
"The memory of starved, dazed men who dropped their eyes and heads when we looked at them through the chain-link fence, in the same manner that a beaten, mistreated dog would cringe, leaves feelings that cannot be described and will not be forgotten," Winters wrote. "The impact of seeing those people behind that fence left me saying, only to myself, 'Now I know why I am here.'"
Winters wasn't always sure he'd live through the war. He told Ambrose that he knelt down and prayed after D-Day. "If somehow I manage to get home again, I promised God and myself that I would find a quiet piece of land someplace and spend the rest of my life in peace," Winters recalled.
After the war, he found that quiet piece of land. He bought a farm outside Hershey, Pennsylvania, where he spent the rest of his life with his bride, Ethel. But true peace eluded him.
Then he decided, late in his life, to tell his own story. When he submitted the final revisions of his memoir to his co-author, he had good news to report. "It's over," Winters told Kingseed. "It's finally over." Winters had finally found the peace he'd prayed for 60 years earlier.
Winters is buried next to his parents in the family plot in the town where he was born. His grave is marked, "Richard D. Winters WW II 101st Airborne." He did not include the many awards he won during the war, among them the military's second highest decoration for valor — the Distinguished Service Cross — for his heroism on D-Day. But that was just like Dick Winters: humble in birth, and death.
In the final scene of Band of Brothers, the real-life Dick Winters recalls a story that a friend of his told him about a conversation he had with his own grandson: "I cherish the memories of a question my grandson asked me the other day, when he said, 'Grandpa, were you a hero in the war?' Grandpa said, 'No. But I served in a company of heroes.'"
"One of the truths about history that needs to be portrayed is that nothing had to happen the way it happened," said David McCullough in a lecture at Hillsdale College some years ago.
Allied victory in World War II did not have to happen. Men like Dick Winters — and the men he led, many of whom died in battle — made it happen.