Remembering Carl Djerassi: Playwright, Chemist, Birth Control Pioneer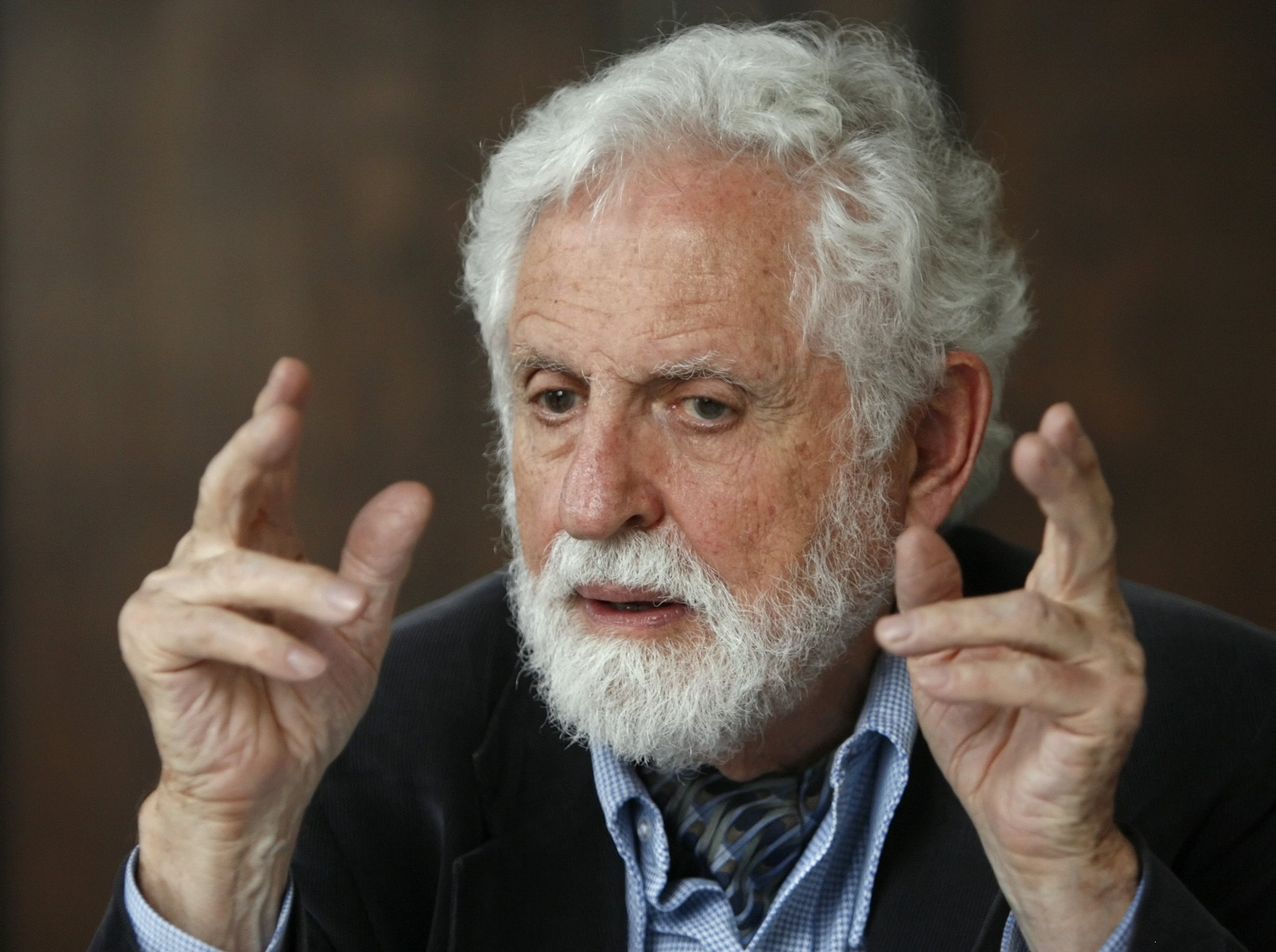 Dr. Carl Djerassi, who died last week at age 91, was known across the world for his pioneering work on birth control. But family and friends also remember the scientist as a forward-thinking teacher who combined his passions for writing and science to inspire his students.
Djerassi "made enormous contributions to society, connecting basic chemistry to things of cultural consequence," says Paul Wender, a professor Djerassi helped recruit to Stanford's chemistry department. "He never lost, I think, the inspiration that comes from that kind of association."
Born in Vienna in 1923, Djerassi moved to the United States in 1939. He earned his bachelor's degree by the age of 19 and his doctorate in chemistry at 22. In 1951, Djerassi and his research team became the first to synthesize the oral contraceptive norethisterone, which led to the creation of the birth control pill.
Though he is best known as the "Father of the Pill" for his work in contraceptives, his research contributions in chemistry extended beyond reproductive health. Later in life, he also wrote plays and novels that mostly dealt with science through art. And throughout his career—more than five decades of which he spent at Stanford—he taught undergraduates and graduate students in courses that explored the implications of sciences on society.
To his most recent students, he's remembered as the professor who on Monday nights hosted them for dinner and chipped chocolate off a big block he brought from Austria.
"His life and career included remarkable productivity and achievement in science, academia and the arts, as well as personal tragedy in his expulsion from his childhood home following the Nazi Anschluss in 1938 and the death of his daughter in 1978," his family said.
Lynette Cegelski, an assistant professor at Stanford's department of chemistry, says Djerassi was always interested in promoting young scientists and faculty members. Even as a retired emeritus professor, he would reach out to new hires.
"He was always encouraging a woman in science" and thinking of "all of these ways in which you can empower women to have successful careers and lives," Cegelski says.
Wender says Djerassi was "way ahead of his time with respect to his awareness of diversity in hiring practices," certainly with regard to hiring women but also with all underrepresented groups in science.
"As I later learned, it was an incredible thing to take women into his lab," says Diane Kanne, who worked in Djerassi's lab as an undergraduate chemistry major in the 1970s. "It was just the beginning of the women's movement." When she later went to work in industry, she was one of only 25 women out of 500 engineers at her company.
Kanne remembers "Papa Carl," as some called him, as a warm, caring man whose eyes "were dark and intense. You knew when you looked at him that there was so much going on in the background. I imagined them to be what the eyes of a genius would look like," Kanne says.
In addition to his passion for science, Djerassi was a deep "appreciator of the arts," according to his son, Dale Djerassi. After Djerassi's daughter, an artist, took her life at the age of 28, he started an artist residency program in her memory on the family's ranch west of Stanford's campus.
Djerassi began writing later in life. He produced primarily novels and plays that he called "science-in-fiction" and "science-in-theater." Through this work, he tried to make connections between science and society, to address ethics and politics, and to "smuggle science to the masses," Cegelski says.
"He was extremely proud of the fact that in his 60s he really shifted from being primarily a scientist to being primarily a writer," says Dale Djerassi, a filmmaker, rancher and private investor. In more recent years, Djerassi focused his teaching around his new literary pursuits, though the connection to science remained.
Wender remembers inviting Djerassi to speak to undergraduates during an introductory organic chemistry lecture. Djerassi, along with a postdoctoral fellow, read excerpts from NO, a book he wrote dealing with reproductive health research. The presentation ended with the white-haired professor performing a rap.
"Here's a person who's behind the earliest contraceptive research," standing up in front of a roomful of undergraduates and rapping, Wender says, laughing. The students were awestruck.
"He used his writing to draw people into the area of science," Wender explains, and allowed them to think "about science in a way that they could understand it without having any kind of technical introduction to the field."
Wender says Djerassi was "connecting the dots from basic science to its ramifications, societal and economic consequences," as he had with his course on the biosocial aspects of birth control.
As a professor emeritus, Djerassi offered an annual seminar for sophomores called Science-in-Theater: A New Genre?, which explored the relationship between science and the theater and illustrated "why more intellectually challenging 'science-in-theatre' plays have appeared in recent times where scientific behavior and scientists are presented accurately rather than just as Frankensteins, Strangeloves or nerds."
"I was always really impressed by how he was able to integrate technical concepts with what Stanford students would call 'fuzzy stuff,'" says Rayna Smith, a Stanford undergraduate double-majoring in French and math, who took Science-in-Theater last winter. Smith says Djerassi's course helped her bridge the divide between her two fields of study. "I feel very lucky to be one of the last students he taught," she says.
On Monday evenings, a small group of students would make their way north from Stanford's campus to Djerassi's apartment on Russian Hill in San Francisco, where they were greeted by Paul Klee paintings, dinner and chocolate.
The students read plays that fell into the "science-in-theater" category, including some of Djerassi's, and every week two students would write alternate endings for the play being discussed. When Caroline Schwanzer, a fellow Austrian, wrote an alternate ending to Michael Frayn's Copenhagen in 2009, Djerassi surprised her by sending it to the playwright himself to tell him he should have ended his play this way.
Djerassi remained her mentor even after the class ended, as he did with many students. They would meet occasionally, and Djerassi always asked about her life and about women in the workplace. "He was so invested in the changes that are happening with women in our society today," she says.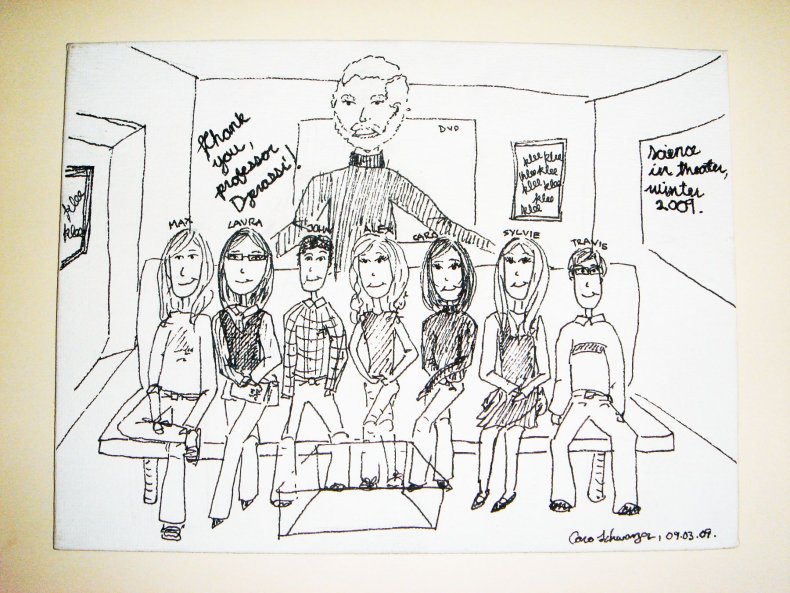 Djerassi was originally scheduled to teach Science-in-Theater again during the winter quarter that began last month, his son says. His most recent book, an autobiography titled In Retrospect: From the Pill to the Pen that focused on his transition from hard science to writing, was published in November 2014, just a few months before his death.
"Now that I'm 90...I've never been busier," Schwanzer recalls him telling her about a year ago while he was in Vienna to give a TEDx talk. When they went to visit the Art History Museum in Vienna during the same trip, she remembers, he commented on every patriarchal Austrian emperor. "He was very funny," she says.
Last Wednesday, Djerassi was still up, sitting at his computer and talking, his son says. Two days later, "he took his last breath," Dale says. "He died in bed at home with the light streaming through the window and a view of the Golden Gate Bridge," he says, after "a large life fully lived."