Remembering Gabriele Grunewald: Runner Dies at 32 Years Old
Gabriele Grunewald, one of the top U.S. middle-distance runners, died Tuesday after a public battle with cancer at the age of 32, her husband, Justin Grunewald, confirmed Wednesday to the Associated Press.
"It was one of the most peaceful passings I've seen. Everything she did was timed in her own time and perfect," he told AP. "Everything she did was timed in her own time and perfect."
Lovingly referred to as "Gabe," the athlete was diagnosed with adenoid cystic carcinoma–"a relatively rare form of cancer that most commonly develops in the salivary glands or other regions of the head and neck"–in 2009. Following her diagnosis, the then-23-year-old underwent surgery and chemotherapy and finished second at the NCAA Championships the next year.
Her impressive running streak didn't end there. Grunewald became the U.S. indoor 3,000-meter champion in 2014 and was apart of the starting line at 1,500-meter U.S. track and field championships in 2017.
"Though it would take quite an effort to make the final, I don't think it is impossible," Grunewald said before the race, according to KNTV report. "If I feel good, I hope to mix it up. There's also a chance I feel lousy, in which case I hope I can just enjoy being out on the track as a competitor for a few minutes. Either way, I'll be happy to be out there."
Recently, Grunewald was scheduled to appear at 5K run hosted by her foundation, Brave Like Gabe. The runner shared with her followers on Instagram May 4 that she would not be able to participate due to an infection.
"Gonna need you guys to send me some extra #Brave vibes tonight as I am so, so very bummed that I won't be able to make it to the @bravelikegabe 5k tomorrow — because I am in the hospital with an infection and need a procedure done bright & early in the AM," Grunewald captioned a picture of herself in a hospital bed. "Literally, the worst timing ever but I'm working with an all-star crew of friends, family, sponsors, and the ACCRF to make sure it's a great race in St. Paul."
Following her passing, her husband shared a heartfelt message to his "hero, best friend, inspiration, [and] wife."
"At 7:52 I said 'I can't wait until I get to see you again' to my hero, my best friend, my inspiration, my wife," Justin wrote. "I always felt like the Robin to your Batman and I know I will never be able to fill this gaping hole in my heart or fill the shoes you have left behind. Your family loves you dearly as do your friends."
If you're interested in making a donation or learning more about Brave Like Gabe's mission of rare cancer research and support for cancer survivors, click here.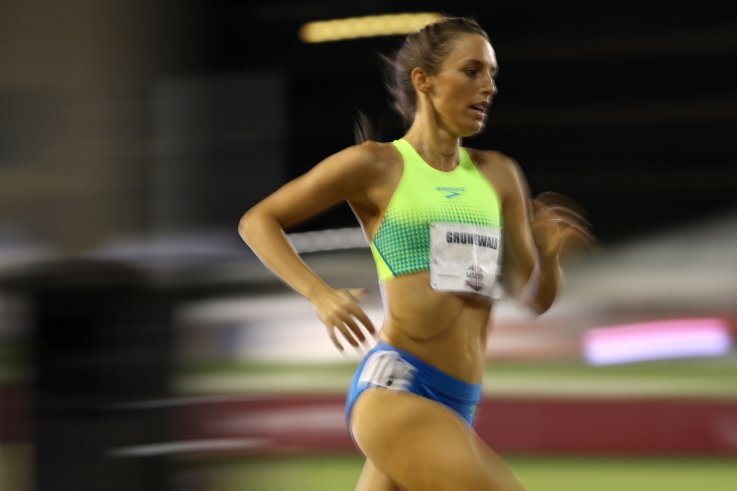 Remembering Gabriele Grunewald: Runner Dies at 32 Years Old | Culture