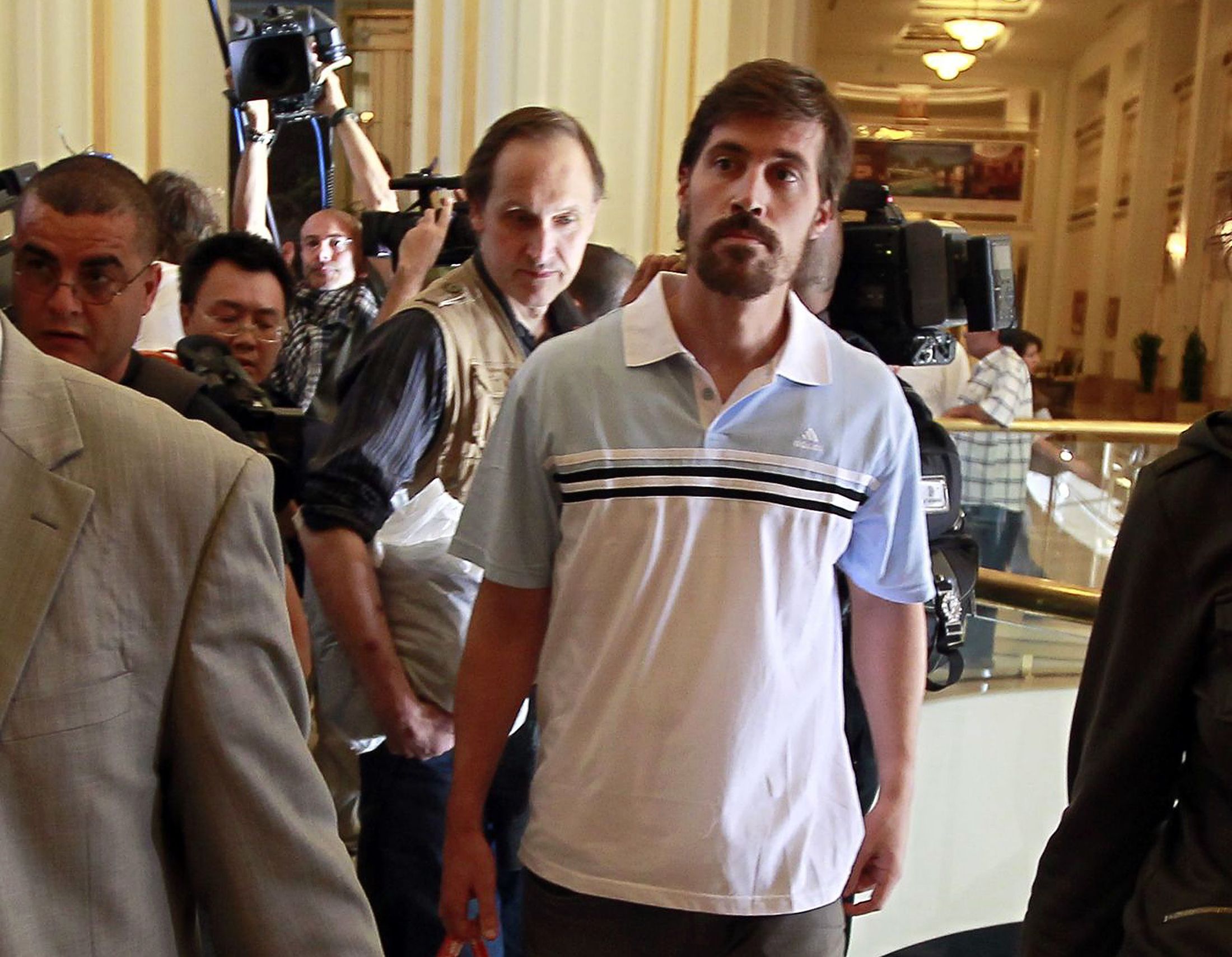 On Tuesday, ISIS members posted a video on YouTube entitled "A Message to America," allegedly depicting journalist James Foley's beheading. Foley, an American journalist kidnapped in Syria almost two years ago, was allegedly murdered by Syrian and Iraqi members of the Islamic State, although the video remains unverified.
James Foley was born in Rochester, New Hampshire on October 18, 1973. He came into journalism as a second career, and attended Northwestern University's prestigious Medill School of Journalism at the age of 35. Foley had been dedicated to humanizing the conflict in war-torn areas, telling visual stories with grit and honesty since 2008 when he went to cover conflict in Iraq.
"It's our job. I'm drawn to the drama of the conflict and the untold stories. But I'm drawn to the human rights side," he told the BBC in a 2012 video interview on what kept him going, "There's extreme violence, but there's also a certain sense of trying to find out who these people really are. That's the inspiring thing about it."
A talented journalist, Foley produced a body of striking video essays and occasionally wrote pieces about the complexities of conflict. In 2012, he posted a video speaking on the "most shocking things" he saw during his time in Syrian province of Idlib, not far from where he was kidnapped, near the town of Taftanaz. He documented his experiences meticulously, keeping a blog entitled A World of Troubles since the beginning of his journalism career. The video journalist reported for Boston's GlobalPost, but worked mostly as a freelancer.
He was initially kidnapped in 2011, in Libya. Foley had been traveling with a photographer, Anton Hammerl, and two other journalists. Hammerl was killed, and the others were detained in a Libyan jail before being freed six weeks later.
Clare Morgana Gillis, one of the journalists captured and detained with Foley in Libya, remembered her colleague and friend's tenacity to get to the heart of a story regardless of circumstance: "Jim is impatient with checkpoints, inaction, anything that slows his forward momentum. He is always striving to get to the next place, to get closer to what is really happening, and to understand what moves the people he's speaking with. When we were detained in Tripoli, Jim automatically turned his energies to keeping up our strength and hope," she wrote in a Syria Deeply essay. He spoke of his kidnapping experience in Libya during a 2011 video interview with The Boston Globe.
Foley began teaching in 1996, in Phoenix, as part of Teach for America. In an essay, Sarah Fang, a friend and alum of the program, remembers him as a tenacious person: "His sense of integrity has always meant devoting himself entirely to his work. As a journalist, Jim's sense of duty and dedication leads him to want to report the deepest truths even if it means risking his own personal safety. He's always been willing to step into a zone where no one else wants to go."
Friends remember him as a kind soul and a tireless journalist, and have been sharing stories honoring Foley's memory. Speaking to Newsweek, Buzzfeed's Middle East correspondent Sheera Frenkel remembers Foley as "a generous and much-loved colleague who loved what he did. He felt compelled to bear witness to some of this decade's most violent and dangerous events, and stuck to telling the story even when many other journalists pulled out. He'll be very, very missed."
Fellow journalist and friend Clay Dillow took to Twitter for a dedication: "James Foley was among the most selfless. Those who knew him were lucky to call Jim a friend. Those who didn't missed something beautiful." Vox's Max Fisher also remembers him fondly: "My thoughts are with James Foley's family. No matter what he faced, he was unfailingly kind, generous, and warm. A wonderful soul." Bloomberg News's Alex Sherman urged his followers to "please remember my friend Jim Foley today—beheaded by ISIS after nearly two years of capture. A funny, warm, Big Lebowski–loving guy."
The Committee to Protect Journalists has called Syria the most dangerous country in the world for journalists. Data indicates that at least 66 journalists have perished covering the conflict in Syria. "The more you dig for information on missing journalists [in Syria], the more it's like wading through quicksand," wrote James Harkin in a May 2014 Vanity Fair piece about missing journalists.
Foley's family released a statement last night on Facebook: "We have never been prouder of our son Jim. He gave his life trying to expose the world to the suffering of the Syrian people. We implore the kidnappers to spare the lives of the remaining hostages. Like Jim, they are innocents. They have no control over American government policy in Iraq, Syria or anywhere in the world. We thank Jim for all the joy he gave us. He was an extraordinary son, brother, journalist and person. Please respect our privacy in the days ahead as we mourn and cherish Jim."