Remembering Juliano Mer-Khamis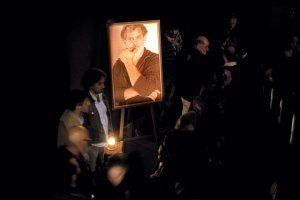 "If words don't help, we will have to speak in bullets," said the ultimatum circulated in the Palestinian territories prior to the assassination of Juliano Mer-Khamis on the doorstep of his Freedom Theater, in a Jenin refugee camp. Lovingly known as "Jul" to his young amateur thespians, Mer-Khamis took the exact opposite stance: bullets cannot resolve the Palestinian-Israeli quandary, so let's try words. The last show he staged was Alice in Wonderland.
He was a handsome, rugged actor-activist whose filmography included The Little Drummer Girl and Miral. His death, almost certainly at the hands of Palestinian extremists, followed threats that combined suspicion of the half-Jewish stranger with Muslim distaste for Western values and art. Jul was shot several times, in view of his baby boy and several young Palestinians who volunteered in his theater. It was the only Wonderland they ever knew.
His death signals the current Arab crossroads in a chillingly timely way: the fates of Egypt, Libya, Yemen, and Syria, as well as the Palestinian territories, will be decided either by the likes of Mer-Khamis, or by the likes of his assassins.
Jul, to be sure, was a unique case, a Middle Eastern mutant: born to Jewish-Israeli Arna Mer and to Christian Arab-Israeli Saliva Khamis, he was the most celebrated child of a near-extinct breed of cross-national dreamers. Mer was born to a pioneer family, fought for Jewish independ-ence, and launched a theater workshop for Jenin refugee-camp youngsters. Many of them grew up to embrace despair and violence. Juliano celebrated Mer's dreams and lamented their shattering in a beautiful documentary film, Arna's Children. But he stuck with hope, relaunching his mother's Freedom Theater for a new Palestinian generation.
"I have never been as Jewish as I am right now in Jenin," he told the Israeli news site Ynet two years ago. "After all this work at the camp, it would be extremely unfortunate to die of a Palestinian bullet." Mer-Khamis was no prophet. He was a political artist, living on the fault line of creativity and doom. His killing conjoins the worst of Jewish fate—having one's identity defined by one's foes—with the worst of Palestinian traits, blowing up what might have been mended. A double lesson should be learned from the life and death of Jul: romanticize nothing, yet keep working on the side of hope.
His life was marred by hate from both parent-nations. He was an Arab to Jewish extremists, who loathed him, and a Jew to Palestinian fanatics, who attacked and likely killed him. Hate must never be underestimated, and both Israel and the Palestinian territories are rife with it. Nor should we downplay the easy resort to murderous rage among many in the Middle East. For every Facebook progressive, there may still be a faceless thug whose only book is a manual of odium. For every Wonderland, there is still a dismally distorted Bible or Quran.
It is up to his many Israeli and Palestinian friends to show that Mer-Khamis was no mutant, no anomaly. As he was laid to rest, in a secular cemetery on the outskirts of Haifa, the mayor of this peaceful Jewish-Arab city said that hope had been shot. But our future, like that of the whole Middle East, depends on the knowledge that hope is bulletproof.
Oz-Salzberger is an Israeli writer and historian, a professor at the University of Haifa, and the Leon Liberman Chair in modern Israel studies at Monash University.