Amy Winehouse's Best Friend Knew She Would Be a Star 'The Day I Met Her'
July 23 marks 10 years since Amy Winehouse tragically passed away, yet her best friend still refers to her in the present tense—even while discussing how much she misses her.
"She's my best friend... my other sister," singer-songwriter Juliette Ashby tells Newsweek. "She may have been a worldwide star, which she is, but for me she is just Amy and I miss her—everything about her.
"It's like I've lost a limb [from] my body, to be honest. The pain doesn't get any easier. Time isn't a healer. I guess you just keep breathing and life carries on, even if you are never the same again."
Winehouse was just 27 when she died as a result of alcohol poisoning. Fans descended on the streets surrounding her home in London's bustling Camden area as they mourned a star who had enchanted a generation with her jazz-powered tones.
A roster of A-list stars lined up to publicly share tributes and songs were even composed in her honor.
But for Ashby, the pain of loss cut particularly deep, as Winehouse was not just a friend, but one she had known since they were both four years old and attending Osidge Primary School in Southgate, north London.
"School was amazing for us. we loved every minute of it," recalls Ashby, who adds that she saw star quality in Winehouse "from the day I met her."
With Ashby also possessing singing and songwriting talents, the pair would form the rap duo Sweet & Sour as children.
Their shared interests while growing up together led to a shared home as the pair moved into an apartment in the suburbs of north London when they turned 18—soon after Winehouse landed her publishing deal.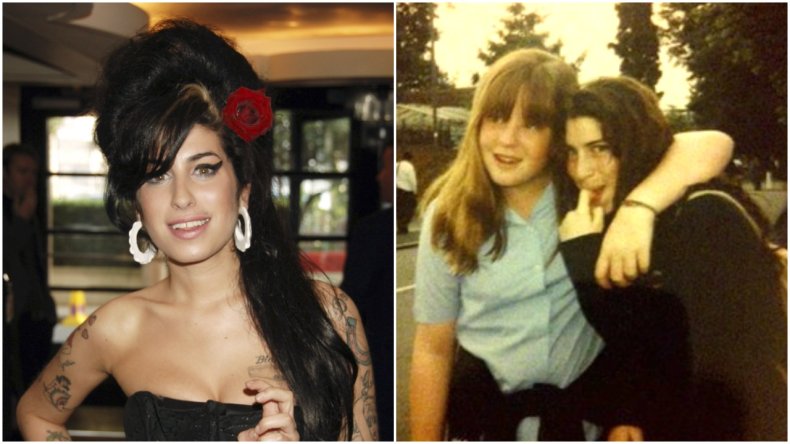 "[Those were the] best days of our lives," says Ashby. "Between us both cooking, writing and playing music day and night with our other best friend Lauren [Gilbert] and my sister, Jessica [Ashby].
"That flat 215a in East Finchley was probably the best times for us. Amy was writing her first album, 'Frank.' I was recording and just getting my first writing job for a TV show in London. Life was good. We were very happy and loving our lives."
So entwined were their lives that Winehouse earned a pre-fame living as a showbiz reporter at the World Entertainment News Network, an agency started by Ashby's father, Jonathan Ashby.
Winehouse would soon go on to find musical success, with her 2003 debut album making her a darling of the critics and the 2007's "Back to Black" catapulting her to superstardom.
But behind beehive and eyeliner that would come to be known as her signature look, Winehouse remained an ordinary girl who struggled with fame.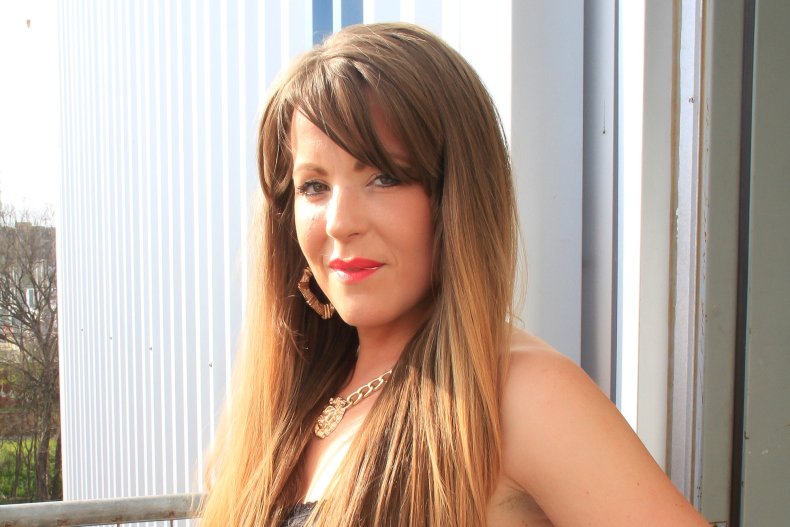 "She is very shy, she always has been," Ashby says of Winehouse. "Except, of course, when around her nearest and dearest... She has a cackle laughter that you could hear from streets away.
"She could have easily been a comedian on top of her many talents. No one will ever make me laugh like she does. We would only need to give each other a look to know what each other were thinking."
Winehouse also had other, perhaps surprising, dreams that she didn't get to realize: "She wanted to open a cat sanctuary and be a singing roller waitress," reveals Ashby.
"She was intelligent beyond her years and to be honest was the smartest person in the room in most situations, in regards to intellect and just basic human understanding of people's personalities," she adds.
Ashby's interview with Newsweek is one of the few times she has publicly spoken about Winehouse since her death, though she and her friend, Lauren Gilbert, were contributors to the 2015 documentary Amy, which scooped the 2016 Academy Award for Best Documentary Feature.
After initial ambivalence about participating in the Asif Kapadia-directed film, Ashby says that she saw an opportunity to present her friend in a way that past headlines hadn't.
"For myself and Lauren we just wanted to contribute all the good videos and things about Amy from our lives for people to see," says Ashby. "There are so many wonderful things about her and her personality that we wanted to share.
"For us it was about showing as much about who she really is to the world who may only know her for her talents and what they read/see in the media and TV."
A decade on from losing her friend, Ashby admits that she continues to struggle, particularly when July 23 looms on the calendar.
"Every year I find it extremely hard and very surreal, to be honest," she says. "I'm always with our other best friend, Lauren, [and] my sister, Jessica. I also make sure I see our oldest friend from school. We make sure we are together."
As the years go by, Ashby would like Winehouse to be remembered "as one of a kind, a genius, a kind, loving, funny highly intelligent girl who shared her soul with the world and impacted us all."