Notre Dame Fire: Tourists Share Photos of Visits to Iconic Cathedral in Paris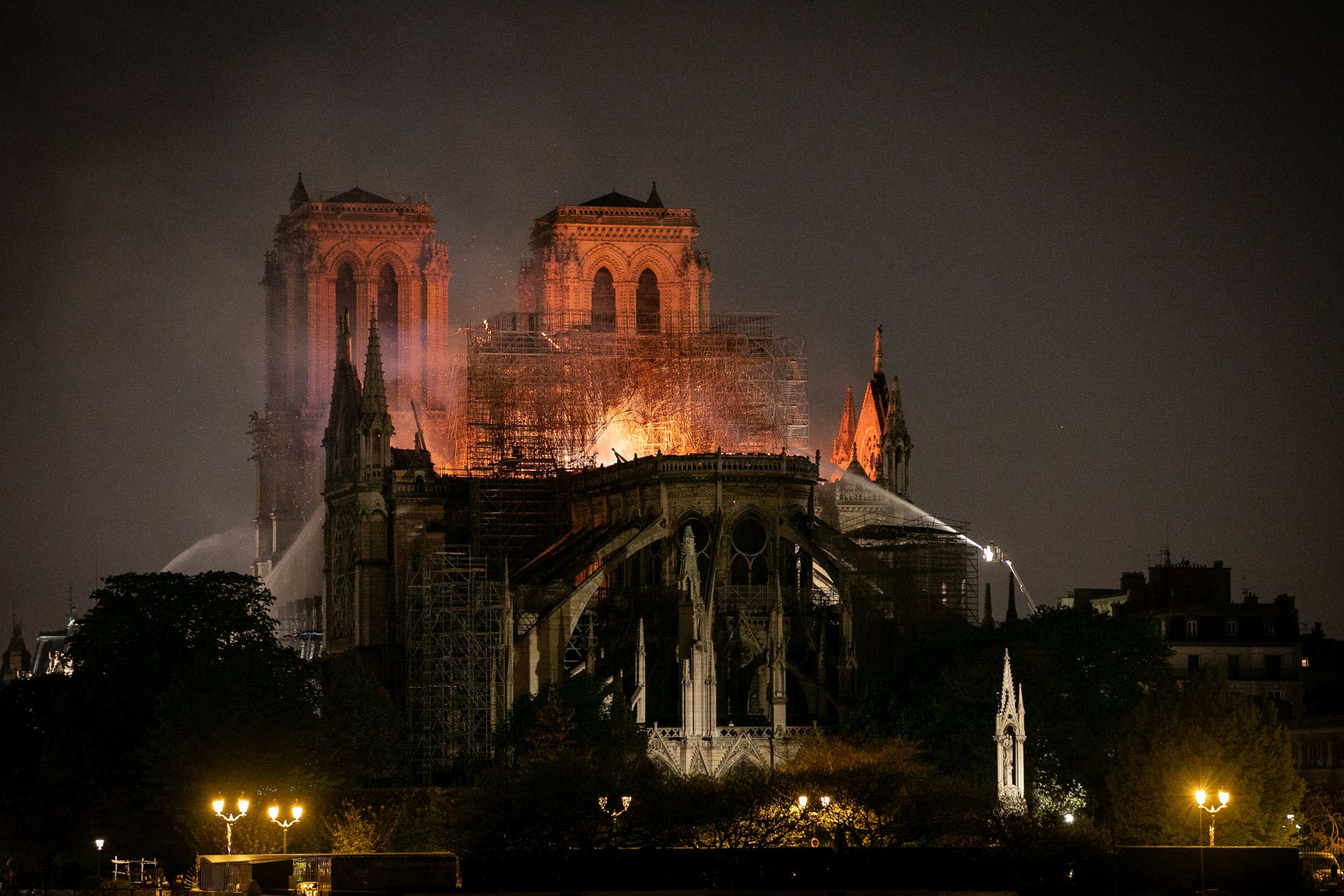 As the main spire and roof on top of France's historic Notre Dame Cathedral collapsed during an enormous fire on Monday, tourists commemorated the iconic monument by sharing photos and videos taken at the location during their visits to Paris.
The blaze broke out around 6.50 p.m. local time, minutes after the landmark closed to the public, according to the Paris fire department. "Everything is burning, nothing will remain from the frame," Notre Dame spokesperson Andre Finot said, as roughly 400 firefighters fought to control the flames.
Officials late on Monday evening confirmed that the two towers have been saved, and said it would take firefighters three to four more hours to completely contain the fire. The welcome news comes hours after French Interior Ministry official had speculated that firefighters might not be able to salvage the building.
France's President Emmanuel Macron vowed to rebuild the cathedral and said action to raise money will begin tomorrow. "Cette cathédrale Notre-Dame, nous la rebâtirons. Tous ensemble. C'est une part de notre destin français. Je m'y engage : dès demain une souscription nationale sera lancée, et bien au-delà de nos frontières," he tweeted.
English translation: "This Notre-Dame Cathedral, we will rebuild it. All together. This is part of our French destiny. I am committed to this: from tomorrow a national subscription will be launched, and far beyond our borders."
Former President Barack Obama paid tribute to the Notre Dame by sharing a heartwarming photo taken during a trip with former first lady Michelle Obama and his two daughters, Malia Obama and Sasha Obama. "Notre Dame is one of the world's great treasures, and we're thinking of the people of France in your time of grief. It's in our nature to mourn when we see history lost – but it's also in our nature to rebuild for tomorrow, as strong as we can," Obama tweeted, alongside an image of his family inside the cathedral.
The post prompted other travelers who have visited the site to share their own photos taken at the historic structure.
Here are some below:
"This was a video I took of the Notre Dame when I went to Europe my Sophmore [sic] year of High School. The sweet bells hold an erie [sic] and saddening tone in light of today's events. So upset to see this beauty burn," Kristen Lowery tweeted.
"My wife and I at the Notre Dame Cathedral in Paris in 2012," The Hill reporter and co-founder Ed Krassenstein wrote.
"My husband and son at Notre Dame, 8/2013. One of the highlights of our trip to Paris. Devestating [sic]," Twitter user @beckyjo17 wrote.
"1976," Astris Teschke Franz wrote, apparently referring to the year her photo was taken.
"Summer of 2015.. heartbroken to hear about the fire," Stephen Chang tweeted.
"We were there on a Saturday!" Twitter user @Theresa_WC wrote.
"We were there in March 2018," Twitter user @KasieHildenbra2 posted.
"My picture of the Rose Window from 2015," Ken Hagen tweeted.