Remembering Rachel Held Evans: Quotes on Faith, God and the Church From the Progressive Christian Writer
At 37 years old, best-selling author Rachel Held Evans had made her mark in the world with her progressive writing.
Evans, the author of four books which challenged the conventions of traditional, conservative Christianity, died on May 4 in Nashville following complications from an infection. Evans had been in a medically induced coma after experiencing brain swelling and seizures, her husband, Daniel Evans, posted on her website that extensive brain swelling was the cause of death.
Evans' books sought to challenge her traditional upbringing in church, as well as highlighting her move to a more mainstream Christian identity that supported LGBT groups and challenged conservative voices.
According to a post on her website, Evans left the evangelical church in 2014, said she was tired of the "culture wars" churches were engaged in.
"Rather than wearing out my voice in calling for an end to evangelicalism's culture wars, I think it's time to focus on finding and creating church among its many refugees — women called to ministry, our LGBTQ brother and sisters, science-lovers, doubters, dreamers, misfits, abuse survivors, those who refuse to choose between their intellectual integrity and their faith or their compassion and their religion, those who have, for whatever reason, been 'farewelled,'" Evans wrote.
"Instead of fighting for a seat at the evangelical table, I want to prepare tables in the wilderness, where everyone is welcome and where we can go on discussing (and debating!) the Bible, science, sexuality, gender, racial reconciliation, justice, church, and faith, but without labels, without wars," she added.
Evans was born in Alabama in 1981 and later moved to Dayton, Tennessee at age 14. Her books include "A Year of Biblical Womanhood: How a Liberated Woman Found Herself Sitting on Her Roof, Covering Her Head, and Calling Her Husband Master," which made the New York Times e-book bestseller list, "Inspired: Slaying Giants, Walking on Water, and Loving the Bible Again" and Faith Unraveled: How a Girl Who Knew All the Answers Learned to Ask Questions."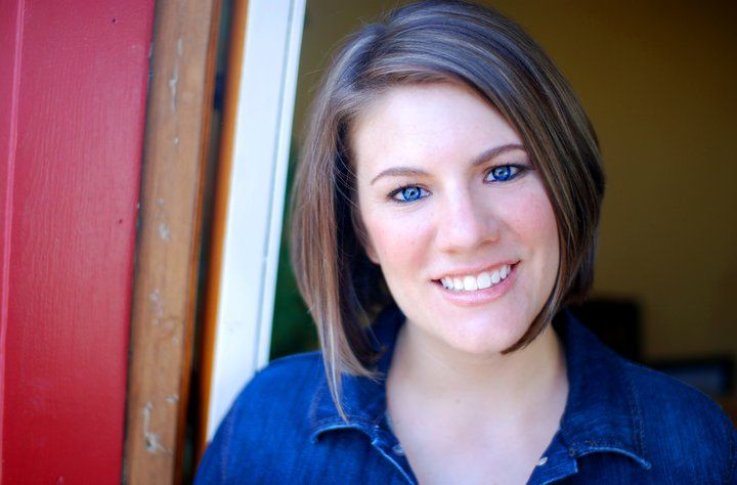 Some quotes from Evans' books and blog posts are below:
"Imagine if every church became a place where everyone is safe, but no one is comfortable. Imagine if every church became a place where we told one another the truth. We might just create sanctuary."
"I am a Christian," I concluded, "because the story of Jesus is still the story I'm willing to risk being wrong about."
"There's a great episode of The Office in which this strategy lands Michael Scott and Dwight Schrute in a lake during a sales trip, Michael shouting, "The machine knows!" as he follows the GPS instructions and drives his SUV off the road into the water. I've watched a lot of good people drive their lives, their families, their churches, their communities, even their countries into a lake, shouting, "The Bible knows!" all the way down."
"What I love about the ministry of Jesus is that he identified the poor as blessed and the rich as needy...and then he went and ministered to them both. This, I think, is the difference between charity and justice. Justice means moving beyond the dichotomy between those who need and those who supply and confronting the frightening and beautiful reality that we desperately need one another."
"What each of us longs for the most is to be both fully known and fully loved. Miraculously, God feels the same way about us. God, too, wants to be fully known and fully loved. God wants this so much that He has promised to knock down every obstacle in the way, enduring even His own death, to be with us, to consummate this love."
"Church attendance may be dipping, but God can survive the Internet age. After all, He knows a thing or two about resurrection."
"I told them we're tired of the culture wars, tired of Christianity getting entangled with party politics and power. Millennials want to be known by what we're for, I said, not just what we're against. We don't want to choose between science and religion or between our intellectual integrity and our faith. Instead, we long for our churches to be safe places to doubt, to ask questions, and to tell the truth, even when it's uncomfortable. We want to talk about the tough stuff — biblical interpretation, religious pluralism, sexuality, racial reconciliation, and social justice — but without predetermined conclusions or simplistic answers. We want to bring our whole selves through the church doors, without leaving our hearts and minds behind, without wearing a mask."
"This is what God's kingdom is like: a bunch of outcasts and oddballs gathered at a table, not because they are rich or worthy or good, but because they are hungry, because they said yes. And there's always room for more."
"It's just death and resurrection, over and over again, day after day, as God reaches down into our deepest graves and with the same power that raised Jesus from the dead wrests us from our pride, our apathy, our fear, our prejudice, our anger, our hurt, and our despair. Most days I don't know which is harder for me to believe: that God reanimated the brain functions of a man three days dead, or that God can bring back to life all the beautiful things we have killed. Both seem pretty unlikely to me."
"It seems that a whole lot of people, both Christians and non-Christians, are under the impression that you can't be a Christian and vote for a Democrat, you can't be a Christian and believe in evolution, you can't be a Christian and be gay, you can't be a Christian and have questions about the Bible, you can't be a Christian and be tolerant of other religions, you can't be a Christian and be a feminist, you can't be a Christian and drink or smoke, you can't be a Christian and read the New York Times, you can't be a Christian and support gay rights, you can't be a Christian and get depressed, you can't be a Christian and doubt. In fact, I am convinced that what drives most people away from Christianity is not the cost of discipleship but rather the cost of false fundamentals. False fundamentals make it impossible for faith to adapt to change. The longer the list of requirements and contingencies and prerequisites, the more vulnerable faith becomes to shifting environments and the more likely it is to fade slowly into extinction. When the gospel gets all entangled with extras, dangerous ultimatums threaten to take it down with them. The yoke gets too heavy and we stumble beneath it."
Remembering Rachel Held Evans: Quotes on Faith, God and the Church From the Progressive Christian Writer | U.S.