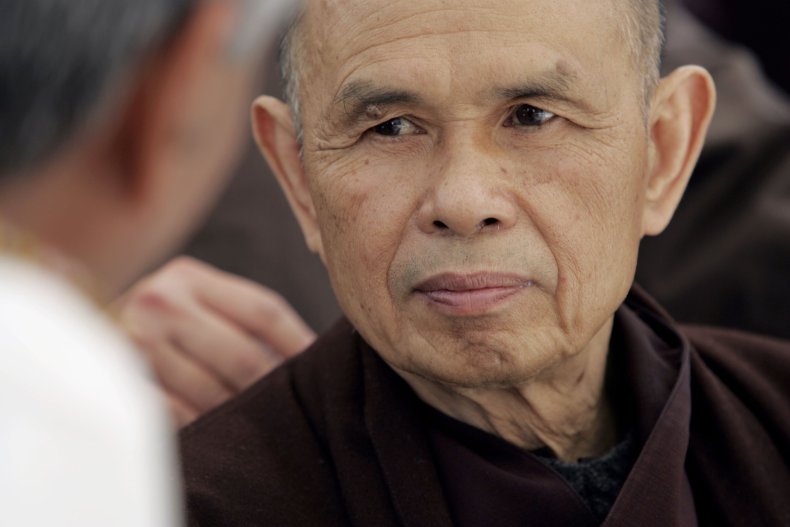 Tributes to Buddhist monk and "mindfulness" teacher Thich Nhat Hanh have poured in following the announcement of his death at the age of 95.
The death of the zen master, who was know to followers as "Thay," was announced through his France-based Plum Village monastery on Saturday in Vietnam. Thich Nhat Hanh died at the stroke of midnight in Hue, Vietnam. He had returned to live in the country of his birth in 2018 and had been unable to speak, communicating using gestures instead, since suffering a brain hemorrhage in 2014.
"With a deep mindful breath, we announce the passing of our beloved teacher, Thay Nhat Hanh, at 00:00 hrs on January 22, 2022 at Từ Hiếu Temple in Huế, Vietnam, at the age of 95," monks and nuns at the monastery wrote in a statement obtained by Newsweek. "Thay has been the most extraordinary teacher, whose peace, tender compassion, and bright wisdom has touched the lives of millions."
"Now is a moment to come back to our mindful breathing and walking, to generate the energy of peace, compassion, and gratitude to offer our beloved Teacher," they added. "It is a moment to take refuge in our spiritual friends, our local sanghas and community, and each other."
In addition to being a key figure in popularizing the Buddhist principle of mindfulness in the west, Thich Nhat Hanh was also an influential anti-war activist. He urged Martin Luther King Jr. to oppose the Vietnam War in the 1960s and was nominated for a Nobel Peace Prize by the civil rights leader in 1967, although no prize was awarded that year.
"My father with his friend and ally, #ThichNhatHanh, who died this week," Bernice King, a daughter of Martin Luther King Jr., tweeted alongside a photo of her father and the Buddhist monk. "I celebrate and honor Thich Nhat Hanh's life and global influence for peace."
On Martin Luther King Jr. Day, only days before his death, Thich Nhat Hanh's official Twitter account had tweeted an excerpt from his 2016 book At Home in the World: Stories from a Monk's Life in tribute to King.
"From the first moment, I knew I was in the presence of a holy person," the excerpt read. "Not just his good work but his very being was a source of great inspiration for me."
Other admirers of Thich Nhat Hanh and his teachings also took to social media to pay tribute to his influence after his passing.
"This one hurts," musician Richard Marx tweeted with a broken heart emoji. "Thich Nhat Hanh, Zen teacher who popularized mindfulness in the West, dead at 95 - Lion's Roar."
"RIP Thich Nhat Hanh," comedian Ron Funches tweeted. "Your work on mindfulness changed my life and path. Thank you for everything. We must replenish all the good energy that has passed on recently with our own deeds."
"I believe that if we were to ask Thich Nhat Hanh about his death he might respond with a very big smile," tweeted anthropologist Michael Oman-Reagan.
"And he might say: Don't you see Thay's new form?" Oman-Reagan continued. "The flower, cloud, rain, sea, wind, tree, the sangha. All are Thay's continuation. You are all Thay's continuation."
"Thank you great master Thích Nhất Hạnh for remaining so many years to give us such valuable lessons and teachings," musician and actress Jessica Pimentel tweeted. "The embodiment of loving kindness and compassion. Thank You."
"Thich Nhat Hanh has died," tweeted NPR journalist Rachel Martin. "I have read his books in my darkest hours. What a gift he was to so many."
"It was an honor to meet Thich Nhat Hanh in Vietnam in 2019," Senator Mazie Hirono (D-Hawaii) tweeted. "His teachings of compassion and mindfulness will continue to lighten this world. Rest in peace."
"It was an honor of my life to spend an entire day of mindfulness and meditation with the venerable Thich Nhat Hanh at Blue Cliff Monastery during one of his last trips to the United States," tweeted sociologist Crystal Marie Fleming. "A fountain of wisdom, a fierce peace activist. A mountain of a man. Rest in power."