Remote Work Is Here to Stay. But What Does That Mean for Productivity—and Mental Health? | Opinion
Many workers around the world have been working remotely for almost two months due to the COVID-19 outbreak. Companies have closed their physical offices and expanded digital ones on productivity platforms like Microsoft Teams, Slack and Zoom. Last month, Teams reached 44 million daily users—up from 20 million in November. Slack reached record numbers of its own, seeing 12.5 million concurrent users at the end of March.
The coronavirus pandemic could serve as the catalyst for a growing number of workplaces offering the option for employees to work remotely. This debate has come and gone ever since the first personal computer was invented, when some were certain it was only a matter of time before most white-collar jobs could be performed from the comfort of home. While that office-less future has yet to be realized, data points to remote work picking up steam over the past decade—particularly in the U.S. According to the Bureau of Labor Statistics, over 26 million people worked from home on an average day in 2018.
But what are the real benefits?
Certainly, working from home cuts commute times significantly. The biggest beneficiaries are employees who commute in cities such as New York or Los Angeles, where the average one-way commute time for those two cities was over 33 minutes in 2017. Many commutes coming from Brooklyn to Manhattan or driving the 405 during L.A. rush hour can take even longer.
An economy that's working from home also has a huge impact on the job market and recruiting the best talents. For work that can strictly be done remotely, employers can pull talent from areas across the country or globe. This can attract recruits from a broad range of socioeconomic backgrounds, which can increase creativity and innovation within a well-connected team.
And for some, the absence of common work environment stressors leads to a clearer mind, better mood and overall healthier psychological life. For an employer, that translates to a boost in productivity and potential increase in confidence and creativity.
Still, remote work and working from home can have downsides.
While some may experience psychological benefits to working from home, others can experience higher levels of loneliness and depression when not working in an office, with online communication tools being a subpar substitute for in-person meetings and collaboration. Human interaction, studies show, is a major driving force for creativity, and without it, productivity declines and creative sparks fail to ignite as often.
Online communication tools also aren't perfect substitutes for face-to-face meetings. A new report from Time is Ltd., a productivity analytics company, shows that Microsoft meeting minutes are up from 900 million minutes per day on March 16 to 2.7 billion on March 31, with managers joining meetings more often. Online communication with team members is good, but some may feel an increased schedule of unproductive meetings adds little value.
Ultimately, where some thrive working out of the office, the line between work and downtime tends to blur to a detrimental point for some who work from home indefinitely. Everybody's different, and the benefits and detractions of working from home depend heavily on the type of work and the individual employee.
Working From Home During COVID-19
Several factors related to our global work-from-home experiment could lead to a significant decrease in productivity and employee wellness, according to Stanford economics professor Nicholas Bloom.
Bloom, who has studied the benefits of working from home on business productivity and a healthy work-life balance, says today's situation comes with more challenges.
For one, many employees in the U.S. and across the globe are isolating with spouses, children and other family members who would normally be at school or work. This dynamic can be disruptive to a productive work-from-home environment, and Bloom says successfully working from home involves the absence of children and other distractions.
Another criterion for a productive work-from-home experience, according to Bloom, is the presence of a suitable home office—a space where an employee can be isolated and devote their entire attention to work. Now, many people are working without home offices and instead in their bedrooms, at the kitchen table or on the living room couch. This can further blur the line between work and downtime, creating a lopsided work-life balance where the two seem inseparable.
Lastly, Bloom says personal choice is a key factor in the success of someone working from home. Every company will have a chunk of employees who prefer working in the office as opposed to at home, and in a forced work-from-home situation (like a global pandemic), productivity and wellness can suffer. Bloom's study also found that, of those who worked from home, half requested to return to the office after the study. Bloom says our current forced work-from-home experiment could lead to a mental health crisis, as those who would choose to work in an office are forced to continue working from home.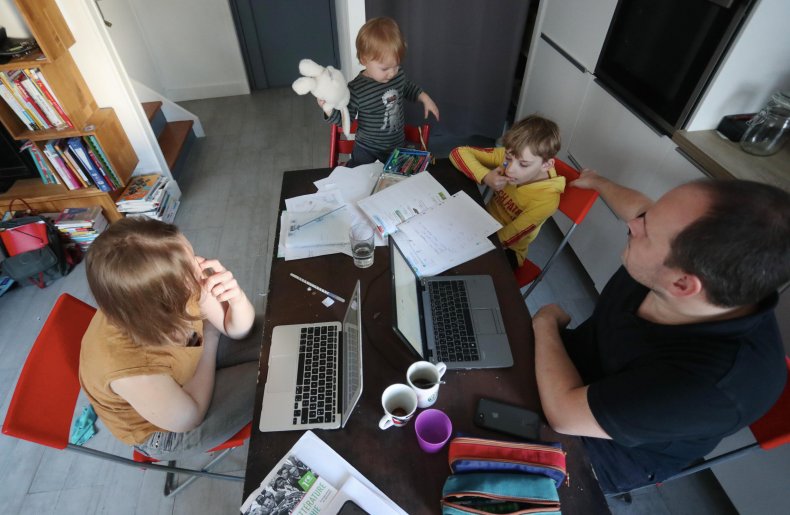 Back to the Office?
For those of us who will inevitably return to the office at some point in time, the workplace will be a much different place than the one we left in February and March. Restrictions on the public will exist at least until a vaccine is created, which has a current timetable somewhere between 12 to 18 months, at minimum.
Plans to reopen in the coming months could potentially involve portions of a company or workforce continuing to work from home, so it's important to find a proper balance between productivity and wellness now. Whether we like it or not, remote work isn't just a temporary bandage; it's here to stay. And how we approach this challenge as employers and employees will set the precedent for how our companies move forward from this unparalleled crisis.
Manuel Moerbach is president and CEO of Statista Inc.
The views expressed in this article are the writer's own.