Is Removing Blackface TV Episodes Helping or Hindering Black Lives Matter?
The Black Lives Matter movement has brought many issues to the fore as different industries continue to have their reckonings with systemic racism.
In the entertainment industry, blackface is currently being scrutinized, with several television shows pulling episodes that feature race-changing make-up—but is the conversation around blackface on TV distracting from the real issues at hand?
One of the latest series to become embroiled in a blackface scandal is 80s sitcom Golden Girls after streaming giant Hulu removed an episode from the platform.
In "Mixed Feelings," episode 23 in Season 3 of the sitcom, which aired in 1988, Rose (played by Betty White) and Blanche (Rue McClanahan) try a new mud facial treatment when they bump into Dorothy's (Beatrice Author) son Michael (Scott Jacoby) and his Black fiancee, Lorraine (Rosalind Cash.)
"This is mud on our faces, we're not really Black," Rose says.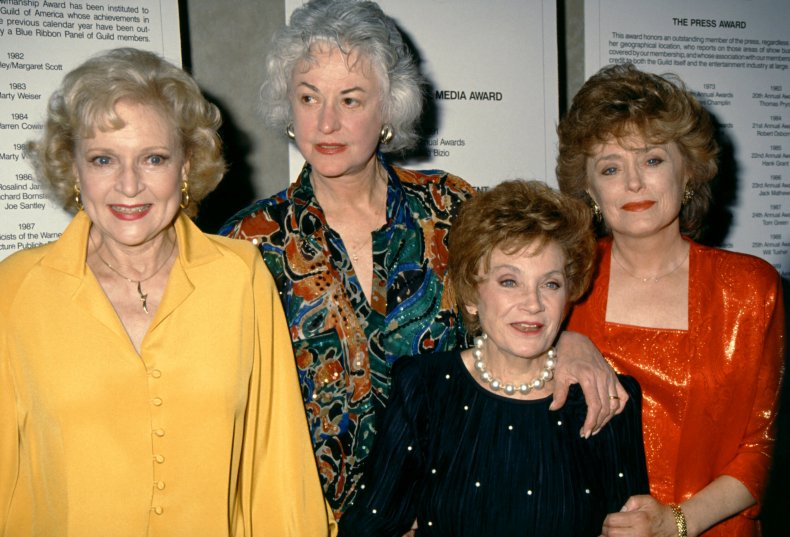 Hulu's decision to remove the episode has been met with criticism online.
TV writer Ira Madison III tweeted: "I know Hulu better put that Golden Girls episode back," before adding: "Whoever removed it either didn't even watch it or is just not a smart person, which is as generous as I can be."
Author Roxanne Gay added: "That Golden Girls episode isn't blackface. What the hell?" Then in another tweet said: "Removing this episode is weird, counterproductive and stupid. It diminishes the effort to actually end racism. It's just so dumb."
Many have also pointed out that the mud masks worn by the actors is not blackface, but simply, facial mud masks.
Author Erica Williams Simon called out Hulu for conflating such a "silly" issue with Black Lives Matter.
"First of all, they were in mud masks not blackface. And second of all, in what world does 'Stop killing us.' sound like 'Please remove episodes of Golden Girls?' I didn't see that ask on anyone's protest sign..."
She added: "To be clear: I'm not 'attacking' Hulu. I would just hate for the seriousness of this moment and movement to get lost in symbolic (and sometimes silly) overcorrections. Impact on real lives should be the measure of any change worthy of a PR push."
Hulu did not respond to a request for comment at the time of reporting.
Golden Girls is not the first show to have episodes pulled over blackface. This month, everything from 30 Rock to Scrubs, to It's Always Sunny in Philadelphia and Little Britain saw episodes removed from various streaming platforms alongside platitudes of remorse from creators.
Civil rights advocacy group, Color of Change believes removing blackface episodes of TV shows is ultimately "superficial."
Speaking to Newsweek, Arisha Hatch, Color Of Change's Vice President and Chief of Campaigns said: "Hulu's removal of the Golden Girls' episode was a knee-jerk reaction, offering a superficial, false solution to deeply rooted problems."
Hatch suggested Hulu "make informed actions that show solidarity and commitment to challenging Hollywood's reinforcement of white supremacy."
She explained: "Rather than make the misguided decision to remove a decades-old episode of Golden Girls that could have served as a teachable moment for many viewers, we challenge Hulu to look in-house at its own programs. This includes its decision to stream and promote The Brink, a documentary humanizing Steve Bannon, as well as look at its writers' rooms for the company's original programming to make sure these rooms reflect our country's diversity."
Hatch added: "Color Of Change supports 'Hollywood 4 Black Lives,' a letter penned by 300+ Black artists demanding systemic change within the entertainment industry. The letter calls on Hollywood to invest in Black talent, content and communities, and put an end to the glorification of police brutality and content that criminalizes Black people.
Derrick Johnson, president and CEO of the National Association for the Advancement of Colored People (NAACP) says the removal of blackface "should be viewed as a byproduct and not necessarily central to dismantling police brutality and systemic racism."
Speaking to Newsweek, Johnson said: "Monuments, blackface, et al. are symbols that can be caustic and a remnant of America's dark origin story."
He added: "Corporations and brands should be cautious of engaging in performative demonstrations of support that does nothing more than create a distraction from measurable and analytical outcomes. We are looking at these corporations and asking, how diverse is your c-suite?
"How many Black people are sitting on our board? How will you incorporate anti-racist policies into the core of your brand and long-term strategy? These are the questions and outcomes corporations should be looking to answer and achieve."
While removing access to problematic episodes from TV history is easy, activists fear they present superficial solutions to combating systemic racism.
Hatch notes, "Actions that do not directly address this coalition's concerns, or tackle the glorification of white nationalism generally, are dangerous window dressing."
Newsweek has reached out to Black Lives Matter for comment.