Renewables Present an Opportunity for Nigeria's Economic Rebirth | Opinion
We are in a crucial moment for Nigeria's history.
In the face of "code red" global climate change and decarbonization trends, Nigeria's current economic development path—with the oil sector responsible for about half of the government's revenue—is unsustainable. This moment should be seen as an opportunity for the nation to review its systems and redefine itself.
Despite being the richest country in Africa, Nigeria has a highly vulnerable oil-dependent economy, which slipped into a recession in 2020 due to low earnings from oil exports. While the country has spent decades investing in oil-based development, 40 percent of the population still lives below the country's poverty line. According to the International Monetary Fund, Nigeria's recovery in 2021 is expected to be weak under current policies.
Nigeria has a large youth population, nearly 70 percent of which is under 30. Similar demographic dynamics were responsible for powering the growth of the "East Asian Tiger" countries in the late 20th century. If provided with adequate health care, education and jobs, Nigeria has a tremendous opportunity to attain a demographic dividend—accelerated economic growth through the high proportion of working-age people.
For this to happen, Nigeria will need to create at least 5 million new jobs a year over the next 10 years. Nigerian youth are innovative and keen to provide solutions and be part of building a green alternative economic system that can guarantee inclusion, prosperity and stability.
In one case, youth that were laid off by a consumer goods company in Jos during the pandemic were employed in a project to build a Community Livelihood Center, which they did—by repurposing 50,000 used plastic bottles. In Nigeria's largest informal urban settlement in Lagos, the Renewable Energy Technology Training Institute is training local women to install and manage solar systems on homes. These women in turn are training others in a cascade model.
The oil sector only employs 0.01 percent of the Nigerian workforce. Rather than creating jobs in Nigeria, the oil industry destroys livelihoods due to oil spills, blowouts and toxic gas flaring affecting agricultural lands and fisheries. Oil sector employment is also characterized by the precarity of local jobs and their impact of undermining unions and providing low wages, contributing to a cycle of poverty.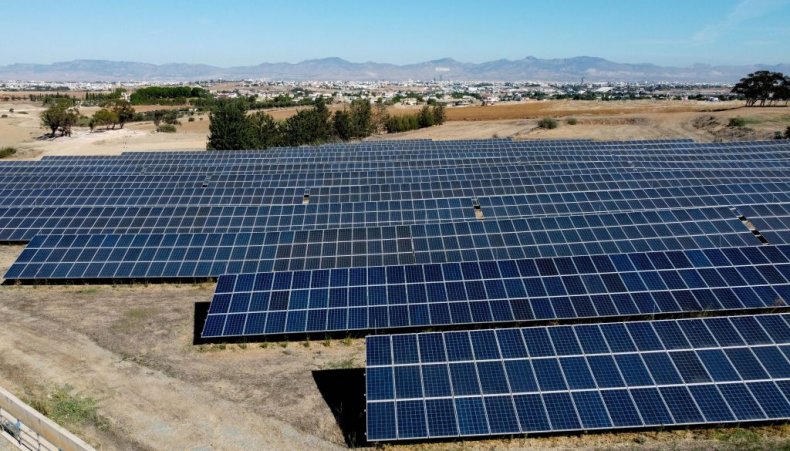 If investments are made to diversify Nigeria's economy and enable a just transition for workers to green, alternative employment opportunities, including in the renewable energy sector, Nigeria can become competitive in the markets of the future, and its economy more resilient.
The IRENA 2020 Renewable Energy and Jobs Annual Review reported that more than 7 million jobs can be created by transitioning to renewable energy in Africa, most of them in rural areas, and nearly a third being filled by women. Africa has 39 percent of the world's total renewable energy potential, which translates to largely untapped job-creation potential.
Despite Nigeria's decades-long fossil fuel production, more than 40 percent of its population still lacks access to electricity, most acutely in rural areas. The cheapest way to address this unmet need is by deploying decentralized renewable energy. Around the world, renewables with quickly-advancing battery storage technology are demonstrating that they can power towns and industries, not just "lightbulbs." Solar panels with battery storage and small hydroelectric dams already provide cheaper off-grid generation than the unreliable grid electricity powered by fossil fuels and expensive diesel generators used by a significant proportion of Nigerian homes, businesses and industry. Electric cooking will also be more cost-effective to ensure all Nigerians have access to clean cooking than the increasingly expensive liquefied petroleum gas (LPG).
The Plateau State government's Green Growth Strategy covers environment, water resources and energy, agriculture, economic planning, youth development, urban development, transport and tourism. It is a model for the kind of thinking and planning that could jump-start Nigeria's economy and improve social cohesion, through a transition toward a green economy. Let us take this bold next step as a nation.
But we don't have to do it alone. Countries that historically contributed the most to climate change have a responsibility to support Nigeria's just transition. Yet, G20 countries provided 3.7 times more public finance to fossil fuels than to renewables in Africa between 2016 and 2019. This approach must be urgently overhauled to avoid the trap of expanding fossil fuel development, especially gas, which is becoming increasingly expensive as an energy source and increasingly risky as a source of export revenue. In fact, 71 percent of projected oil and gas industry plans in Africa are at risk of becoming stranded assets.
We must shift international financing and technical support away from fossil fuels and toward renewable solutions and significantly scale up the latter. Nigeria's young generation has the potential to grow up and develop side by side with clean industries. Let's embrace and invest in this new future.
Promise Salawu is the project officer of the Renew Our World project at Tearfund Nigeria. Salawu aims to be a beacon of light and hope to the marginalized, poor and vulnerable. Salawu has led a petition to the World Bank to increase investment in renewable energy in Nigeria, which was flagged up by the vice president of Nigeria.
The views expressed in this article are the writer's own.