Rent a 900-Horsepower Custom Shelby Mustang at Hertz
Among the Toyota Camrys and Nissan Rogues (and Teslas) at your local Hertz rental car location, this summer customers will be able to borrow a 900-horsepower Shelby American-customized Mustang.
The car rental company and the performance vehicle builder started by motorsport legend Carroll Shelby announced a three-year partnership that would let Hertz renters pilot a black-and-gold Shelby GT500H fastback for a few days, or a less powerful Shelby GT-H convertible or coupe.
"Hertz and Shelby American have created driving magic again," Hertz CEO Stephen Scherr said in a press release. "This partnership has made automotive history many times over the years, and we look forward to future collaborations that will continue to both push limits and delight our customers with exciting cars and experiences."
The two companies first partnered in 1966 for a "Rent-A-Racer" Shelby GT350-H performance Mustang. Enthusiasts were know to rent the cars for a weekend for a pittance, take them to a local track day or drag race, and return them on Monday.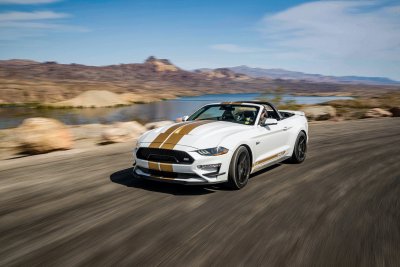 The GT500-H will be available to rent at Hertz locations in Fort Myers, Las Vegas, Miami, Orlando, Phoenix and Tampa. The GT-H will be available in Atlanta, Dallas, Fort Lauderdale, Fort Myers, Las Vegas, Los Angeles, Miami, Orlando, Phoenix, San Diego, San Francisco and Tampa.
These rental models will come with unique styling cues paying homage to Shelby's performance heritage.
Sport Shadow black paint will adorn 19 of the GT500-Hs, while the remaining six will be dipped in oxford white to celebrate Shelby American's 60th anniversary.
To reduce weight, the stock hood has been swapped out for a carbon fiber one that is 30 pounds lighter.
The GT-H Mustangs will be available in rapid red metallic, oxford white, carbonized gray and shadow black.
Both cars in any color will feature gold "Le Mans" dual racing stripes, rocker stripes, a Hertz Edition emblem and a Shelby 60th anniversary emblem.
The GT500-H is powered by a supercharged 5.2-liter V8 engine, same as in the current GT500, which delivers more than 900 horsepower. The standard GT500 delivers 760 hp.
On the GT-H models, a 5.0-liter V8 will put out 450 horsepower.
In the cabin, seats, sill plates and floor mats will feature Hertz and Shelby badges. A numbered plaque will denote the special edition on the dash and under the hood.
The Shelby GT-H will cost about $99 a day, according to Shelby, not including the extras like insurance, and mileage rates apply. The Shelby GT500-H will start at $399. Look for the new cars at the locations above this summer.