Rental Car Worker Cheered for Refusing Service to Customer in Viral Video
A purported Enterprise Rent-A-Car employee in Atlanta denied service to a customer after she allegedly said she'd "beat [his] a**."
The employee, Trey Knotts, posted about the experience on TikTok, writing: "Y'all come look at what I have to deal with at work." The video has amassed over 4.7 million views and more than 26,000 comments applauding Knotts's "professionalism." You can watch the full video here.
'Do Not Rent' Lists
According to the consumer information website First Quarter Finance, there are several reasons why a rental car company would deny service to a customer or place them on a "do not rent" list. Those reasons include failing to pay fines or ignoring the company's communication about outstanding bills. Customer representatives from Hertz and Avis reportedly told the website that presenting false identification when renting a car or "being belligerent or threatening toward employees while at a car rental location" could also result in denied service.
Newsweek has reached out to Enterprise Rent-A-Car for more information about their rental policies.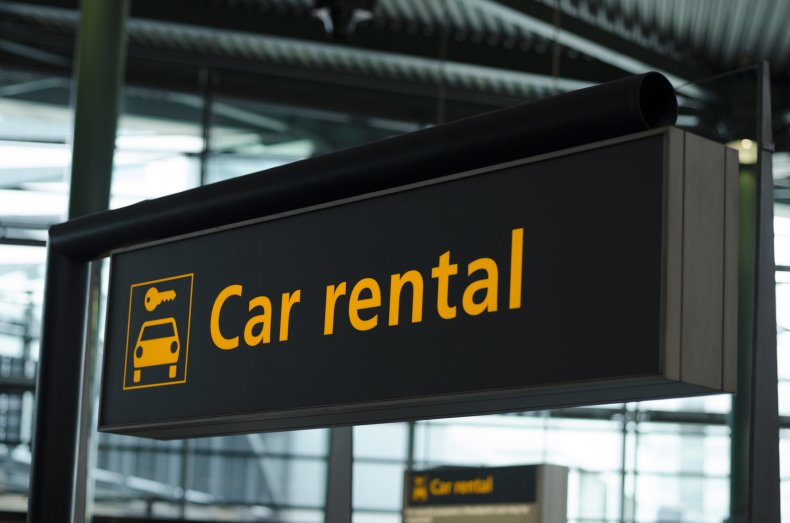 "In most cases, a car rental company will contact you to let you know that you've been added to its 'Do Not Rent' (DNR) list. The company will typically mail a letter to the address listed on your customer record," First Quarter Finance said. "However, if your address has changed, or in the rare case that the company fails to inform you that you've been added to the DNR list, you may end up reserving a rental car only to be refused when you go to the rental office to pick up the vehicle."
Individuals who believe they may be on a company's DNR list should call the company's customer service line, First Quarter Finance advised.
'Not Today'
In his video, Knotts calmly tells a customer—who is standing off-camera—that he won't rent her a car due to her behavior. In response, the woman calls him an "a**hole" and a "d**k."
"Ma'am, I gave you a ride to the bank [and] got you back here," Knotts said. "You then said I had a 'smart-a** mouth,' and if I [were] your boyfriend, you would 'beat my a**,' so I'm not putting you in a car...not today."
Knotts told the customer she could visit a different Enterprise location, but reiterated that she could not get a rental car from him. Upset, the woman accused Knotts of being discriminatory.
"I feel offended," the woman said. "I know why you're doing this—[it's] because I'm white."
Knotts replied, "I literally just put a white lady in a vehicle," to which the woman said, "I know."
The customer maintained that she was being discriminated against, but Knotts reassured her that this was not the case.
"Ma'am, you literally said, 'If you were my boyfriend, I'd beat your a**,'" Knotts told her.
TikTokers React
Viewers praised Knotts for not just standing up for himself, but for remaining calm throughout the interaction.
"Trey, you did a great job with your professionalism, but yessss keep telling them NO. We [are] not putting up with it anymore," GRIZZYBLANKO1 said.
"I aspire to be this calm," Lawyer Paige wrote.
"You could tell it was hard to do, but I'm proud of you for standing your ground," Mikki (Mik) said.
Devdevnumnums added: "You were professional, factual, and in the right. Way to stand up for yourself."
Newsweek has reached out to Trey Knotts for comment.
More Viral Posts
Last week, commenters slammed a Dunkin' Donuts employee who purportedly denied service to a customer for ordering a drink with oat milk.
The week prior, Redditors applauded a grocery store manager who banned a woman in her 80s from their store.
And in mid-September, TikTok users debated whether or not a server was right to deny service to a group because they refused to tip.