A young woman has gone viral on TikTok for sharing footage of her shoddy apartment complex, claiming that she was "sabotaging" her landlord who plans to raise her rent next month.
A TikTok user by the handle @cornchipsandcorgis, better known as Katie on the platform, posted a video of her less than ideal living arrangement on April 30, captioning the video, "Can u tell I live in a basement apartment with landlords that have the audacity to increase rent next year?"
She then takes viewers through her apartment with clips of its most obvious damage accompanied by a voice-over.
"Things I do to sabotage my landlord's [apartment] showing that just make sense," she began.
She starts by showing the obvious property damage to her bathroom. She places a bottle of Drāno next to her shower "so they know it doesn't drain." She also moves her trash can and storage unit to "reveal the horrible wall and the plaster that's fallen."
Katie then moves around her apartment to show off the cracked walls she strategically has covered up as well as the two dehumidifiers in the living space used to manage the air quality of the damp basement residence.
She even "strategically [places] a scary nail [she] found in the closet." It was not immediately clear how long the apartment has been damaged or why the landlord has not repaired the unit.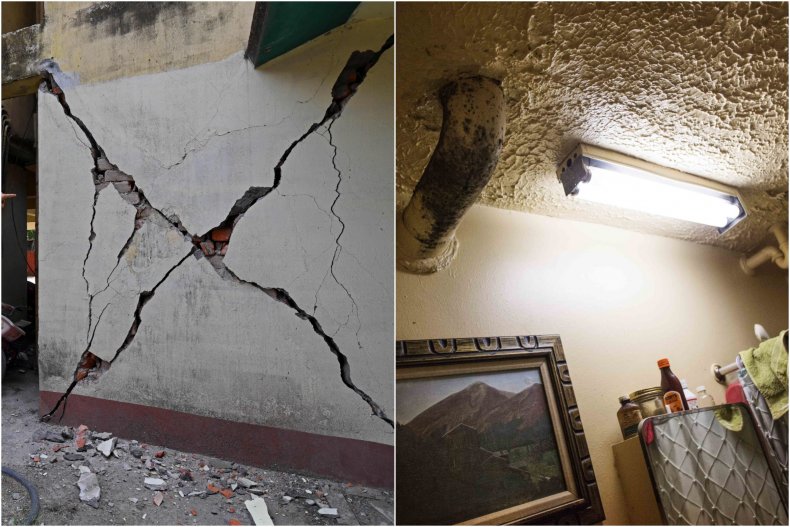 The video has been viewed nearly 413,000 time and liked by over 65,500 horrified viewers.
"Bestie I don't think that's [livable] and the landlord failed you," one concerned viewer wrote. "That's a slumlord," another chimed in.
Several other viewers who had similar experiences with shoddy apartment units shared their own tips for getting the landlord's attention. "Get 3 cans of Raid and put them around your apartment in [very] obvious places," one suggested.
Others commiserated with their own apartment viewing horror stories. "One time I went to a showing and when the landlord left the room, the tenant handed me a handwritten note of reasons not to live there," one claimed.
"I once went to a walkthrough and the existing tenants taped a piece of paper to the bedroom door that said 'spider count' with tallies," another added.
In a follow-up video posted last week, Katie returned to TikTok to show off additional issues with her apartment.
"The last stuff in the last video was just the stuff I have to hide. So I'm gonna show you all the stuff that's just out in the open!" Katie said.
Additional apartment complaints included ceiling cracks, water-damaged walls and mold throughout the unit. She even included her "list of moldy things" which includes most of the doorframes, the bathroom ceiling, the wall behind the couch, the space under the kitchen cabinets and inside the AC units.
She even noted on the list that she has had to throw away boots, blankets and pillows due to mold damage.
Many dedicated viewers expressed major concern for her health with the mold revelation.
"I would have been left out the window with that mold," one person commented. "That's how you get lung diseases real fast. Depending on your state you can withhold rent!"
Others recommended legal recourse against the landlord or filing a report with the local Department of Health.
Katie's apartment is not the only property grabbing attention online. After purchasing a 148-year-old home this year, one woman went viral on TikTok showing off its "secret passageway."