Renter Recalls Wild Moment She Found Woman Living in the Garage—'Shocked'
An Australian woman went viral on TikTok after revealing that she and her roommate discovered a stranger was living in their garage when they found her possessions nestled within the storage space.
Kate Doodson from Melbourne received more than 448,000 views on the TikTok video posted in February 2023. Doodson runs The Loved Up Co., a dating membership that delivers at-home date ideas to your door. As part of her online content, she was sharing her first interaction with her now fiancé seven years ago—which just happened to be the same day she found out about the intruder in the garage.
In the video, she said that she didn't realize someone had made themselves at home in the storage unit, which was detached from the house at the end of an alleyway, until it was time for her to move out.
Her roommate had asked her to collect her things from the unit before moving. Confused, she explained that she never put anything in there because she is scared of spiders.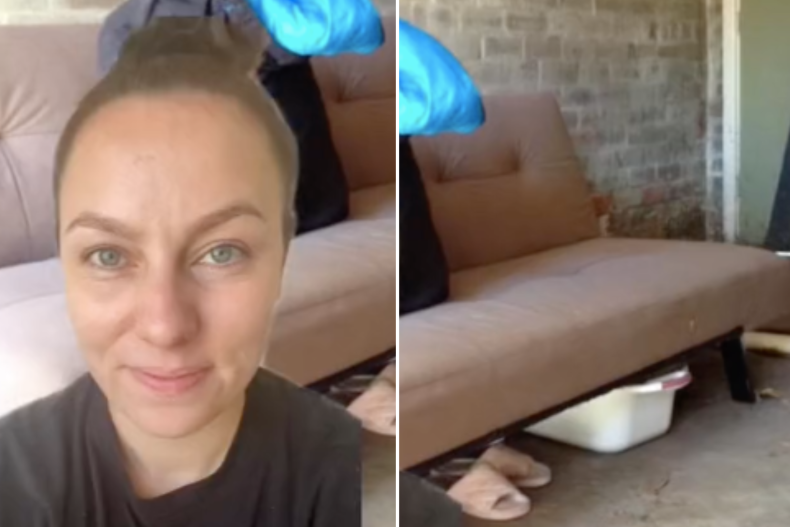 "At first we both thought we were pranking each other," Doodson told Newsweek. But when they went to investigate, they found a number of possessions inside, including a sleeping bag, slippers and bags that didn't belong to either of the roommates. In the end, they decided to call the police.
"To be honest, the reason we ended up calling the police was because both of us thought we were pranking each other and it's almost like we needed the police to come to the other person would be like 'I didn't do it,'" Doodson said in her video.
They never saw the person in the garage, which had only held a single folding sofa bed. When authorities arrived, they took care of the stranger's possessions and left a sign up for whoever was staying in the garage, informing them that they could reclaim their belongings by contacting the police department.
"They were shocked at how clean the place was and that someone would have been there for a while," Doodson said.
Doodson and her roommate never spoke to the person who was living in the garage but did have an idea of who they thought it was: "We often saw someone—a very well-dressed lady—coming from that way. We assumed it was a neighbor but later discovered nobody living next to us fit that description," she said.
Housing in the United States has been a topic at the front of many people's minds over the last year. Mortgage rates more than doubled in 2022, alongside two years of high demand and skyrocketing home prices.
Nine months later, house prices have started making a steady decline—but Cris DeRitis, the deputy chief economist at Moody's Analytics, previously told Newsweek: "The U.S. housing market is going through a period of 'tug of war', a bit of conflict between buyers and sellers, in terms of trying to figure out where the equilibrium or the bottom is."
According to the U.S. Department of Housing and Urban Development, in 2022 there were approximately 582,463 homeless people living in the U.S., up from 580,466 in 2020.
In comments on the TikTok video, interested viewers shared their reactions to the story.
"I hope she found another safe place to sleep at night," said one commenter, while another wrote: "If you have a space you have such little use for that you don't notice someone living there it just shows how unjust society is."
Others were shocked and a little frightened by the idea of someone living unnoticed in the space: "Nah that's absolutely terrifying," said one commenter, while another wrote: "I like that at the end of the day you had a very calm and understanding look at the whole situation. Living situations are tough atm."
Looking back at the incident, Doodson said that she may see things differently today.
"The reason I'm looking back on it is because it was the same day I messaged my now fiancé on Tinder," she said. "I wanted to share our first interaction with my community. Next time, I'd absolutely make sure she got support or help—it was provided but I'm unsure if she took it."