Governors across the U.S. are weighing up the political, economic and health implications of easing restrictions mitigating the impacts of the coronavirus.
Vice President Mike Pence, who heads the White House coronavirus task force team, said that he hoped the worst of the pandemic would be over by June and sounded an optimistic note that "Americans will be able to enjoy a good summer."
He referred to the three-phase set of guidelines released last week, called "Opening Up America Again," which he described to the Wall Street Journal, as "essentially a road map for governors and state health officials to develop their own plan and their own timetables for opening up their states."
Eduardo Gómez, associate professor at the College of Health at Lehigh University, Pennsylvania, told Newsweek: "Trump is completely committed to federalism in giving the states discretion and control over the situation, and has many times argued that they should be doing more and haven't done enough in terms of testing.
"And so politically this is in alignment with his view that the states should be responsible for doing these things," although he added that while the guidelines were "very ambitious", they have "not really taken into consideration governors' political interests and decisions."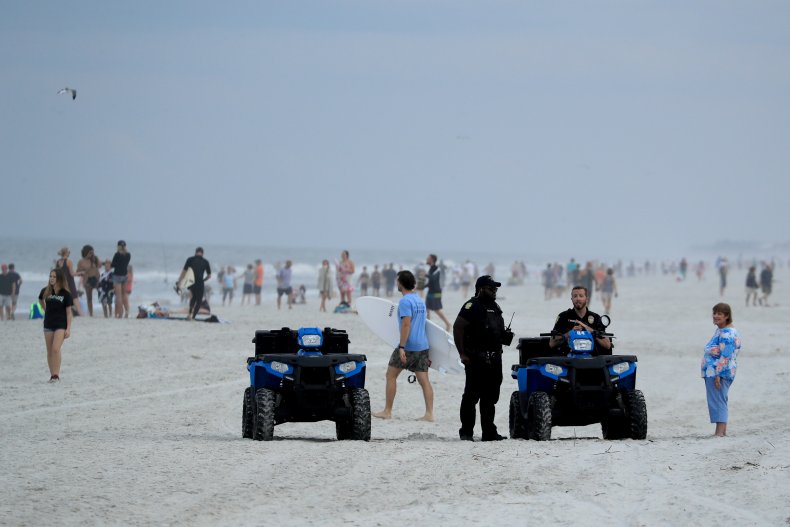 In a statement provided to Newsweek, a White House spokesman said that the guidelines to open up America again "are a data-driven, phased approach that further the partnership with our nation's governors and allow them to make the best on-the-ground decision for their communities.
"The president wants to see people working again, and the American people want to get back to work," the statement added.
With the situation very much in flux, here are states that have so far indicated they will start to roll back social distancing regulations:
California
Governor Gavin Newsom has said his state is not yet ready to end restrictions on the economy and that social distancing and all other stay-at-home provisions, which have been in place for a month, will continue.
However, he did take the first step to loosen restrictions by allowing hospitals to start scheduling some elective surgeries again, effective immediately.
"We are in a position today to begin to pull back and lean in by beginning to schedule surgeries, once again, throughout not only our hospital system but our broader healthcare delivery system," he said on Wednesday.
Colorado
The stay-at-home order by Governor Jared Polis was extended earlier in the month and ends on April 26. Gov. Polis has said that this will then shift into a "safer at home" initiative although he emphasized this "not going back to life as normal."
He said the aim was for people in the state to maintain 60 percent to 65 percent social distancing. This would mean vulnerable residents should still shelter in place, retail businesses could open for curbside delivery from April 27 with strict precautions, and there would be a phased opening for in-person retail from May 1.
There will also be a resumption in elective medical and dental procedures. Personal services including salons, dog grooming and tattoo parlors could also reopen. Bans on groups of more than 10 people will remain and nightclubs, schools and gyms will stay closed.
"We still have work to do, we are not through the woods yet," Polis said.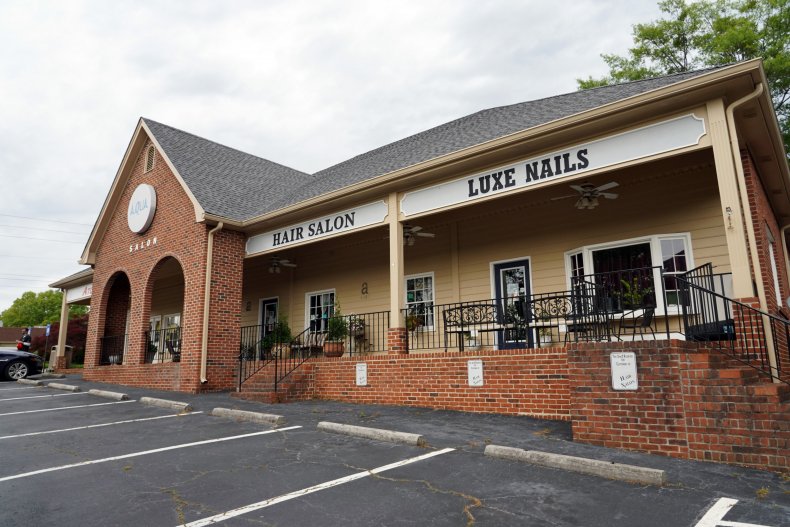 Florida
Governor Ron DeSantis allowed municipalities to lift some restrictions on April 17 for beaches to reopen, sparking a race to the seaside for some and vitriol on social media from others.
Schools will stay closed for the rest of the academic year, but this week he established a "Re-Open Florida Task Force" which will recommend how to reopen the other sectors of the Sunshine State.
DeSantis told Fox News that people were maintaining social distancing and said the reopening of beaches was good for people's health, adding, "I think that that's healthy and to just sit inside for two months eating Cheetos... and watching Netflix, that's not great."
Georgia
Garnering the most headlines this week was the announcement by Governor Brian Kemp that some businesses, such as gyms, bowling alleys and massage therapists, could reopen from April 24.
Bars and clubs would stay closed, but from April 27 restaurants and theaters would be allowed to open.
The move has been dubbed "reckless" by Savannah Mayor Van Johnson, but Kemp defended his decision, telling Fox News that it was "a measured approach with a lot of different requirements and guidance that we are going to be putting out."
"Each of these entities will be subject to specific restrictions, including adherence to the basic minimum operations, social distancing and regular sanitation," Kemp said.
Idaho
Governor Brad Little extended the stay-at-home order to April 30, closing down nonessential businesses and mandating social distancing.
He has said that some nonessential businesses can reopen on May 1 if they can offer curbside and delivery service. Little will reveal a four-phase plan on April 23 that will outline how closed businesses can start to reopen.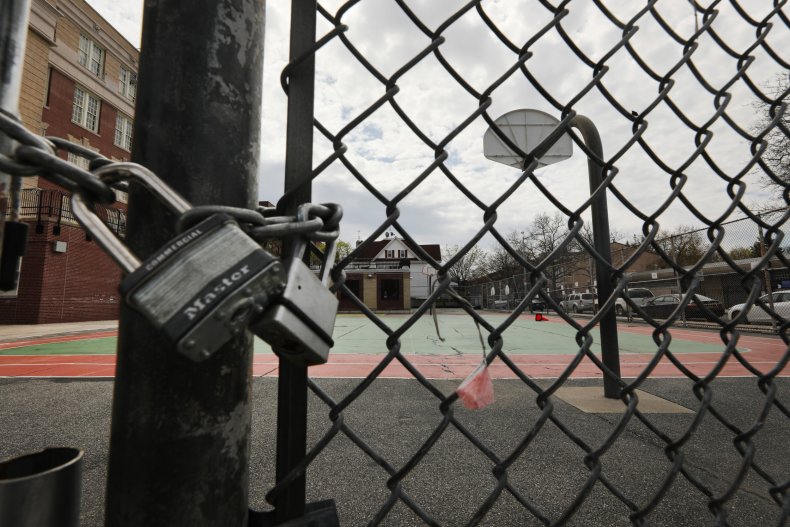 Minnesota
Governor Tim Walz's orders for people to stay at home expires on May 4. However, on April 17 he signed an executive order allowing the reopening of some outdoor recreational activities.
These included golfing, boating, fishing, hunting and hiking, as long as people kept to social distancing, avoided crowded areas and stayed close to home.
"This measure will allow Minnesotans to take advantage of more opportunities to get outside, while still doing their part to keep their neighbors healthy," Walz said in a statement.
Montana
On Wednesday, Governor Steve Bullock announced a phased reopening of the state starting on April 26 for individuals. On April 27, businesses can resume trading if they stick to rules on limiting capacity and maintaining social distancing.
Places of worship can resume on Sunday as long as social distancing is adhered to, while from May 4, restaurants, bars and breweries can resume some in-establishment services.
Movie theaters, gyms and other places of assembly will stay closed, while from May 7 schools will have the option of offering classroom teaching.
"Once we begin to reopen, we want to be able to stay open. Our personal responsibility to protect those around us—particularly those most vulnerable—remains just as important as any time during this pandemic," Bullock said.
New York
New York's stay-at-home order lasts until May 15, with schools also closed until then. On April 18 the state opened up its marinas, boatyards and boat launches for recreational use and guidance for golf courses could pave the way for public and private courses to open.
Governor Andrew Cuomo has suggested that there could be a staggered approach, with upstate New York reopening more quickly than New York City.
He said in a press briefing on Tuesday: "We're going to make reopening decisions on a regional basis based on that region's facts and circumstances."
North Dakota
Governor Doug Burgum has extended closures of non-essential businesses until April 30.
In a statement on April 15, he outlined what needed to be in place for a "graduated reopening process," which included robust contact tracing, targeted quarantine measures and protection for those who are vulnerable.
The North Dakota Department of Commerce will lead the reopening planning efforts, which Burgum has called "ND Smart Restart."
Ohio
Governor Mike DeWine will implement a gradual plan to reopen the state from May 1, saying on Wednesday that people have "paid a great price" in lost jobs during the coronavirus pandemic.
Still to be finalized, the plan will include "stringent" virus precaution requirements for businesses. The reopening also had to go hand in hand with an increase in testing.
Pennsylvania
Governor Tom Wolf has presented a plan for reopening Pennsylvania from May 8. He said it would comprise of red, yellow and green phases to be rolled out across regions and counties.
South Carolina
On Monday, Governor Henry McMaster announced the state would issue an executive order to allow most retail stores to reopen as long as they operated under a 20 percent occupancy capacity, equivalent to five people per 1,000 square feet.
Closures of beaches have also been lifted with local officials deciding on which ones can reopen. However on Wednesday, McMaster announced the schools will be closed for the rest of the school year, WRDW reported.
Tennessee
Governor Bill Lee has said that the stay-at-home order will expire on April 30 with most businesses in 89 counties allowed to re-open on May 1.
In a statement, Lee said his officials were working with industry leaders so some businesses could be open as early as April 27. However, they would follow "specific guidance that we will provide in accordance with state and national experts in both medicine and business."
Texas
The stay-at-home order expires on April 30 but schools will stay closed for the rest of the school year. State parks have reopened and Governor Greg Abbott announced that all stores will be able to operate 'retail to go' starting from April 24.
His "Strike Force to Open Texas," which includes Lt. Gov. Dan Patrick—who has suggested elderly Americans would be willing to die to reboot the economy—will look at other reopening measures, with plans to be announced on April 27.
Vermont
Governor Phil Scott announced plans to reopen some businesses with restrictions on April 20. These include allowing construction operations with crews of two or less, and letting low-contact services like attorneys and realtors resume if safety requirements are met.
The infographic below, provided by Statista, shows the confirmed cases in the U.S. as of April 23.