Rep. Andy Kim Shares Story of His 5-Year-Old Son Being Called 'Chinese Boy' by Another Kid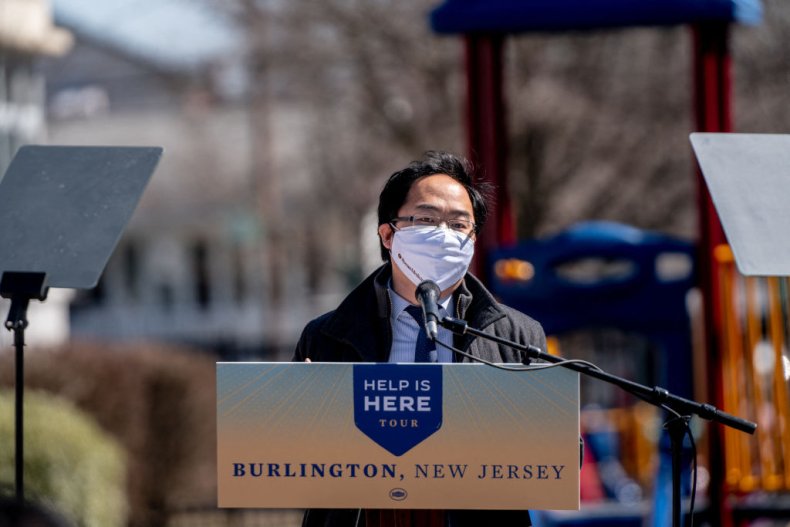 Democratic Representative Andy Kim of New Jersey shared a story of his U.S.-born, five-year-old son being called "Chinese boy" by another kid.
"My son, confused, told the boy I'm a New Jersey Boy," the congressman posted in a Twitter thread Saturday. "He laughed it off but my eyes welled up. 50 yrs ago my parents immigrated here but we cannot shake shadow of foreignness."
Kim, who is a Korean American, included in his tweet the hashtag #StopAsianHate, which has been shared by activists to spread awareness about rising acts of violence against Asian Americans and Pacific Islander (AAPI) people.
An annual survey released by the Anti-Defamation League found that Asian Americans have experienced the most extreme uptick in hate incidents and online harassment.
Organizers called Friday a #StopAsianHate National Day of Action and Healing, an initiative started when anti-Asian hate crimes that were brought to the national forefront after a white man opened fire at Atlanta-area spas on March 16, killing eight—among them six Asian women.
Kim, a father of two boys, represents New Jersey's 3rd District and is a former White House National Security official and Rhodes Scholar. He was raised in New Jersey by his parents, who he wrote never gave him "the talk," or a frank conversation non-white parents must have with their children about the racial discrimination they may experience in the U.S..
"My parents never talked to me when I was a child about discrimination I might face," Kim wrote. "I called my mom yesterday to seek her thoughts. She told me she wished she had the words then to prepare me. I asked my mom what she would want to tell me as a kid."
He added his mother said to he she would have told him about the racism he would face but also assure him he was "never alone." Kim said he agreed with his mother he would talk with his boys about the racism they may face as well as "their vulnerabilities and their privileges."
Kim's story comes amid heightened public consciousness of the discrimination Asian Americans face, as well as difficulty parents face knowing their children will face discrimination that will "likely be worse and potentially violent," he wrote.
Kim said he was "sad" over what was his son's first exposure to discrimination, and remarked that even as a member of Congress, he cannot pass a law that will totally eliminate his son's risk of discrimination.
"We should work to find solutions at all levels of government, but we shouldn't think that laws alone will solve this problem," Kim later said in an email to Newsweek. "It's going to take a societal effort too to ensure we finally put an end to this kind of dangerous racism."
Incidents involving discrimination and racism are forcing parents to have conversations early to prepare and equip their children.
"They are children of color and need to know what that means," Khama Ennis, chief of emergency medicine at a hospital in Western Massachusetts, wrote in a 2020 editorial for The Washington Post.
"We need to talk to them early because there is a transition where children of color are no longer viewed as cute kids, but as threats by some and objects of fetish by others."
Ennis added that the hope in having these difficult conversations with kids is that children raised with implicit biases may confront others who have been taught otherwise and "explore a different path." And the conversation can prepare children of color with "drills in practice" so they're ready to react to racist incidents without escalating situations.
Democratic Representative Rashida Tlaib of Michigan related to Kim's story via twitter. She said the description of Kim's son reminded her of when her son, Adam, said he would not tell others he was Muslim.
"Reading this is a reminder that we are causing pain and generational trauma among our children by not truly addressing racism and hate in our country," Tlaib wrote.
Kim said he was preparing have "the talk" soon with his son.
"I'm a bit nervous," he wrote. "He's such a sweet boy and I don't know how he will take it. He's 5 so I won't go into everything but I think it's good to get conversation started as they grow up fast."
Updated 2:17 PM ET, to include a statement from Kim to Newsweek.