Rep. Charlie Crist Slams Gov. Ron DeSantis for Visiting Texas Border Amid COVID Surge
Democratic Representative Charlie Crist, a Florida gubernatorial candidate, slammed Republican Governor Ron DeSantis on Sunday for lacking "leadership" and visiting the Texas border during the state's current COVID-19 surge.
During a campaign appearance in Broward County, Crist discussed Florida's recent coronavirus spike and accused DeSantis of abandoning his pandemic duties.
"You know what's happening. We have gone to the top. And it is a dubious distinction," Crist said of the current rate of virus infections, according to the South Florida Sun-Sentinel. "And why is that? Because we don't have leadership."
"What's he [DeSantis] doing about it? He's going to Texas. He goes to the border. Texas. You're the governor of Florida, you know," Crist added. "He doesn't understand. And you know he's spending our tax dollars out there giving our law enforcement to Texas while people are dying in Florida. Unbelievable."
Crist was referring to DeSantis' decision to send Florida law enforcement personnel to help patrol the Texas border last month. Then, on July 17, DeSantis followed up by traveling to Texas to attend a "border security briefing" while COVID-19 cases in Florida surged, a move that many Democrats criticized.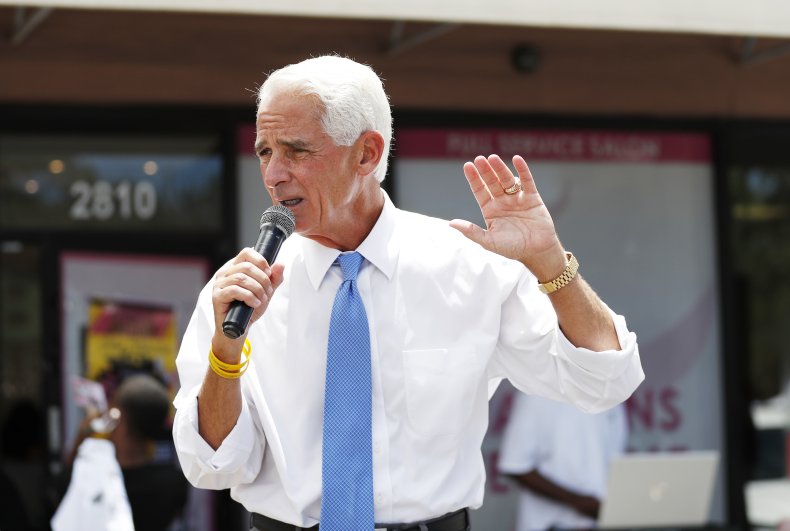 On Sunday, Crist accused DeSantis of neglecting Florida and treating the state like a "stepping stone" while focusing on a potential GOP bid for the presidency.
"Florida's special. This current governor is running for president. He's treating Florida like she's a stepping stone. Florida is special. She is not a stepping stone," Crist said during the campaign rally.
Crist also criticized DeSantis for failing to promote the coronavirus vaccine, and accused the governor of giving vaccine preference to rich, white, Republican voters.
"People need to be informed about getting vaccinated over and over and over again. And wearing masks inside when we're inside and we're close."
Florida currently leads the nation in COVID-19 infections, as the highly contagious Delta variant is spreading. According to data from the Centers for Disease Control and Prevention, roughly one in five new infections is happening in Florida.
On Friday, the state reported a weekly total of 73,199 infections, up from 15,978 just three weeks ago. Now, the test positivity rate is 15.1 percent, marking a three-fold increase from the start of the month, The Sun-Sentinel reported.
DeSantis has repeatedly touted a hands-off approach to COVID-19, and has pledged that the state would not enter another lockdown or require additional mask mandates despite a rise in new cases.
In response to Crist's comments on Sunday, Helen Aguirre Ferré, the executive director of the Republican Party of Florida, praised DeSantis' role in allowing Florida to be a "free and open state."
"Thanks to Governor DeSantis, Florida is booming as a free and open state and the number of residents from other states who are calling Florida home agree with his policies," she said.
Newsweek contacted DeSantis' office for additional comment but did not hear back in time for publication.